My children are the most important thing in my life. I love them both more than words can express and I only want the best for them. My oldest daughter, Olivia, is 14 years old this July and my baby girl, Bridget, is 8 years old in October. They are growing up so fast right before my eyes!
My girls are my inspiration. They are what keeps me going when I'm having a bad day. I just think of their smiles and it always makes me feel grateful and blessed with what I have: two healthy and happy daughters. I work so hard at building my business for them. I want to be financially independent and be able to provide for them and buy them not only the necessities, but also the extras.
My girls making a funny face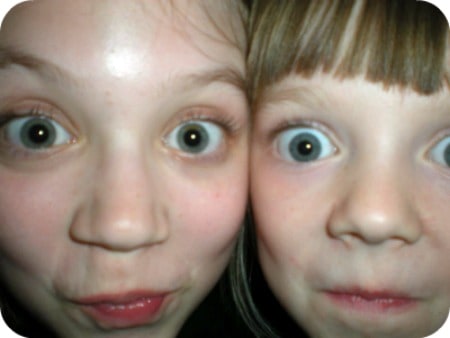 Ultimately my goal is to be able to put both girls through college or university without them having to rely on student loans. I want them to have the freedom to choose the career path they want and go to a school of their choice without having to worry about the details of how they will pay for it.
Olivia will be going away to school in just four years. Seriously, I can't believe I am the mother of a teenage girl because it just seems like yesterday that I was bringing her home from the hospital. I want her to follow her dreams and I will support whatever her choice may be. Of course, I will offer her the emotional support, but also financial support. If she chooses to go to school across the country or in the next town, I will support her decision.
I want them to be able to say when they are older that they didn't have to get student loans because their mom helped to pay for their school. It will be my gift to them. Olivia and Bridget are what propels me to work hard to be the best that I can be.
What propels you?
Propel Zero – in bottles and convenient powder packs – gives you vitamins C & E, B vitamins, and antioxidants. So you can replenish, energize, and protect with zero calories and no added color.
It's what keeps you going – so you can do what moves you. Join the conversation about What Propels You on Facebook now.
Disclosure: Compensation was provided by Propel Zero via Glam Media. The opinions expressed herein are those of the author and are not indicative of the opinions or positions of Propel Zero.