I used to dread grocery shopping. It was one of those things that needed to get done and I did as a necessity. I did not actually enjoy getting groceries. We need to eat so I needed to shop. That was it. Today I look forward to my weekly grocery shopping trips. What a turnaround!
So what has changed for me? Well, there are a few things. I've started shopping smarter and with a strategy. I rarely make impulse purchases anymore (which is good for my waistline and wallet) and I leave the store feeling good. I used to have a pit in my stomach thinking about how expensive food was.
I've also started using coupons, cashback apps, shopping the sales and the big one, price matching! Out of all of these I'd say price matching saves me the most money on my grocery bill.
I mentioned price matching before when I was writing about Flipp, an app that allows you to browse flyers and clip sales. Flipp is the best app out there for price matching and my post talks more about how it works and how I use it for price matching. Price matching is a practice where one store honours the lower price of another store.
However, today I want to share another way to price match without using an app. Not everyone has a smartphone and some people prefer to do things the old-fashioned way. Also, Flipp is only available on iTunes and Google Play. If you have a Windows Phone, you can't use it as of right now.
I'll walk you through my process of price matching with flyers. It takes me about an hour at the most to get ready for my shopping trip.
The Set Up
1. Browse the flyers and mark down sales you like. My flyers are delivered every Thursday night so I usually do my prep work during the day on Friday. My shopping trip is early Saturday morning. I look through the flyers to see if there is anything that we need or that I know I have a coupon for (or a cashback incentive is offered via an app). I put a little star beside the item so I'll know to add it to my list later on.
2. Mark down the sales you plan to price match in your price matching spreadsheet. I look at the flyers and record which items I want to purchase on my shopping trip. I have two options for you to organize your price matching – use this free price matching spreadsheet printable where you would record by hand or this online price matching spreadsheet I've set up in a Google Doc. Note: for the online spreadsheet just click File and then Make a Copy to get your own copy or just copy my set up to your own spreadsheet program on your computer. Easy peasy!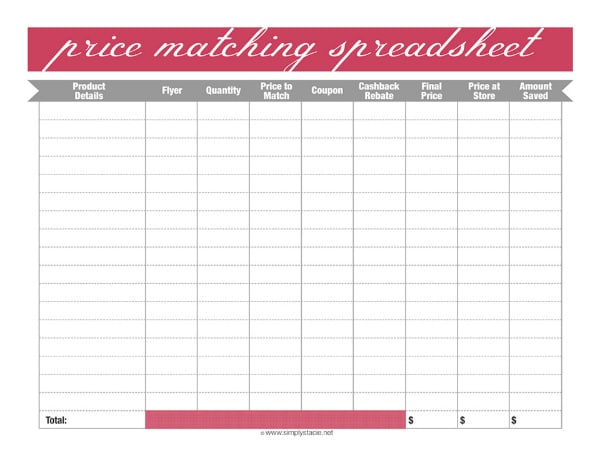 I set up a sample entry in the price matching spreadsheet. The formulas are there so all you need to do is punch in the numbers and it will figure out the amounts. For your next shopping trip, just delete the numbers in the spreadsheet or print a new one out if you use my printable.
3. Check your coupons. I look through my coupon file folder to see if I have any coupons for the products on my list. If I do, I set them aside and mark the coupon amount in my spreadsheet.
4. Check cashback rebate apps. Here I check all the apps on my phone to see if there's any incentives offered for any of the products I'm planning to purchase. If there is, I mark that down for my own records. You won't have to worry about this at the store, but I like to do it so I know how much I'm saving.
5. Add Post-It Notes to your flyers to highlight the sales you are price matching. You will want to do this step because it's stressful at the cash when you are trying to find the sale to show to the cashier. You don't want to be flipping through all your flyers. There might be some eye rolls – from customers or even the cashier! Yes, that has happened to me! The Post-it Notes make it easy to find the sale quickly and keep the line moving.
The Shopping Trip
1. Find the items on your list and mark down the store price. This step is optional and only do it if you want to keep track of your total savings. I sometimes skip it if I'm in a hurry. Make sure you buy the EXACT size and type of product you plan to price match. The products must be the same.
2. Regroup in a quiet aisle to get ready to head up to the cash. I head to a less busy aisle to look over my list again and get the coupons ready that I plan to use. I also count how many items on my list I'll be price matching so I can let the cashier know.
3. Load 'em up! I place the items I'm not price matching and don't have coupons for first on the conveyor belt. I tell the cashier that I plan to price match x number of items and I'll put them at the end of the order. I try to place them on the conveyor belt grouped together by store flyer. I'll put all the No Frills price matches on then the Food Basics price matches, etc. This way I can flip through one flyer at a time and show her the prices I'm matching.
At Home
After you've unloaded your groceries and put them away, tally up the numbers and find out how much money you saved by price matching. I also then submit my receipt to the cashback rebate apps right away.
I'll admit I was overwhelmed my first time at the cash price matching. The cashier was sighing and rolling her eyes and I felt like I was going to cry! I took a deep breath and remembered what I came to do and got it done. Now I'm ok – I'm organized, efficient and confident. Saving money feels great!
Do you price match?