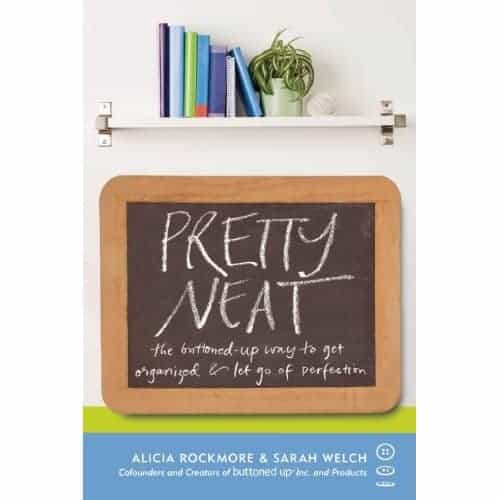 Title: Pretty Neat: The Buttoned-Up Way to Get Organized and Let Go of Perfection
Author: Alicia Rockmore and Sarah Welch
My Review:
Finally, an organizing book has been written for women in the real world. Pretty Neat is the first organizing book that I have ever read that made me feel more confident about what I am already doing while giving me lots of useful tips that feel "do-able."
My house is clean and pretty organized but far from "perfect." If I am being honest, at times it can be very discouraging because my husband is somewhat obsessive compulsive and expects the house to be a showcase despite the fact that we have three children ages 3, 4 and 5 and a dog. I was a bit apprehensive to read Pretty Neat because I mistakenly assumed that these organizing gurus would point their finger at me and make me feel even worse about my own organizing skills. Instead, Pretty Neat authors Alicia Rockmore and Sarah Welch give permission to "get organized and let go of perfection the buttoned up way."
Pretty Neat is a treasure trove of organizing information and my favorite chapter is "Temper Those Toy Tsunamis." With three young children that are homeschooled, two boys and a girl, my biggest challenge is keeping the living areas neat and tidy as well as making sure the playroom is not overrun with toys, games and books. There were so many excellent ideas to start with in this chapter and I actually got excited to tackle the playroom. Surprisingly my three children were even willing to pitch in after I explained that we needed to select toys for a garage sale and also to donate to a local children's home. Once we had thinned the toy pile, the children helped color pictures that we taped to each bucket i.e. a car for Hot Wheels and a baby for Barbies, dolls etc. Then I showed the kids how we would pick up twice a day to put the toys in their proper spot by identifying the correct bin. The money that we raised from the garage sale will completely cover the cost of any new toys purchased for Christmas too. My husband was so thrilled with our plan that he built a home school book case and file cabinet for me to keep all of our books, crafts, puzzles and supplies in the garage. Finally, my children brought toys to donate to the children's home and it taught them a lesson about sharing and giving to others.
Can you say "no"? I often have difficulty saying "no" to others and find myself over-extended and stressed out especially as we get ready for the holidays. Pretty Neat has an entire chapter devoted to learning to just say "no." I also related to the chapter about eliminating excuses. I tend to procrastinate if it is a task that seems overwhelming and I got lots of useful ideas and information to help tackle the organizational "but." What is that you ask? You will just have to read Pretty Neat to find out and while you are at it you won't want to miss the funny interpretation of "org porn" either which had me laughing out loud.
Pretty Neat includes an excellent resource section at the end of the book. There is no doubt in my opinion that this is the most "real" organizational book that I have ever read and I am so glad that I got over my initial apprehension and decided to read it. Instead of reaching for perfection which will indefinitely remain out of my reach, I am now confident that I can tackle techniques in real life that will help make us a better organized family.
The authors, Sarah Welch and Alicia Rockmore are the co-founders of Buttoned Up, which is a company that helps "busy people get organized sanely." You can visit their blog at http://getbuttonedup.com/.
To purchase Pretty Neat go to their website and while you are there you can check out all of their other great organizing products too.
Pretty Neat-$14.95
*I received a copy of this book to review but I was not financially compensated in any way. The opinions expressed are my own and are based on my observations while reading this novel.*