I am a wife and mother of three young children and in our home, I am responsible for all of the laundry. In fact, I never realized that five people (and a dog) could create so much laundry each week and at times it can feel like an overwhelming task. On average, I wash and dry between 10 and 14 loads of laundry each week and to be honest it had been my least favorite household chore. Just when I thought I couldn't bring myself to wash and dry another endless load of dirty laundry, I discovered the Whirlpool Duet® Washer and Dryer and I will never look at laundry the same way again!
I am so pleased to be able to introduce you to all of the amazing, user friendly features of the Whirlpool Duet® Washer and Dryer as part of my experience with the Mom Central Whirlpool Test- Drive Campaign. Washing and drying our laundry has never been so easy and dare I say it………pleasurable!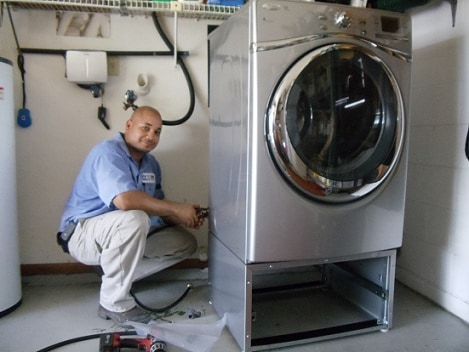 In this post, I would like to feature the Whirlpool Duet® Washer which is an Energy Star® qualified appliance and has been rated the #1 front loading washer by a leading consumer magazine. After using it for the past three weeks it is easy for me to understand why it has achieved the highest rating. The Duet® washer is first and foremost a user friendly washing machine and despite having many advanced features it has been very easy for me to learn how to use it.
With my previous washing machine, I typically washed on the "normal" or "delicate" settings however the options with the Whirlpool Duet® Washer are much more advanced. Based upon the laundry load that I am washing, I can select the most appropriate standard cycle or special washing cycle such as "Bulky" for comforters and pillows, "Jeans & Denim" which is perfect for my husband's work clothes and one of my personal favorites, the "Custom" cycle which allows me to save my most often used setting (wash/rinse temperature, spin speed and soil level).
The Duet® Washer also cleans using the power of steam and this effective "Deep Clean Steam" option helps to "penetrate deep into fabric fibers breaking down and dissolving stains like grass and grease without pre-treating." I use this feature to wash my husband's heavily soiled work clothes (he is a large printing press operator) and his shirts and pants have never been so clean. He even complimented me recently on "doing such a great job" at getting the stains out of his work clothes…….thanks Whirlpool®! .
My four year old daughter has allergies and severe asthma so I was very pleased to learn that my Whirlpool Duet® Washer has an "Allergen" cycle which I use when washing her bedding to help flush out allergens such as dust mites and pet dander from normally-soiled linens. It is so important that we try to keep her as healthy as possible to avoid respiratory issues and one feature of the Whirlpool Duet® that was very impressive is the NSF Certification which includes a "Sanitize" temperature setting. How does it work? The "Sanitize" setting is verified to "reduce 99% of bacteria typically found on clothing, bedding and towels" so that there is "no carryover of bacteria between loads after the cycle is complete." I use this setting any time that I wash bedding and towels or when a member of our family is sick.
As an eco-concious mom, I also appreciate that the Whirlpool Duet® uses only HE (High-Efficiency) detergents. The Precision Dispense Ultra feature delivers the best results by adding the right amount of detergent every time. What is this convenient feature? The Precision Dispense Ultra is a removable reservoir that can hold enough detergent in one filling to complete 36 laundry cycles. I love how this feature saves me so much time by not having to always add laundry detergent to every load since I simply add the HE detergent into the Precision Dispense Ultra and the machine will indicate to me when the level of detergent is "low" and I need to add more into the dispenser.
Whirlpool Duet® Washer and Dryers have a unique built-in-suite of Laundry Apps with features such as "Stain Assist" and a helpful "Hints & Tips" that gives practical advice on everyday laundry questions. I wasn't sure if I would need to use this feature because I am such a laundry "expert" but I was proven wrong when my son spilled tomato juice all over his brand new shirt and I wasn't sure what would be the best way to remove it. I was able to select the correct washing and drying cycle so that the stain was removed and did not set saving his garment from being ruined.
There are so many useful features that I am discovering with the use of our new Whirlpool Duet® Washer and Dryer. In my next post, I will be featuring the Duet® Dryer and over the next few months as I continue to try new features and apps, I will introduce you to more of my personal favorites of both the washer and dryer including:
Clean Washer Cycle with Affresh®-Use this cycle once a month with Affresh® washer cleaner, to eliminate odor-causing soap residue and mildew that can build up as a result of regular everyday washing.
Care Control Temperature Management enabled by 6th Sense™ Technology
The H2Low™ System which uses less water per load and delivers better cleaning performance and gentleness than a traditional top load washer.
Cradle Clean™ Technology
Quick Refresh Steam Cycle
Enhanced Touch-Up Steam Cycle
EcoBoost Option
Quiet Dry Ultra Noise Reduction System
Wrinkle Shield With Steam
Advanced Moisture Sensing Program
My first experience with the Whirlpool Duet® Washer and Dryer has been very impressive. I am saving valuable time and money (using less detergent and less energy) and my laundry has never been cleaner! Though doing the laundry is still not (and never will) be my favorite activity, at least I am no longer frustrated or dreadful of those ever filling laundry baskets. My husband jokingly commented that he has never before seen me doing the laundry with a smile on my face until I began using the Duet® system. I hope that you will remain with us over the next four months to learn more about how the Whirlpool Duet® Washer and Dryer could be the best appliance you may ever own.
In the meantime, you are invited to visit the Whirlpool® website to learn more about the Duet® Washer and Dryer.
I wrote this review while participating in a test-drive campaign by Mom Central Consulting on behalf of Whirlpool and received a complimentary Whirlpool Duet washer and dryer to facilitate my review.