It's hard not to get into the Halloween spirit with a visit to Value Village! My mom, daughter and I went to our local Value Village earlier this week and were quickly immersed in the spirit of the season.
We were there to pick up a costume for Bridget and Halloween decor to transform my home into a macabre haven. What I love about shopping at Value Village is that you can find everything you need under one roof and don't need to break the bank. They have a large selection of affordable costumes (both new and gently-used), accessories and seasonal home decor. Whether your budget is big or small, you'll be able to find what you need for this spooky occasion at Value Village.
As soon as I entered the store, I felt like a kid again! They have so many fabulous Halloween items on display that it's hard to not lose yourself in the festivities. Bridget instantly gravitated towards the Halloween costumes. She wants a spooky costume this year that will give a good scare! I'd say she succeeded with this creepy mask.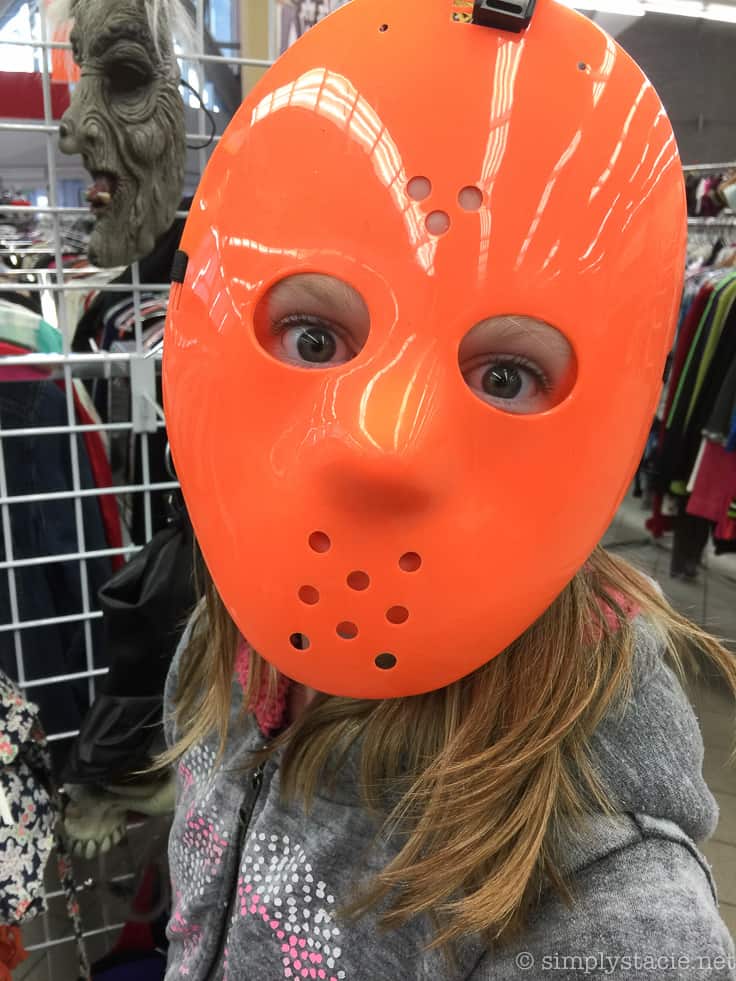 The Halloween makeup section was impressive. Let your creativity shine through to create your own unique look.
Choose from Value Village's aisles upon aisles of clothing to create a costume from scratch or pick up a new, ready-made costume with unique accessories. Need help? Ask one of Value Village's specially trained Costume Consultants to help you create a Halloween costume for the record books.
Bridget fell in love with this creepy costume. We also picked up a bloodied knife to complete the look. I'd run if I saw this scary creature coming at me!
Value Village conducted a Halloween Survey with some interesting findings!
50 percent of Canadians will attend Halloween parties this year
45 percent of Canadians will wear costumes for Halloween this year
49 percent of Canadians who celebrate Halloween say that current events, entertainment or pop culture tend to inspire their costumes
57 percent of Canadians agree that it's not necessary to spend a fortune to earn the title of best costume
50 percent of Canadians feels that secondhand or thrift stores are great for costume inspiration, which is a jump from 44 percent in 2014
77 percent of Canadians usually don't buy new packaged costumes, instead, they combine new and used, make outfits by hand, repeat costumes or borrow from others
I'm happy to report that in one trip to Value Village I've completed about most of my Halloween preparations. The only thing I have left to do is buy the candy!
In addition to Bridget's costume, I also picked up some Halloween decor, both new and gently-used.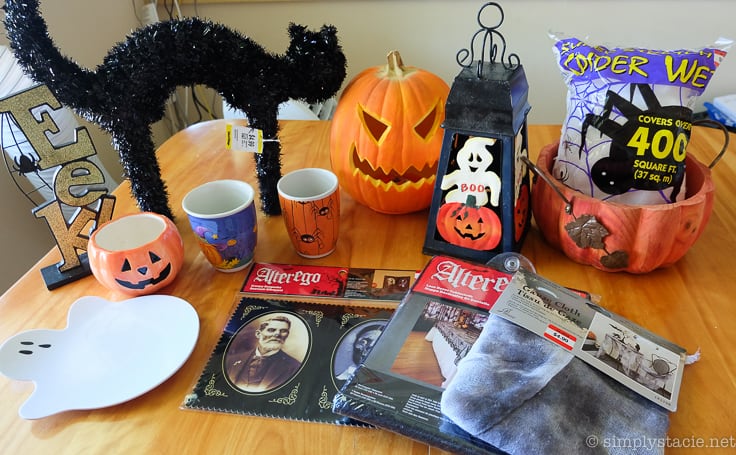 I can't wait to start on these fun Halloween projects to transform my home.
I'm planning to decorate my porch to set the scene for the kids trick or treating on the big night.
I loved this Jack-o-Lantern because it's mess free! It has a light inside to illuminate his face.
I'm putting a candle in this ceramic jack-o-lantern holder to set the mood on my living room end table.
I saw this cool mug and had to have it for my morning coffee. It was such a steal I couldn't resist.
Follow along on Instagram over the next several weeks as myself and other bloggers share how we're transforming our homes for Halloween using our Halloween hauls from Value Village. Look for the hashtags #HalloweenHaul2015 #ThriftorTreat.
You can find even more Halloween inspiration including creative costume ideas, makeup tutorial videos and DIY inspiration on Value Village's website and social channels.
Value Village Halloween Costume Contest
To help you get into the spirit of the season, Value Village is hosting their annual Halloween Costume Contest! One lucky winner will win the grand prize package valued at $1,000. Runners-up winners will win tons of other spooky prizes.
To enter, submit a photo of you, your child or your pet in a unique Halloween costume through Instagram or Twitter using the hashtag #thriftortreatcontest. You can also enter via ValueVillage.com.
The contest ends on November 3, 2015. Winners will be selected by a panel of judges based on costume appearance, styling, uniqueness and creativity.
Value Village is the ultimate Halloween destination for creating unique, fun, fashionable or frightening costumes for the whole family and for every budget. See more here.
Disclosure: This post was brought to you by Value Village via Mode Media Canada. The opinions expressed herein are those of the author and are not indicative of the opinions or positions of Value Village.