Disclosure: I was compensated for this post. All opinions expressed are 100% my own.
I have two daughters and both were conceived under very different circumstances. For Olivia, my oldest, I was 19 years old and in university. It came as a shock at first to everyone including myself. I never pictured myself being a mom that young, but life is full of unexpected miracles and that is what Olivia is to me. My second daughter was also a miracle. I tried for over a year to get pregnant and it just wasn't happening. My husband and I had booked appointments with our doctors to get checked out to see if there a physical reason why I couldn't get pregnant. Then one day it just happened. Out of the blue, I told my husband to go to the store to buy me a pregnancy test. I just had a feeling about it and wanted to know for sure. I was overjoyed to see two little lines show up on the test. I had prayed for this moment for a year and nothing could have wiped the smile from my face that day.
Both pregnancies were very different, but there was one constant factor in both: taking a daily prenatal vitamin. I knew that it was important to take a prenatal vitamin for both my health and the baby's. According to a new Nestlé Materna Prenatal Poll, 91% of Canadian women know that pregnant women should take a daily multi-vitamin containing folic acid. I learned about folic acid during my prenatal classes I took when I was pregnant with my first daughter.
Take Prenatal Vitamins Before You Become Pregnant
There's one important piece of information I did not know until very recently. Did you know that Canadian experts recommend that women should take a multi-vitamin with folic acid 12 weeks before they become pregnant to help prevent neural tube defects? The poll indicates that only 13% of Canadian women think that women should take a multi-vitamin with folic acid before they conceive. I guess I was not the only person who didn't know this!
Neural tube defects (NTDs for short) happen very early on in pregnancy and can cause abnormalities of the skull, brain or spinal cord. You may have heard of a condition called spina bifida. It's the most common of these abnormalities in Canada. Even if you are actively trying to have a baby like I was with my second pregnancy, you still likely won't even know you're pregnant until you've missed a period and you'll probably already be about 4 weeks along! These first four weeks are the most crucial time to take folic acid to prevent NTDs according to the experts. I was around 4 weeks along with both girls when I learned I was pregnant and that's when I started taking prenatal vitamins. Thankfully both girls are healthy, but I wish I had known this information back then because I would have started taking prenatal vitamins sooner.
Prenatal Vitamins + Breastfeeding
The Nestlé Materna Prenatal Poll had a few other interesting findings that I wanted to share with you today. The first one being that nearly one-third of Canadian women are unsure if women should continue to take a multi-vitamin while breastfeeding. I feel proud of myself because I actually knew that experts recommend moms continue on with prenatal vitamins for the extra nutrients after they give birth and are breastfeeding. I breastfed both my daughters and took my daily prenatal vitamin until they were fully weaned off the breast. A prenatal vitamin like Nestlé Materna has extra iron, calcium and vitamin D to meet a breastfeeding women's needs.
First Pregnancy vs. Subsequent Pregnancies
Another item I learned was that Canadian women are more precautious and take better care of themselves during their first pregnancy compared to later pregnancies. For instance, the number of women who take prenatal vitamins with folic acid sees a 13% drop when comparing first pregnancies to third and later pregnancies (83% vs. 72%). In my case, I think I took care of myself better in my second pregnancy compared to my first. There's a six year gap between my two girls and I ate much healthier with Bridget than I did with Olivia.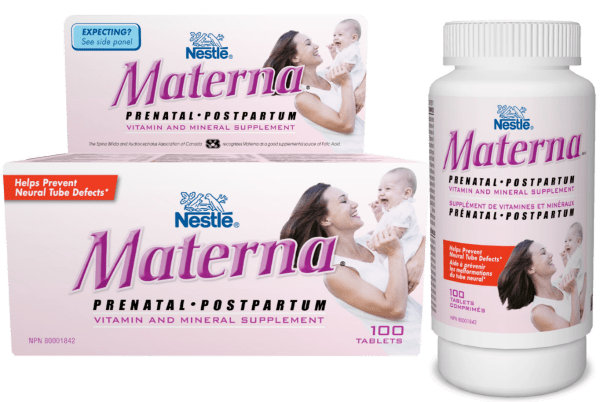 I'm 35 years old now and probably won't be having any more children. However if I thought there could even be a chance that I could get pregnant, I would definitely start taking a prenatal vitamin like Materna now just in case. Side note: I took Materna for both my pregnancies and it was the prenatal vitamin recommended to me by doctor. The vitamin you take should have at least 0.4 mg of folic acid to help prevent NTDs. Talk to your doctor if you are planning to have a baby and ask them about taking a prenatal vitamin while you are trying to conceive.
Visit NestléBaby.ca to learn more about the pre-natal and post-natal nutrition.