Let's face it: Pregnancy is full of ups and downs (or at least it was for me). You are thrilled at the miracle of the baby growing inside you, but perhaps also stressed about the many ways your body is changing.
It seems like for every happy flutter of movement, you notice a new stretch mark. Every time you make it through another week of pregnancy, you're putting away clothes that no longer fit. And for every thoughtful gift you're given for the baby, maybe a little tiny bit of you wishes for a gift for yourself. After all, you are growing a human person inside of your body, and doesn't that deserve a little love, too?
I think so, and that's why I put together this pregnancy gift guide. Don't wait for the baby shower to shower your friend, family member, or other special mamma-to-be with a small gift just to show you're thinking about her. From a pillow that will help her sleep better to belly butter for softer skin and everything in between, consider giving a gift that will make her one happy woman.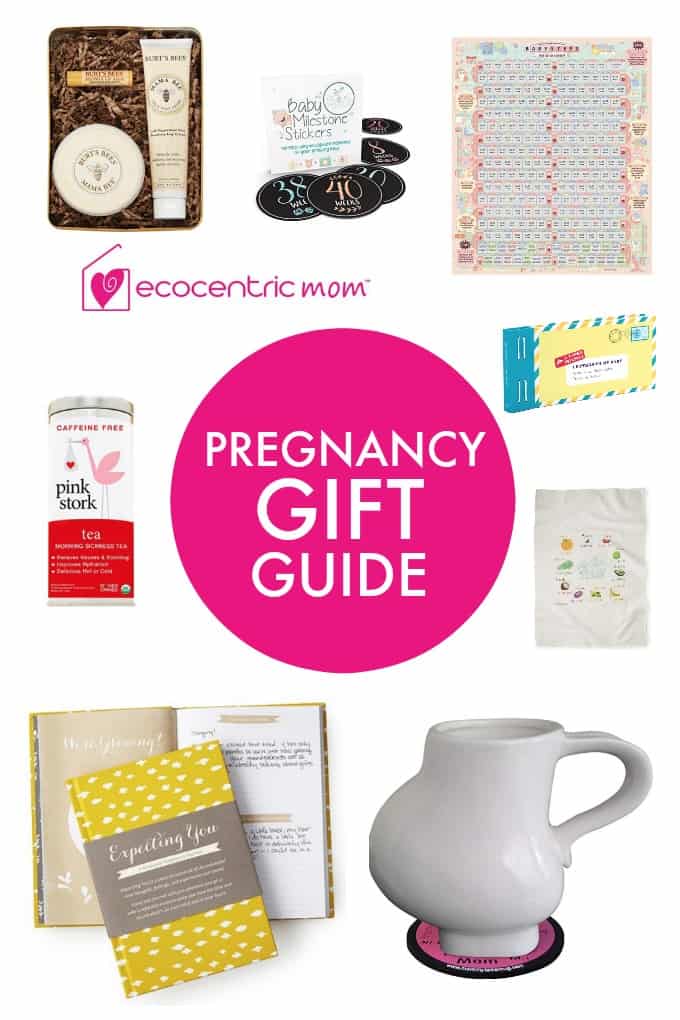 Pregnancy Gift Guide
This post contains affiliate links.
1. Mama Bird Box. This monthly subscription box for pregnant women and new moms is as fun to give as it is to receive. Each box is filled with four to six items that offer your loved one a little pregnancy pampering. Items can include skincare, snacks, supplements, makeup, and other fun items.
2. The Stork Bag. Cratejoy is at it again. Seriously, is there a more fun subscription box for nearly any need? This time, the box is filled with fun pregnancy and postpartum items that she won't even know she needed, but will love all the same.
3. Bluum Box. From pregnancy to preschool, the curated items mailed monthly in every bluum box are sure to delight mother and child alike.
4. The Ecocentric Mom Box. Know an environmentally conscious mamma-to-be? She'll love the items in the Ecocentric Mom Box. From pregnancy to preschool and beyond, each and every item in the monthly box is guaranteed to be organic and eco-friendly.
5. Baby on the Way Scratch Calendar. Sometimes being pregnant does feel like winning the lottery. Why not make a game of pregnancy with fun countdown calendar? For every day you scratch off, you'll discover a fun fact about your baby's development or other interesting facts. And it'll give that special someone something to look forward to every day of pregnancy.
6. Keepsake Pregnancy Journal. Pregnancy is full of lots of emotions and moments. Give the pregnant person in your life a beautiful journal in which to jot them all down. What a wonderful keepsake.
7. Growing Belly Tea Towel. How adorable is this little belly tea towel? Every time she reaches to dry her hands, she'll get a glimpse into how big the baby is getting in adorable little illustrations of fruits and vegetables.
8. Burt's Bees Mama Bee Gift Set. This gift set for the new mom is the perfect way to show how much you care. The soothing foot cream, pregnancy belly butter, and smooth lip balm are made of all-natural ingredients that can help her feel better as she awaits her new little one.
9. Pregnancy Pillow Wedge. Getting a comfortable night's sleep is sometimes nearly impossible when you're pregnant. Help a girl out with this awesome pillow wedge designed to support mamma's growing belly.
10. Pink Stork Morning Sickness Tea. Try to ease her symptoms of morning sickness with this organic herbal tea. It can help with nausea and vomiting, keep you hydrated, and tastes great either hot or cold.
11. Pregnancy Stickers. Let the countdown begin! Take adorable baby bump pictures with 16 cute milestone stickers. Stick them right on your belly and snap away!
12. Letters to My Baby. Write down all your sweet thoughts and memories in a cute new way! With Letters to My Baby, you can capture your memories of your child's first years. The book of 12 fold-and-mail letters offers prompts for your writing reflection and can be gifted to your child in future years.
13. Mommy to Be Mug. Add a bit of humor to her day with this funny "baby bump" mug she can enjoy now and later.
For more gift guides, check out these best travel gifts, gifts for coffee lovers, and gifts for book lovers.
What pregnancy gift is your favorite?