My very first memory is of my first birthday party. My mom put me in my high chair in front of this huge white and pink birthday cake. I remember getting upset thinking that I was expected to eat the entire cake myself. My one-year-old mind didn't comprehend that I would be sharing this cake with my party guests. My temper tantrum that day didn't deter my mom from planning birthday parties for me every year. I could always count on her to create a memorable day for both myself and my guests!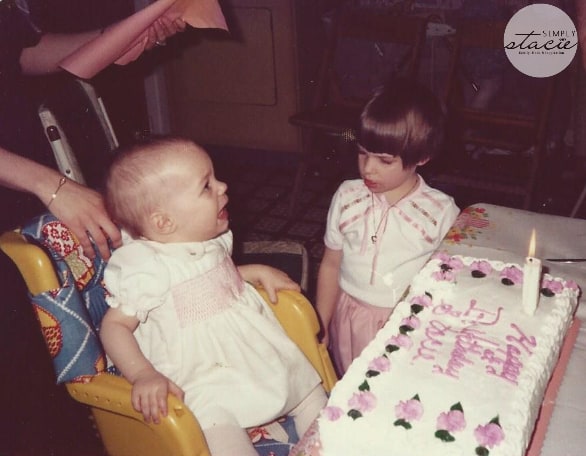 My mom was an amazing party planner and I try to follow in her footsteps and create fun birthday parties for my girls. Today I wanted to share with you the four key details I learned from my mom about planning a party to remember.
© birthday cake image via Shutterstock
1. Pick a fun party theme. This first step will give you a direction for the rest of your party planning. Pinterest is full of party theme ideas if you need some inspiration. I prefer to keep it simple by asking my daughter what kind of party she wants to have. She'll name her favourite cartoon character or animal and then I'll look for decorations and invitations to match the theme. For Bridget's third birthday, she had a Princess party complete with Princess-themed decorations, treat bags and even tiaras for her guests to wear. Bridget wore a Princess costume (which happened to be her Halloween costume too!). It was a magical day!
2. Play some games. A good birthday party always has at least one game! Choose age-appropriate games and bonus points if you can keep it in the theme of the party. One game that was at every single kids' birthday party I can remember is "Pin the Tail on the Donkey". For a princess party, you could do "Pin the Tiara on the Princess". Other fun party games include Musical Chairs, Bingo and Hot Potato. My recommendation is to play between one to three games. I find any more than that is overwhelming and makes the party run too long. To raise the stakes and keep it exciting, give each game winner a special prize!
3. Serve delicious food. Offer your guests something to eat and drink. It doesn't need to be a full-course meal unless that is the theme you are going for. It can be something as simple as snack foods like veggies & dip and fruit. I've also hosted a few backyard pool birthday parties and served barbecued hotdogs and hamburgers. The cake, however, is the showstopper. My daughters' favourite cake flavour is chocolate so that's the kind I buy every year. Make sure you have enough to feed all the guests at least one slice. It's better to have too much cake than not enough. You can always send guests home with a few extra slices if need be!
4. Plan the guest list. It's the people who make it a great party! For a child's party, one rule of thumb is to invite the same number of guests as is the age of the child. If your child is 8 years old, he/she would invite 8 friends to attend. That is just a guideline though. I remember a few of my birthday parties growing up where my mom invited my entire class because she didn't want anyone to feel left out. She was brave! I also remember my grandmother coming to every one of my birthday parties and my kids' parties too. They are memories of her I'll always cherish and she always made every effort to be there for us grandkids (and great-grandkids).
It's these small, simple details that make for an unforgettable birthday party. It's not hard to do either, promise! It's amazing how far a little planning goes in creating a day that's fun for everyone.
It's time to Party! Try NEW OREO Birthday Cake Dessert. A cool spin on an old tradition, indulge in a scoop of this sweet birthday cake flavour or in a yummy sandwich. This might be just what your party needs.
Disclosure: This post was brought to you by OREO Birthday Cake Frozen Treat via Mode Media Canada. The opinions expressed herein are those of the author and are not indicative of the opinions or positions of OREO Birthday Cake Frozen Treat.