To get any job done, you need to the right tools. This applies to making pizza, too! Yes, you can make a pizza with just the basics, but if you want to get all fancy and stuff, get these six pizza tools and become a pizza chef extraordinaire!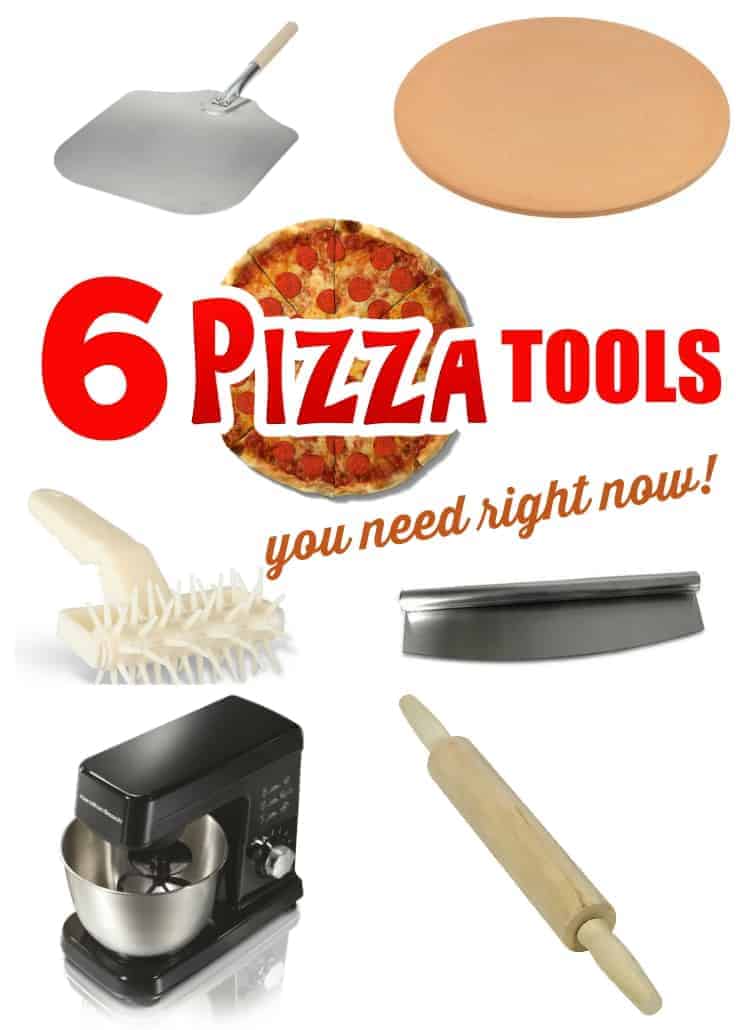 This post contains affiliate links.
1. Stand Mixer. Mixing dough by hand can be extremely tedious. While I do enjoy it from time to time, if I'm cranking out several pizzas in a week, I know I need reinforcements! That's where a stand mixer comes in. It doesn't really matter which stand mixer you go with, but I wouldn't recommend a super inexpensive one, as those are usually cheaply made and won't hold up to dough mixing.
You can also use a food processor for mixing dough. Or if you are tight on time, just use refrigerated dough – nothing wrong with that either!
2. Wooden Rolling Pin. Everyone has their own preference on rolling pins – some like plastic, some like wooden. I think the wooden ones are more durable, and they're easy to throw some flour on so the pizza dough doesn't stick while rolling. I like the longer rollers, as they seem to make less work for me.
3. Dough Docker. A pizza dough docker is meant to prevent dough from blistering, and it also helps minimize dough from rising. This gives you a more consistently even rising pizza crust. It's easy to use: just press and roll across the pizza dough once on each side.
4. Pizza Peel. Restaurants use a pizza peel to transfer pizzas in and out of the oven. Pizza dough is delicate, so instead of transferring by hand, using this pizza peel can help save your pizza from falling apart! It also allows you to put the pizza towards the middle or back of the oven, which we can't exactly do when we use our hands.
I like the wooden handle on this one because it doesn't heat up – no pot holder needed. It's best if you sprinkle the pizza peel with flour before use, so the pizza slides right off.
5. Pizza Stone. Once you use a pizza stone, you won't go back to a cookie sheet or cooking directly on the oven rack ever again! I fell in love with pizza stones a while ago, and have found that not all stones are created equal. Finding one that's middle of the road in price is usually safe, but don't go for the cheap ones because they are not generally as durable.
The pizza stone I use is ceramic, so the pizza slides on and off easily. It's durable, and easy to clean – oh, and it heats up in half the time!
6. Pizza Cutter. Gone are the days of wobbly wheeled pizza cutters making uneven, not deep enough, cuts across your pizza. Use a stainless steel pizza cutter to get perfectly even, deep cuts every time. This tool not only minimizes cutting time, it keeps your slices looking perfect.
What are your must-have pizza tools?