I wouldn't complain if every night was Pizza Night as long as it was Delissio Pizza. It's the one type of food that I can never get bored of eating because there are so many fun ways to change it up! Now that my kids are getting older, John and I are finding ourselves at home alone more often. My 17-year-old daughter has her friends and part-time job. My 11-year-old is also venturing out to sleepovers and activities with her friends. That leaves John and I at home to fend for ourselves for dinner. It's actually nice to have the quiet for a change!
Over the March break, we had a stretch of days where it was just the two of us at home. John suggested heading out for a dinner and a movie, but I had a better idea. I said let's have a date night in and make it a Pizza Night! I thought it would be nice to sit down together and relax after a long week.
When the kids are here, I have to stick to a few specific types of pizza to appease their picky palates. John and I are a bit more adventurous and willing to experiment with different flavours and toppings. One of my passions is food so I was in my element trying to come up with exciting new combinations.
I picked up two varieties for our date night in. Delissio Rustico Quattro Formaggi is a frozen pizza topped with mozzarella, emmental, parmesan and blue cheese while Delissio Rustico Greek has feta-style cheese, cherry tomatoes, zucchini, black olives and red onions. I know they'd be delicious as is, but why stop there? Adding your own unique ingredient twists makes for a more memorable Pizza Night.
Delissio Rustico pizzas are available at Metro grocery stores, and if you haven't tried one yet, you need to! I'm a big fan of their stone baked thin crusts and fresh, premium toppings.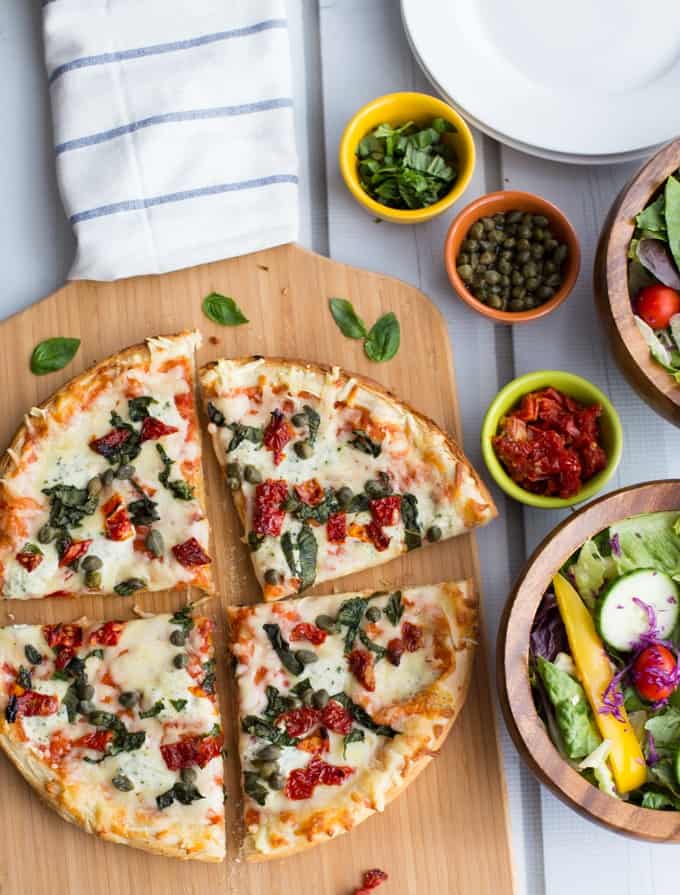 My pizza pairing for the Rustico Quattro Formaggi was capers, fresh chopped basil and chopped sundried tomatoes. It bakes in the oven for 11 to 13 minutes and comes out with a beautiful golden crust.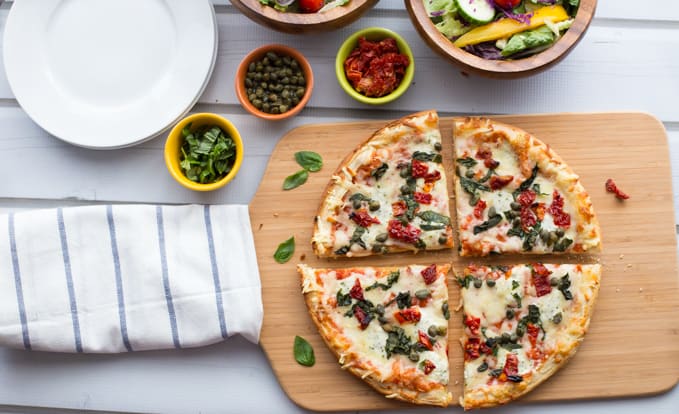 I selected these three toppings on a hunch that the flavours would work well together. I've never used capers on a pizza before and am happy I followed my instincts!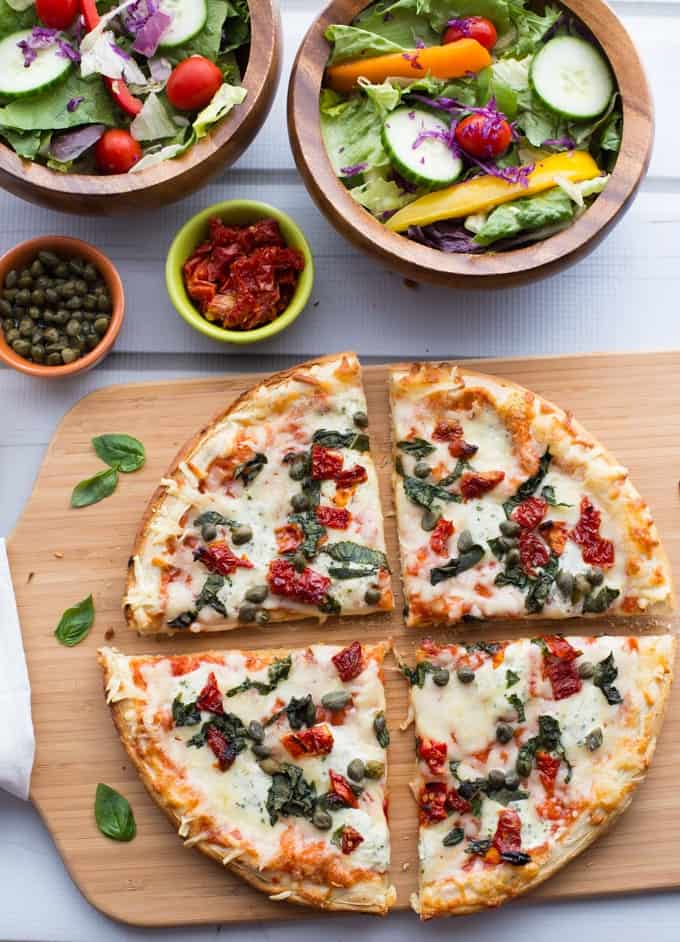 I sliced the pizza up into four slices – two for me and two for John. Add a fresh garden side salad and dinner is served!
We switched things up by eating in the living room instead of at the table. It's Pizza Night, after all, so it's ok to break the rules.
We had such a blast with our date night in, we did it again the next night. This time, I made Delissio Rustico Greek and paired it with two extra toppings: chopped artichoke hearts and fire roasted sweet peppers. So yummy!
This pizza is another keeper. I loved how packed this pizza was with delicious, quality toppings!
I'm looking forward to our next chance to make our date night in a Pizza Night! We shared good food, lots of laughs and most of all, spent time together relaxing and having fun.
Try Delissio Rustico the next time you want to add a little stone baked thin crust goodness to your me-time. With authentic high-quality ingredients on a crisp sourdough crust, it's the perfect pizza for #PizzaNight, and they just introduced two new flavours, Greek and Quattro Formaggi.
You might like these pizza recipes including Seafood Pizza, Buffalo Chicken Pizza and Chicken Pesto Pizza.
Disclosure: This post was brought to you by Delissio via Mode Media Canada. The opinions expressed herein are those of the author and are not indicative of the opinions or positions of Delissio.