Pizza Muffins are a fun and different way to serve up a pizza inspired dish. Plus, even picky eaters won't turn their noses up to these delightful and savory pizza muffins. Add a side of marinara sauce for dipping and you have a delicious snack or dinner the whole family can enjoy.
I discovered an interesting looking recipe in the March 2013 edition of Canadian Living magazine: Pizza Muffins! It looked simple enough to make and something my daughter could help me make.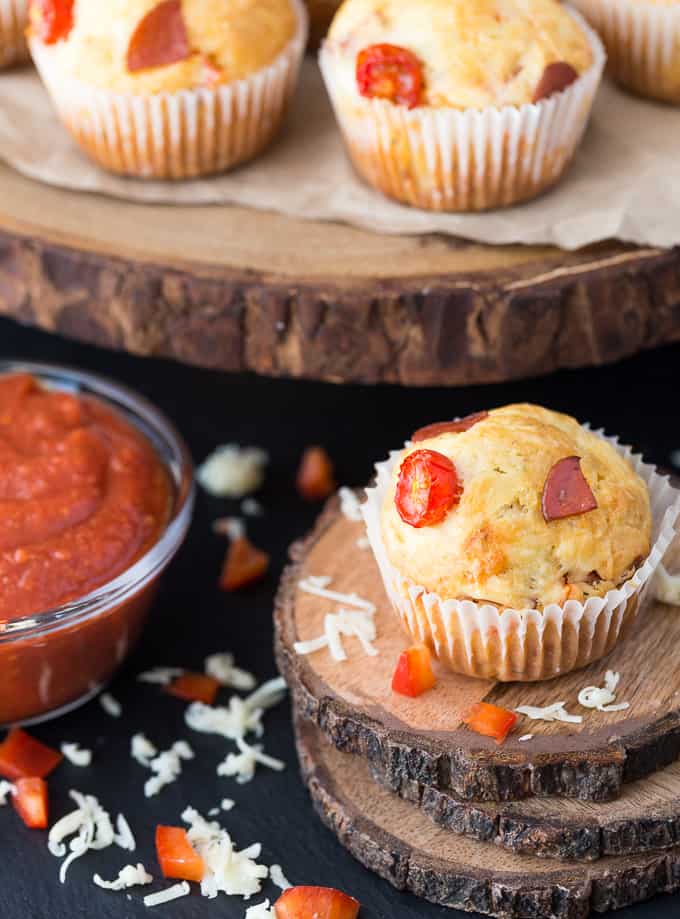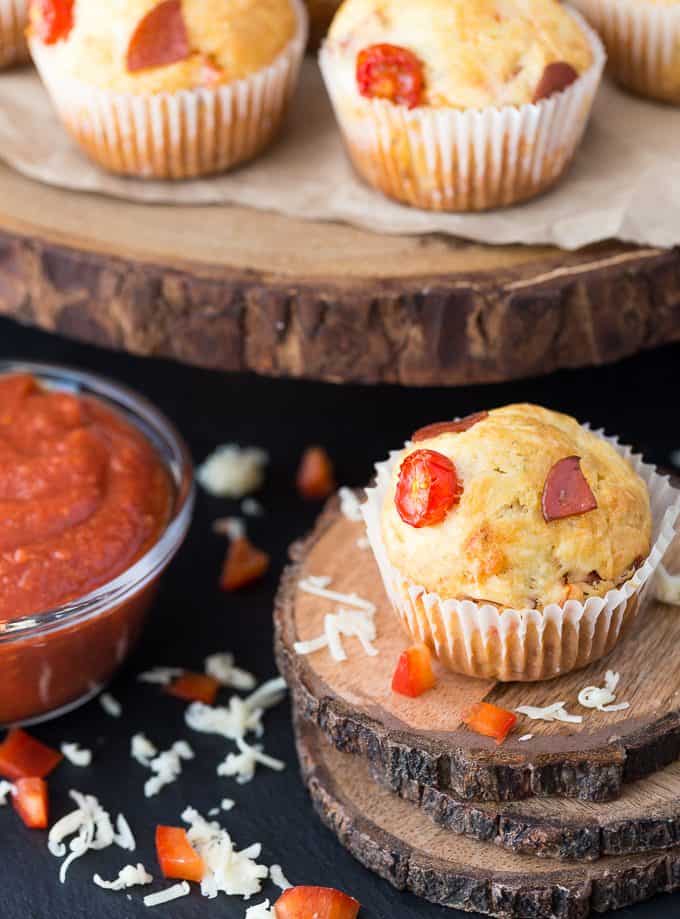 Easy Pizza Muffins
My kids love pizza so I was curious to see what they would think of their favorite food in a muffin form. It was a hit! These muffins smell just like pizza fresh out of the oven.
Can You Add More Ingredients To Pizza Muffins
I love that you can change up the toppings depending on your taste preferences. I think next time we make them we will add in some bacon and mushrooms.
Onions
Mushrooms
Peppers
Olives
Ground beef
Canadian Bacon
Bacon
Italian Sausage
Pineapple
Or any other favorite pizza topping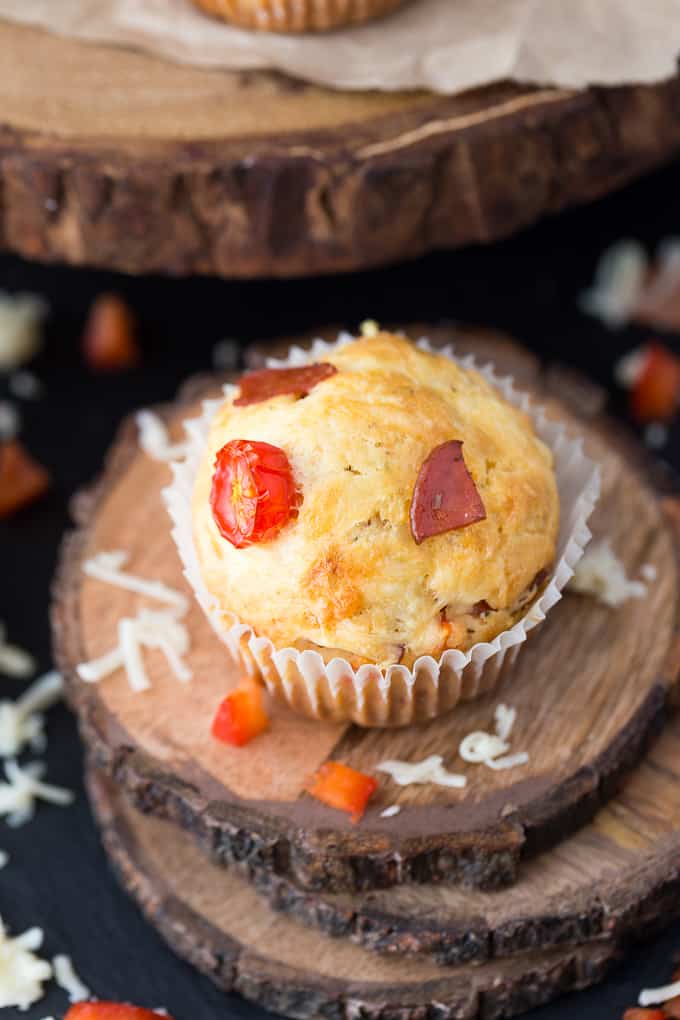 What is the Dough for Pizza Muffins
I used a flour-based dough for making the base of these muffins. They bake up light and fluffy which is so delicious. Just make sure not to overmix the dough or it can become dense in heavy.
When to Serve Pizza Muffins
For dinner
Appetizer for a party or event
Snack for mid-day
Quick Lunch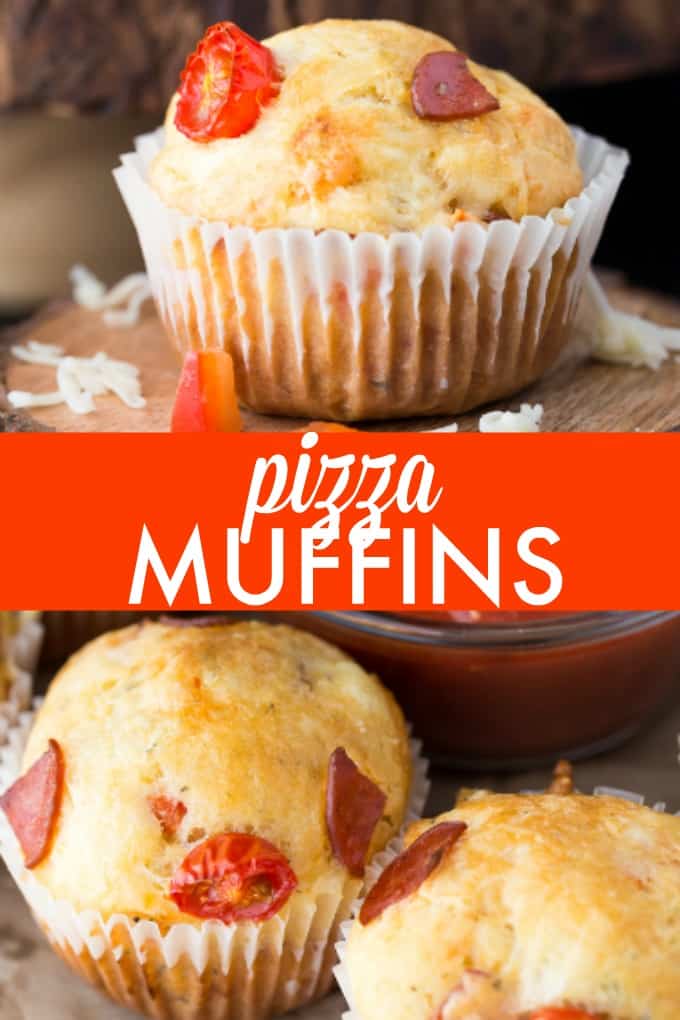 How to Store Pizza Muffins
Because of the ingredients used you will need to store your Pizza Muffins in the fridge. Then when you want one eat it cold or warm it up in the oven, toaster oven or regular oven. Eat alone or pair with a marinara sauce or even ranch dressing for dipping.
You will want to throw out any leftovers after about three days. You run the risk of them going bad, so use your judgment on this.
Will Pizza Muffins Freeze
Yes. You can easily freeze your leftover Pizza Muffins. I have done this for quick lunches and even snacks for later down the line. Simply allow your muffins to cool completely then transfer to a freezer bag or airtight container. Then store for up to three months. Thaw in the fridge or warm them up frozen in the microwave.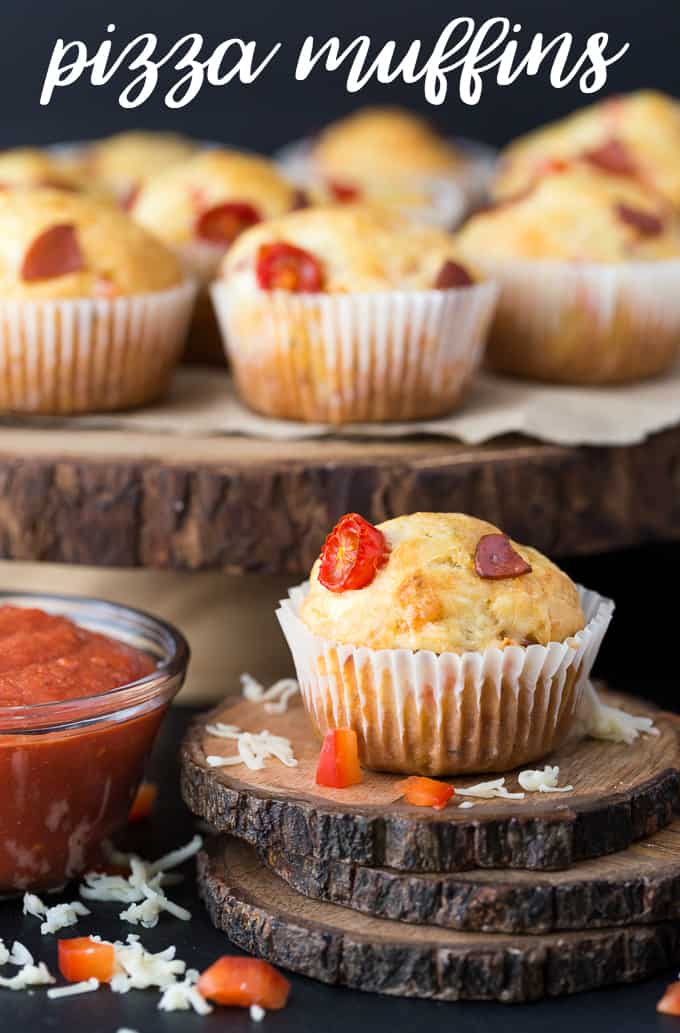 Craving More Pizza Recipes
Pizza Rolls | One of our family's favorite ways to serve up pizza. A dough that is wrapped around and filled with all your favorite pizza toppings.
Pizza Burger | Love burgers and pizza? Try this deluxe pizza burger, it will knock your socks off in the flavor department! It is loaded full of pizza toppings and a juicy burger.
Pizza Cake | If you have never tried pizza cake this is one to add to your list. Layers and layers of pizza ingredients stacked high and baked till golden brown and delicious. Slice and serve like a cake, eat like a pizza!
How Do You Make Pizza Muffins
Start with a bowl and add in your flour, baking powder, salt, and Italian seasoning. Mix well and then make a well in the center.
In another small bowl whisk your milk, oil, and eggs and pour into the well. Mix with the flour mixture until it is just softened. Don't overmix or you will make the pizza dough dense and heavy.
Then stir in your pepperoni, red pepper, and cheese and divide in your muffin cups. Sprinkle with extra cheese and pepperoni pieces. Bake until they are cooked through.
How Many Pizza Muffins Does this Recipe Make
I was able to get 12 regular sized muffin cups from this recipe. Just make sure not to overfill the cups or you won't get as many.
Will This Pizza Muffin Recipe Double or Triple
For sure! If you want to make extra go for it. Just make sure like I stated above to go easy on the mixing so your dough doesn't get heavy and stiff.
Can I Use Gluten Free Flour in Place of All-Purpose
I think if your gluten-free flour mix is a type that can easily replace an all-purpose flour I think you should be fine. I know some gluten-free flours need extra ingredients to help stabilize the dough so that it is similar to a wheat-based flour.
What to Serve With Pizza Muffins
We generally don't pair these muffins with a lot. You could do a green salad, or a vegetable as the side or even opt for a fruit salad. You can easily reach for your favorite pizza pairings that you generally eat.
Give this Pizza Muffin recipe a try this week. I think you all will love it and it only needs a handful of ingredients! A lot you might already have on hand.
You'll also enjoy this Slow Cooker Pizza Pasta and Cheddar Dill Muffins.
Have you ever tried a Pizza Muffin before?


Pizza Muffins
This kid friendly snack tastes and smells like pizza, but in a muffin form. Add in your fave toppings to change it up!
Ingredients
1 1/2 cups flour
2 tsp. baking powder
1/2 tsp. Italian seasoning
1/4 tsp. salt
1/2 cup vegetable oil (or corn oil)
1/2 cup milk
2 eggs
1/2 cup shredded mozzarella cheese
1/2 cup red pepper, diced
1/3 cup pepperoni, diced
Toppings:
1/3 cup shredded mozzarella cheese
Pepperoni, cut into smaller size pieces
6 cherry tomatoes, halved
Instructions
In a large bowl, whisk together flour, baking powder, Italian seasoning and salt. Make a well in the centre. Whisk together oil, milk, eggs and pour into well. Stir until just moistened.
Stir in cheese, red pepper and pepperoni. Divide among 12 paper-lined muffin cups.
Sprinkle cheese over muffins. Top with pepperoni pieces and 1 tomato half, cut side up..
Bake in 375°F oven for about 25 minutes or until the tops are firm to the touch.
Recommended Products
As an Amazon Associate and member of other affiliate programs, I earn from qualifying purchases.
Nutrition Information:
Yield:

12
Serving Size:

1
Amount Per Serving:
Calories:

196
Total Fat:

13g
Saturated Fat:

2g
Trans Fat:

0g
Unsaturated Fat:

10g
Cholesterol:

40mg
Sodium:

251mg
Carbohydrates:

14g
Fiber:

1g
Sugar:

1g
Protein:

5g