I grew up in Ontario, but I have a hard time tolerating the humidity in the summer. I've never been one to love the heat. In fact, I'll take cool, crisp weather over a sunny hot day no matter what. Needless to say, when it's hot and humid out, I am very uncomfortable and looking for ways to keep cool.
Popsicles aren't just for kids. Though my kids love eating popsicles anytime of year, there's just something about eating a cold, flavoured popsicle on a hot day. I'll have one or two just to try and beat the heat. They help….a little.
This recipe for Pink and White Striped Popsicles is easy to make and cheaper than buying popsicles at the local convenience store. Plus they are in my favourite colour: pink! You can mix and match flavours and choose whatever you have on hand.
Stay cool everyone!
These popsicles are perfect for a hot summer day! The fizziness of the Sprite really compliments the yummy lemonade flavor of the Powerade.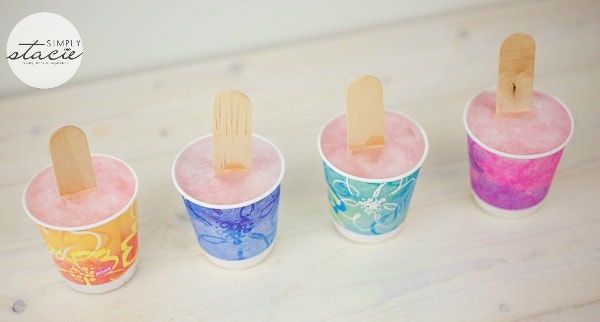 Try my Cereal Milk Popsicles and Toasted Coconut Fudgsicles.
Pink and White Striped Popsicles
A sweet way to keep cool this summer.
Ingredients
Strawberry Lemonade Flavored Powerade (Pink)
Sprite (White)
Instructions
Pour a layer of Sprite into the bottom of a Dixie cup. You will use one cup for each popsicle.
Put in the freezer for about 30 minutes, until the layer has started to freeze, but isn't quite solid. Remove from freezer and insert wooden craft sticks.
Return to freezer and freeze until layer is solid.
Add a layer of Strawberry Lemonade Flavored Powerade. Put in freezer until frozen solid. Time will depend on the thickness of the layer.
Add a final layer of Sprite and freeze until solid.
Serve immediately.
Recommended Products
As an Amazon Associate and member of other affiliate programs, I earn from qualifying purchases.
Nutrition Information:
Yield:

4
Serving Size:

1
Amount Per Serving:
Calories:

81
Total Fat:

0g
Saturated Fat:

0g
Trans Fat:

0g
Unsaturated Fat:

0g
Cholesterol:

0mg
Sodium:

44mg
Carbohydrates:

21g
Fiber:

0g
Sugar:

20g
Protein:

0g