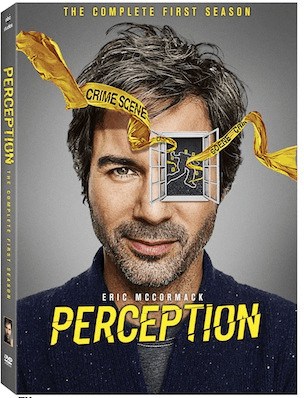 Disclosure: I was not financially compensated for this post. I received a sample of the product for review purposes. The opinions are my own, based on my personal experience with the product.
Title: Perception: The Complete First Season
Release Date: May 21, 2013
Synopsis:
Enter the brilliant mind of Dr. Daniel Pierce and relive every thrilling case of Perception: The Complete First Season. Experience an original twist on the classic crime drama as Emmy Award® winner Eric McCormack (Best Lead Actor in a Comedy Series, 2001, Will & Grace), stars as an eccentric neuroscience professor whose revealing visions help him uncover what lies beneath conscious emotion.
Though recruited by the FBI for his masterful understanding of the human mind, Daniel's odd and offbeat view makes it difficult for him to get close to anyone. His former student, Agent Kate Moretti (Rachael Leigh Cook), is one of the few people willing to accept Daniel's peculiarities in exchange for his imaginative solutions. Two very different personalities join forces as they try to tackle the Bureau's most complex cases.
Perception is "Crime Scene Differently." Own every thrilling moment of Season One in this sensational DVD Collection!
My Review:
Crime dramas are my favourite types of shows. I love a good mystery and trying to figure out the whodunnits. Perception has its own unique perspective thanks to the lead character, Dr. Daniel Pearce. He's a a professor of neuroscience at a Chicago university who sees the world differently than the rest of us. Because of his expertise, he is hired on by the FBI as a consultant and works directly with his former student, FBI Agent Kate Moretti.
Daniel is also a paranoid schizophrenic who is managing his condition or at least he appears to be. However, as I learned in the first episode he still has delusions. He talks to people who aren't really there and at first I was a little confused. A few episodes in though I saw how it worked. Daniel's delusions actually help him solve the crimes. The "people" he sees help him figure out what he is missing and allow him to solve the case. They are his subconscious mind at work.
There was a few times I didn't know who was real and who was a hallucination. It definitely kept me interested as I tried to figure out not only the crime, but also if the person that Daniel was talking was indeed a real person!
As the episodes progressed, I learned more about Daniel and his past including the origin for his best friend, Natalie. I've never met anyone with paranoid schizophrenia so I can't really say if it was accurately portrayed in the show.
With that said, I really enjoyed watching Season One. If you enjoy crime dramas, give Perception a try. I'll definitely be watching Season Two to see what happens!