The days and nights are getting even colder which means our skin and lips take a harsh turn. The winds, snow, rain and cold can really dry out your lips and make them become very chapped. Having chapped lips not only looks unappealing, but it can also become very painful making it hard to go about your day. Sure you can apply some lip balm, but the best cure for chapped and dry lips is a nourishing lip scrub made with coconut oil as your base. This Homemade Peppermint Lip Scrub is easy to make, great to store and will last up to 6 months.
Let's get started on this homemade beauty lip scrub shall we.
Ingredients
Coconut oil
Brown Sugar
Peppermint Extract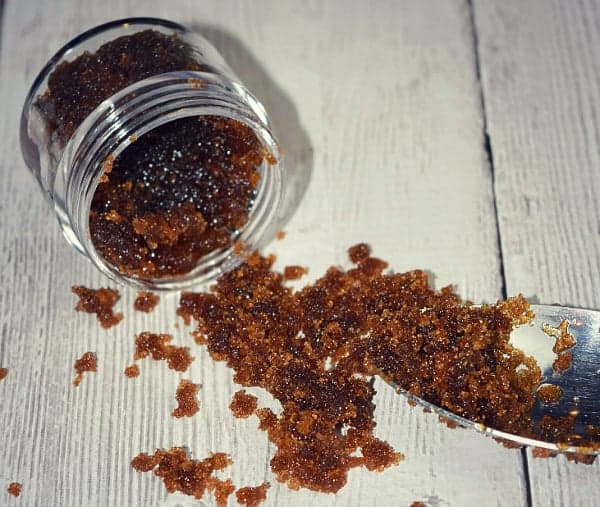 Application
Grab a little bit of the lip scrub mixture onto your finger and gently rub it all over your lips, let sit for a few seconds and remove with a splash of warm water. Enjoy.
The very talented Brittany blogs over at A Spark of Creativity where she focuses on DIY crafts, home décor projects, recipes and more!
Peppermint Lip Scrub
Help dry, chapped lips with this simple homemade beauty DIY!
Materials
1 Tbsp coconut oil
3 Tbsp Brown Sugar
5 drops of Peppermint Extract
Tools
Bowl
Clear Lip containers (3 pack purchased from Target dollar spot)
Spoon
Instructions
Grab a small mixing bowl and add in 1 Tbsp of coconut oil. Place it in the microwave for 30 seconds so the solid coconut oil can turn into a liquid.
Once you remove it from the microwave stir it up and add in 3 Tbsp of brown sugar and stir it up until it's all blended with the coconut oil.
Now add in 5 drops of Peppermint Extract and give it a quick stir. That's it.
Now carefully spoon the lip scrub mixture into a small clear container, pack tightly and close the lid. This will keep fresh for up to 6 months, enjoy.
Recommended Products
As an Amazon Associate and member of other affiliate programs, I earn from qualifying purchases.