I cringe when I think back to the days I used the same password for every website I joined. My logic was that I needed to keep it simple or I'd never remember my passwords. My eyes are open now and I've seen the error of my ways. Now, I have a different password for every site and they are ones that there is no way I'd ever remember off the top of my head. I rely on a Password Organizer to keep track of everything. Frankly, I'd be lost without it!
I was writing down the passwords on scraps of paper, but then I was losing them left and right. I moved to a notebook and it was an improvement. Then when I started working on my Household Binder to organize my life, I thought I'll make a Password Organizer printable to record everything.
It's been working like charm! And good news, I've got one to share with you too, for FREE.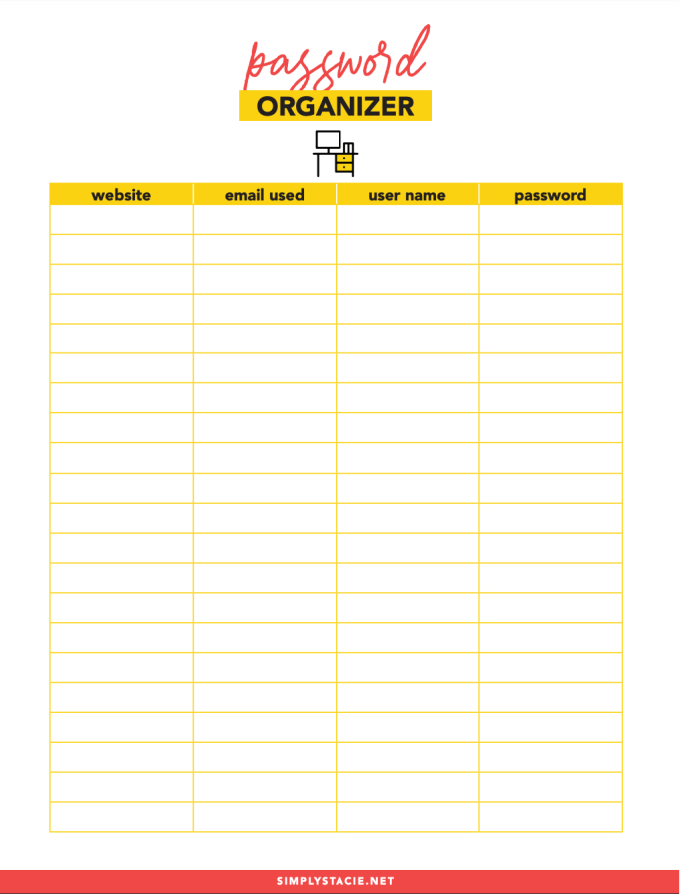 Download this free Password Organizer printable to your computer and print it out at home. Record all your important passwords websites you visit frequently and ones you only go to once in awhile. I keep a copy with me at my desk so it's within easy reach when I need to look one up.
And it terms of choosing a strong password, remember the longer the password, the stronger it is.
If you like free printables, check out my other posts – Free Important Phone Numbers Printable, Free Grocery Shopping List Printable, Daily Cleaning Checklist, Spring Cleaning Checklist and a Weekly Menu Planner.
Fill out the form below to get your free Password Organizer printable.

How do you keep track of your passwords?