The highlight of our trip to San Jose for the Men's and Women's Gymastics Trials was getting to sit down and have a chat with An American Girl: McKenna Shoots for the Stars actress Jade Pettyjohn. Jade is 11, and has already guest-starred in some popular TV shows which include The United States of Tara, The Mentalist, and Criminal Minds: Suspect Behavior. Her role as McKenna in the newest American Girl film is her first lead performance. An American Girl: McKenna Shoots for the Stars will debut on NBC July 14th, 2012 at 8/7 C and is currently available on Blu-ray and DVD.
The character of McKenna in McKenna Shoots for the Stars is a gymnast. In order to prepare herself for the role, Jade Pettyjohn was given several weeks of gymnastics training to prep her for the role. "I had these awesome coaches…they were really teaching me all about the physical thing." To emotionally prepare herself for the role, Jade said, "I just imagined myself in her shoes."
Along with physical training, Jade also adjusted her eating habits. "We do this thing called Carbo Load where you have to have a lot more carbs…they'd feed me sandwiches or pizza…but I'd still keep it healthy, like salads and stuff like that too. I didn't really change very much."
Like her character McKenna, Jade also has to balance all of her interests with school. In addition to acting, Jade also sings and is learning to play guitar and piano. All the while, she is maintaining straight A's and spending time with her family and friends. "I like all of it, so I try to do a little of this, and a little bit of that. I don't want to focus on one particular thing or I might stop loving it."
Jade's parents are also heavily involved in her acting career. Her mother reads the scripts before giving them to Jade, and Jade has not actually watched some of the TV episodes in which she's been in because of their adult content. It was actually Jade herself who wanted to pursue acting rather than her parents wanting it for her. "I've been begging them since I could almost talk really if I could do acting…the thing is, when I was little I was super shy…if I'd do acting [my mom] felt like she'd be throwing me out to the sharks…We started it, and they've been my cheerleaders along the way."
Jade also has the support of the friends she made before she started her acting career. "Sometimes it's a little weird, though, because I can't plan things ahead of time because I might have an audition come up…I think it's a little bit confusing for them sometimes but I still think we're close."
When Jade wasn't at the American Girl booth posing for pictures and signing autographs for her fans, she and her family were watching the Men's and Women's Gymnastics trials. "I have so much respect for them now," she said, reflecting back on her few weeks of training that she did to prepare for her role as McKenna. "They have so much hard work and dedication put into this. Just seeing them like this was like, 'wow'! The kids that were training with me…they were training like 25-35 hours a week. They were training so much because they love it and want to do it and want to get to the Olympics…I didn't know how much they did it."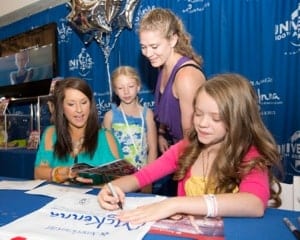 Jade Pettyjohn and Carly Patterson sign autographs at the American Girl booth during the San Jose 2012 Olympic Gymnastics Trials
An American Girl: McKenna Shoots for the Stars co-stars Nia Vardalos (My Big Fat Greek Wedding) and Ian Ziering (Beverly Hills, 90210). Of her onscreen parents Jade said, "It was amazing. When I first met Nia Vardalos, I was starstruck. She's so animated and sweet…it was really easy to get along with her. She's like a second mom…Ian and me were just goofballs. We'd take funny pictures of us on set…when it came to acting, he's into the character."
Jade has many fond memories of her time spent making this film. "There's a lot…I think maybe the cast and crew…me and the girl who plays Toulane and Kerris…we'd have movie nights at our house…cooking class with my mom, stuff like that. So probably that, and then Cathy Rigby, who's my coach, she was giving me tips on different things because she's a two time gold medal Olympian girl. It was really cool for her to teach me stuff."
An American Girl: McKenna Shoots for the Stars is now available from Walmart or any American Girl retailer. Don't forget to tune in to NBC on July 14th at 8/7C to see it air live. This film is perfect for a family movie night, or a sleepover with your best friends!
*We received an all expenses paid trip to San Jose, California to attend the Men's and Women's Olympic Trials and to attend certain press events arranged for the American Girl film. All thoughts and opinions expressed are entirely my own.*