Things to eat, see and do in the nation's capital!
Ottawa, or the city formerly known as Bytown. Okay, it was known as that until 1855 so we're not talking 'recent' history, but some people still use the moniker when referring to the city that sits where the Rideau Canal meets the Ottawa River.
Whatever you call it, Ottawa is the center of our democracy and best known the world over for its wonderful museums, epic outdoor spaces and Justin Trudeau.
Thinking of taking a trip? Check out this curated list of places to eat, see and things to do during your visit!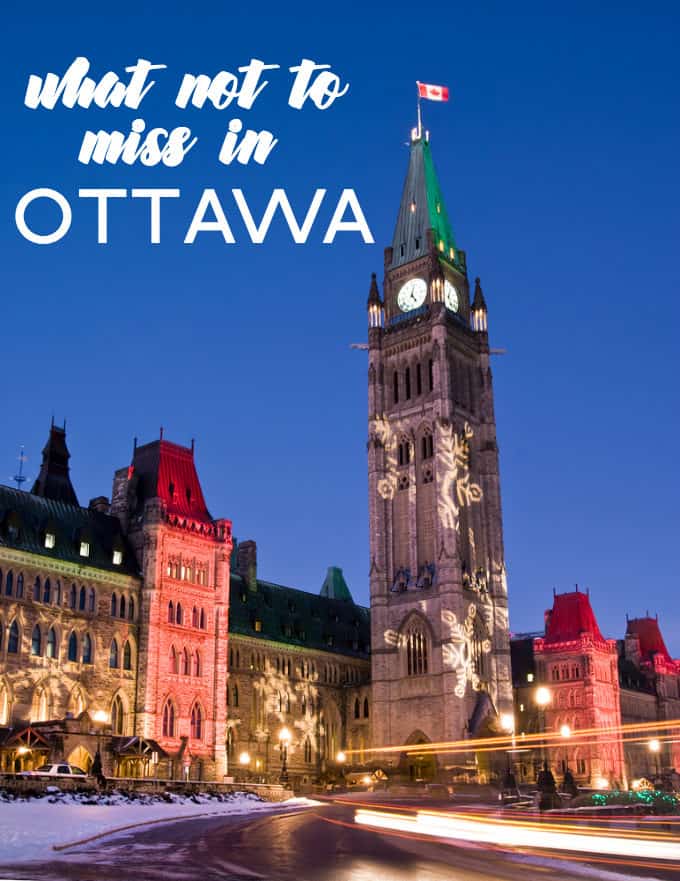 Where you should eat
Fun foods:
El Camino — Dine in or get walk by window service for a quick snack of the best tacos and other downright real Mexican fare.
Suzy Q Donuts — Who could say no to a Blue Vanilla Fruit Loop donut? It's a stop worth making when the kids are on a sugar low and need a boost to get through some more tourist-ing!
Holland's Cake & Shake — Self-described as a bakery meets malt shop, the cakes are divine, the shakes are delicious and the … well, what else do you really need?
Maverick's Donut Company — Everyone will recommend Suzy Q and they're delicious, but Maverick lets you customize your own donut (choose your own glaze & toppings).
Family friendly:
Elgin Street Diner — Open 24/7, with pickup and delivery available, for those times where everyone is just too pooped to go to another restaurant for the evening! Voted Ottawa's Best Diner, their poutine is like none other in the city: Smoked Meat, Chili, Philly Steak, and Onion Ring Poutine, to name but a few!
A little more upmarket:
Afternoon Tea at the Fairmont Chateau Laurier — A table for the Little Prince or Princess, with their own menu including a delectable assortment of sandwiches, scones and a cupcake, all set in what looks to a child like a castle? What could be more enchanting?
Play, Food & Wine — Located on the edge of the Byward Market, you can reserve an early seating and take your kids to experience a lovely restaurant that is quite happy to see (well behaved) kids!
What you must see
First and foremost: Parliament Hill. A visit to Ottawa just isn't right if you haven't at least stopped and visited the grounds and anyway, you can't get far around downtown Ottawa without catching a glimpse of these beautiful buildings. In the mornings during the summer months, be on site at 9:45 a.m. and you can witness the Changing of the Guard ceremony and, in the evenings, Sound and Light—a thirty minute spectacular—will delight all ages! If nothing else, the view of the Ottawa River from the back side of the buildings is impressive!
The Byward Market is a great neighbourhood with shops and restaurants, events and entertainment. From art exhibitions to markets featuring local artisans, this walkable area has dozens of sites, sounds and tastes, to attract your senses!
Take a little drive out of downtown and visit Hog's Back Falls, the spot where the Rideau river and canal split before going their separate ways through Ottawa. It's a beautiful spot to take a picnic and take in the spectacular views.
If the great outdoors is your thing, a trip to Gatineau Park, located 15 minutes outside of downtown Ottawa, has a bit of everything: hiking, biking, camping, skiing, snowshoeing and more!
If art is what interests you, the National Gallery of Canada should not be missed. It's an outstanding piece of architecture that houses over 1000 pieces of Canadian art and artifacts, from First Nations and Inuit pieces to more modern painters, photographers and sculptors, among others.
Things you should do
If you're still at Parliament Hill, why not go on a tour? The guided tours are free and first come, first served, so get up early, check out the Changing of the Guard and find out what it's really like inside the Centre Block, where the Senate and House of Commons preside. Make sure you go up the Peace Tower to get an outstanding view of the National Capital Region!
This list of museums in Ottawa is impressive, though there are more, and you may not have time to fit them all in during your visit but this should help you narrow down your interests:
If it's summertime, Saunders Farm to Table Dinners are worth a visit! Eating dinner prepared by outstanding chefs at a real working farm is an experience that is great for kids of all ages! Check out their online schedule and see if there's a day that coincides with your visit! At other times of year, Saunders Farm has events that are worth taking a BOO at (get the hint?)
There are so many things to mention… A boat tour on the Rideau canal, renting paddle boats on Mooney's Bay, the Tulip Festival each Spring, skating on the canal in the winter… and don't forget Winterlude!
Suffice it to say that you need to visit Ottawa and take in some of these sites for yourself! Do you have a favourite place to eat / see or do in Ottawa?