Ahhh the living room (or den). The one room in the house that gets used on a daily basis by the entire family. It's easy to see how this room can become overwhelmed with clutter very quickly. Keeping it organized doesn't have to be a budget breaker though. You can organize your living room on a budget quickly and without too much extra work.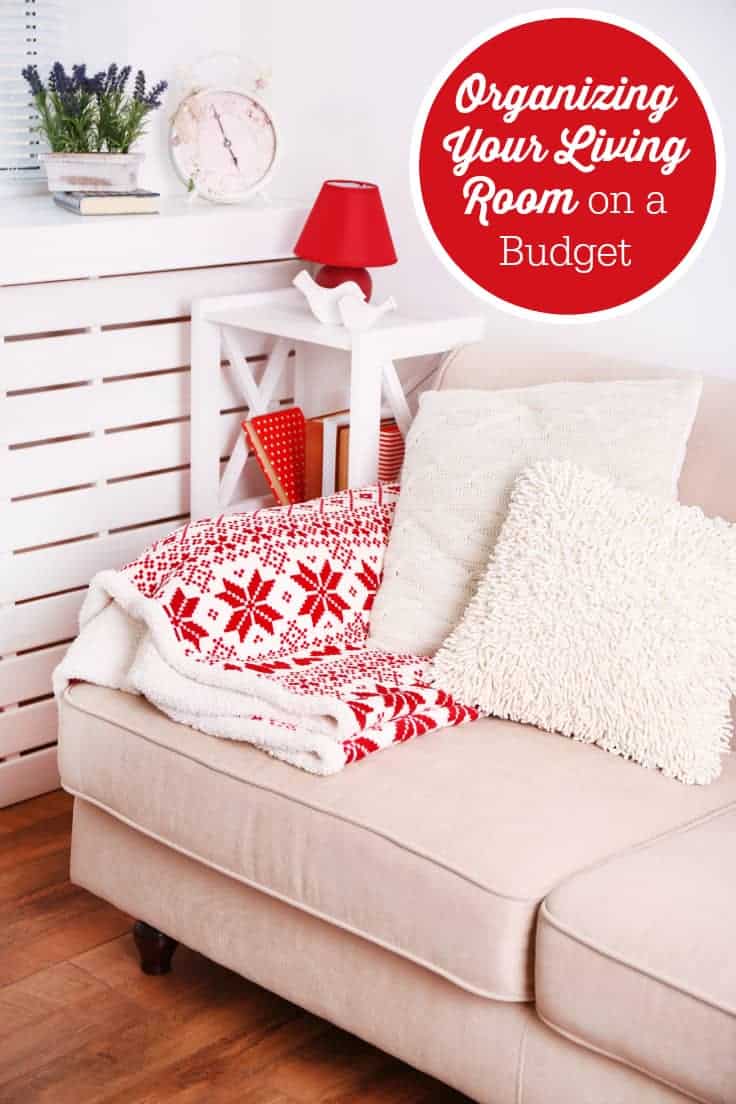 Organizing Your Living Room on a Budget
This post contains affiliate links.
1. Empty toilet paper or paper towel rolls. You knew you were saving those for some reason other than Pinterest, right? Toilet paper rolls are awesome for keeping long cords wound up. Separate the mess of cords then stuff the extra into a roll. One roll for each cord and you won't have a huge mess of them behind the TV any longer. If you're using paper towel rolls, cut them in half so that they're the correct size.
2. Plastic totes. Almost every house has a large plastic tote or two that aren't currently being used. Stick one in the corner of your living room as a catch-all place. As you go about your day, pick up things that don't belong and put them in the tote. Before bed, have everyone grab an item or two and put it back where it belongs.
3. "Pick your shoes up!". We've all heard that statement at least once in our lives, but shoes lying around can cause a huge mess (and trip hazard). Instead of just tossing them into the closet, pick up a cheap shoe rack and have everyone take their shoes off beside it. Once they're off, it's just a matter of picking them up and putting them on the rack.
4. Hang it up. If you're constantly setting your keys and your mail down, grab a cheap key rack that has a mail holder and hang it by the door. You can usually buy them for around $10.00 and they'll help you always know where your keys are and keep incoming mail from cluttering up the place.
5. Reduce paper clutter. Most families have magazines and other periodicals that hang around the main living area of the house. Usually, these things can be tossed without too much worry. If there is an article or two that you're desperate to keep, scan it into your computer and keep it in a file on your desktop. Then recycle or donate the actual magazine collection.
The biggest thing about keeping your living room organized is just keeping things together and the room itself picked up. Doing those two things will help you on the road to an organized home!
How do you keep your living room organized?