Are your kids' rooms messy and unorganized? If so, it might seem like a huge feat to tackle the mess and bring things back under control. Organized kids' room not only helps them to find what they need and teach them to keep things clean and tidy, but it will also help them be more calm and bring out their creative side. It might take a bit of work, but you can truly give your child a well-organized room on a budget that is sure to make them (and you) happy.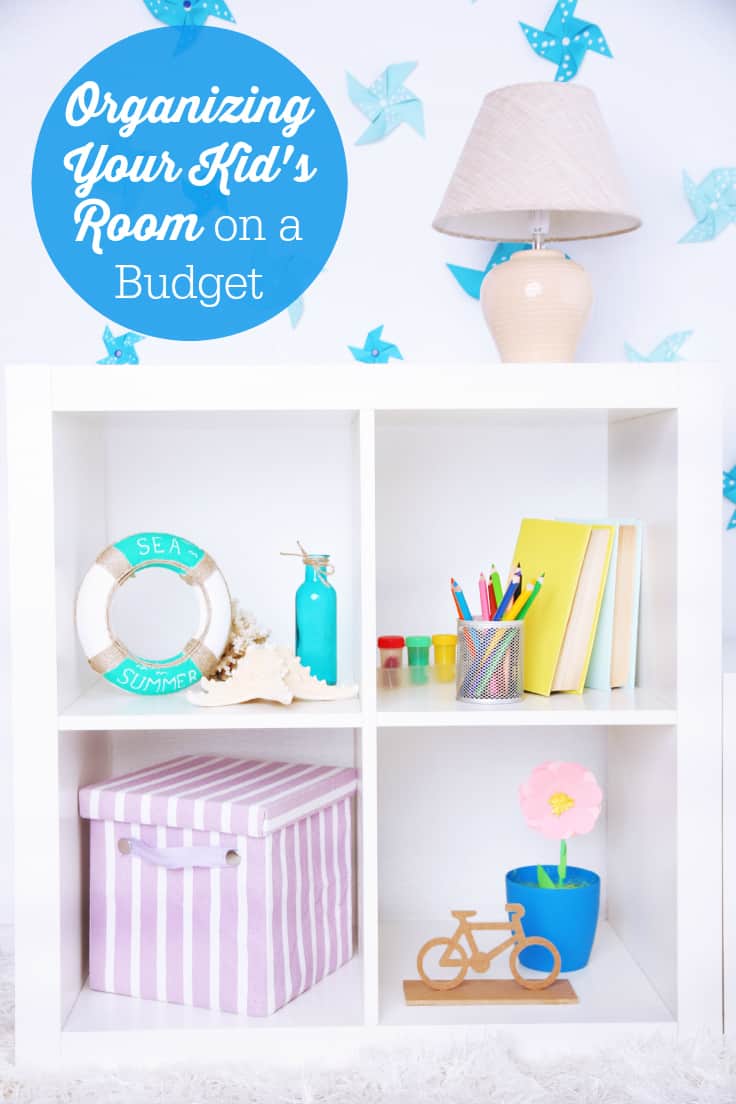 Organizing Your Kid's Room on a Budget
This post contains affiliate links.
Tip 1. Toss, Donate or Keep. To start, go through all of their toys, books and clothes. If the items are in good shape, but not used anymore, consider bringing them to Value Village or other charitable donation spots in your area.
Tip 2. Corral the toys. Next, you'll need to have a great place to store what is left. For toys, you can pick up toy bins for a decent price, but if you don't have the cash, a plain old tote will work just as well.
Tip 3. Make your own bookshelf from milk crates. Bookshelves for kid's rooms are usually pretty cheap, but can easily be made out of milk crates and zip ties if you don't have the budget to buy an entire shelving system. Check big box department stores during back to school sales to pick up crates for cheap.
Tip 4. Repurpose rain gutter for shelving. Want to create actual bookshelves? Pick up a few pieces of rain gutter and attach to the wall. Put on the end caps and you have custom made corner shelving that is strong enough to handle just about anything your kid could throw at it.
Tip 5. Organize clothing by outfit. To organize your kids clothing, put their clothes together in outfits and store them rolled up together. This will keep your morning routines organized and efficient. Make sure that you do everything they will need for the outfit; socks, underwear, bottoms and tops as well as any accessories that go with it too.
Tip 6. Make a DIY hair accessory organizer. For little girl's hair accessories, you can find a quick and easy DIY project to hang or clip them onto to keep them up out of the way.
Organizing your kids room takes being creative, but once you get the ball rolling, it's quite fun to do! Make sure to involve your kiddos as much as possible though so that they feel like they helped make the changes! Plus, if they take part in the cleanup, they may be more likely to keep it clean. Hopefully, anyways!
You might also like these Beauty and the Beast Toys.
How do you organize your kids' rooms?