Your bedroom can be a sanctuary that welcomes you each and every night when you come home to your bed. Yes, I said come home to your bed because where you lay your head down and rest is home. For a lot of families though, the bedroom is actually the room that can be the most cluttered. Organizing your bedroom on a budget is usually pretty simple to do, but you might have to learn how to let go of a few things in the process.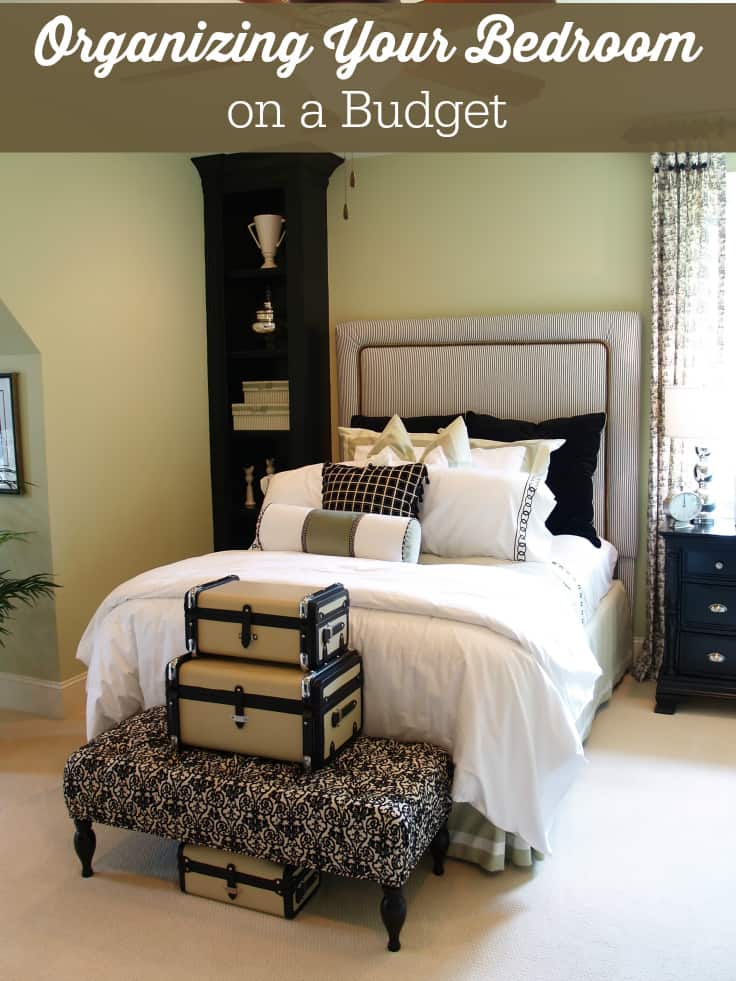 Organizing Your Bedroom on a Budget
This post contains affiliate links.
To start with your bedroom, make sure that you've removed anything that doesn't belong then use the tips below to create an organized room.
1. Wooden ladder. Have extra blankets that you're storing? Use an old wooden ladder to store them on. They're out of the way and they will look pretty while you're storing them.
2. Hang it up. If your closet is spilling over, go through your clothes and then use stacking hangers to keep what is left organized. For scarves or ties, use a rotating scarf rack.
3. Go Light. In reality, your bedroom should have very few items in it that are not directly related to sleeping or getting dressed in the morning. Remove anything that isn't and you'll sleep better being less distracted by the clutter.
4. Shrink it. Use space bags (or something like them) to store out of season clothes, shoes and gear.
5. Make it. Make your bed. Every morning. Your bedroom will instantly look better.
6. Wash it. Keep dirty laundry out of your bedroom. Stash it in the laundry room instead. Also, make sure that your bed linens are clean and laundered on a weekly basis (at least) to keep the room smelling fresh and inviting.
7. Create a peaceful atmosphere. An organized bedroom is a calming bedroom and you can help yourself create that atmosphere with a few tea lights and by diffusing your favourite essential oils.
Once your bedroom is fully organized, you'll have an inviting oasis that you want to sleep in and a place that is so much more than just a bed. Use a few DIY décor crafts to decorate and call it good to go!
What do you do to make your bedroom more welcoming?