Brought to you by Interac Association and TheCo
The lazy days of summer will soon be behind us and we'll be full force into the crazy back to school season! I don't know about you, but I'm excited for a change in my routine. Don't get me wrong – summer is great but I'm looking forward to the fresh start of a new school year.
I know that back to school is stressful and hectic, but it doesn't have to be. With a few small tweaks to your routine, you can be organized and prepared for all the upcoming changes. I used to procrastinate and wait till the very last second to get ready. Thankfully, I've changed my ways and adopted a few tips and tricks so that this busy season is much more enjoyable.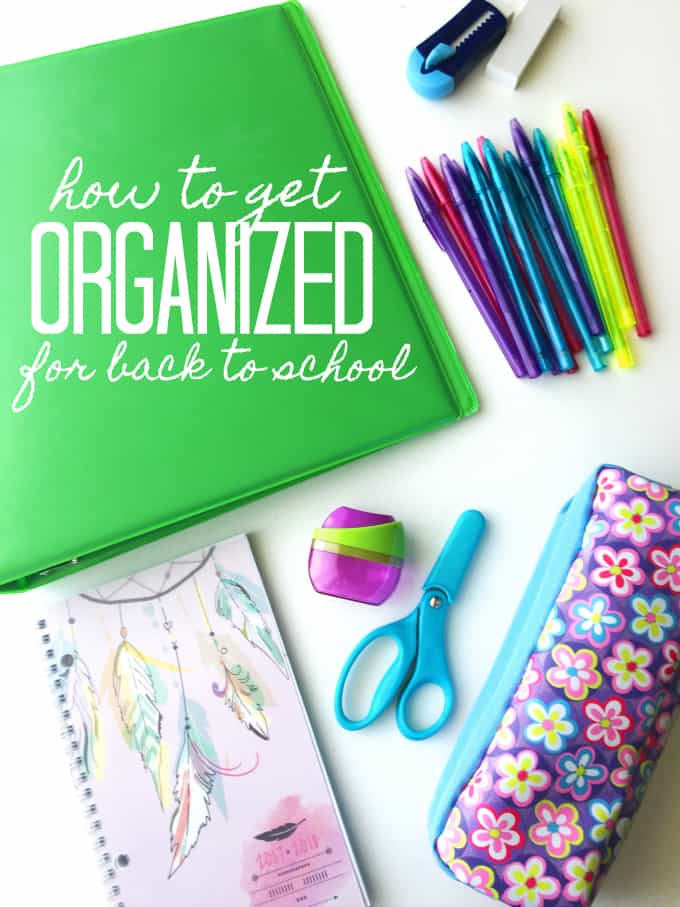 How to Get Organized for Back to School
Try these simple changes and get organized for back to school today!
1. Don't wait until the night before to start planning. Go grab a pen and paper or your favourite mobile app and make a list of everything you are going to need to buy for your kids. Many schools will post on their website a list of supplies required for each grade level. You'll need it to know what exactly you need to buy. The earlier you can do this, the better off you'll be.
2. Look through flyers to find the best deals. You can also do this from a flyer app on your smartphone. Figure out what stores you need to visit to get everything you need on your list. If your local store price matches, you can do one-stop-shopping and get everything you need in one swoop.
3. Look around your home for items you may already have. I check my kids' backpacks because they'll usually bring home unused school supplies from the previous year. It's great to be able to use them for the upcoming year and you can save a little bit of money, too.
4. Shop with convenience and security. I love using Interac Flash® to pay for my purchases. It's convenient, fast and secure. I simply hover and hold my Interac Flash enabled debit card over the payment terminal and within seconds, my purchase is complete. It's nice to not have to be able to dig around in my purse for exact change or enter my PIN to finish buying my kids' school supplies. I use it all the time to pay. In fact, I don't even carry cash anymore! Give it a try and you'll see what I mean.
5. Keep a calendar on your fridge to keep track of schedules. I'd be so lost without because my daughter seems to have something going on almost every night. She takes horseback riding lessons a few times a week. Plus, there are appointments, birthday parties and more to figure out. You'll always know what is happening in the coming days and weeks. Never forget an important date again.
6. Designate an area of your home for homework. I call it the "Homework Station". It doesn't need to be fancy. It can be a desk in your den or your kitchen table. Keep a few key school supplies close by so your kids can have everything they need when they sit down to work.
As you can see, with a few small changes to your everyday routine, you can get organized for back to school in no time at all. Save yourself some stress (and money!) and try these tips today!
What are some of the ways you get organized for back to school?
Disclaimer: This post is sponsored by Interac Association/Acxsys Corporation. As always, all of the opinions here are my own.
---
Interac Flash is a registered trade-mark of Interac Inc. Used under licence.
---