It's that time of year again, Spring cleaning! Not too many people are happy about that, but they probably would like a neater home. Fortunately, if you organize your cleaning tasks, you'll be able to get them done without tiring yourself out…or redoing them again and again. Who is ready to organize spring cleaning?
Below are five steps to get organized so you'll have a fresh and clean home without the headache!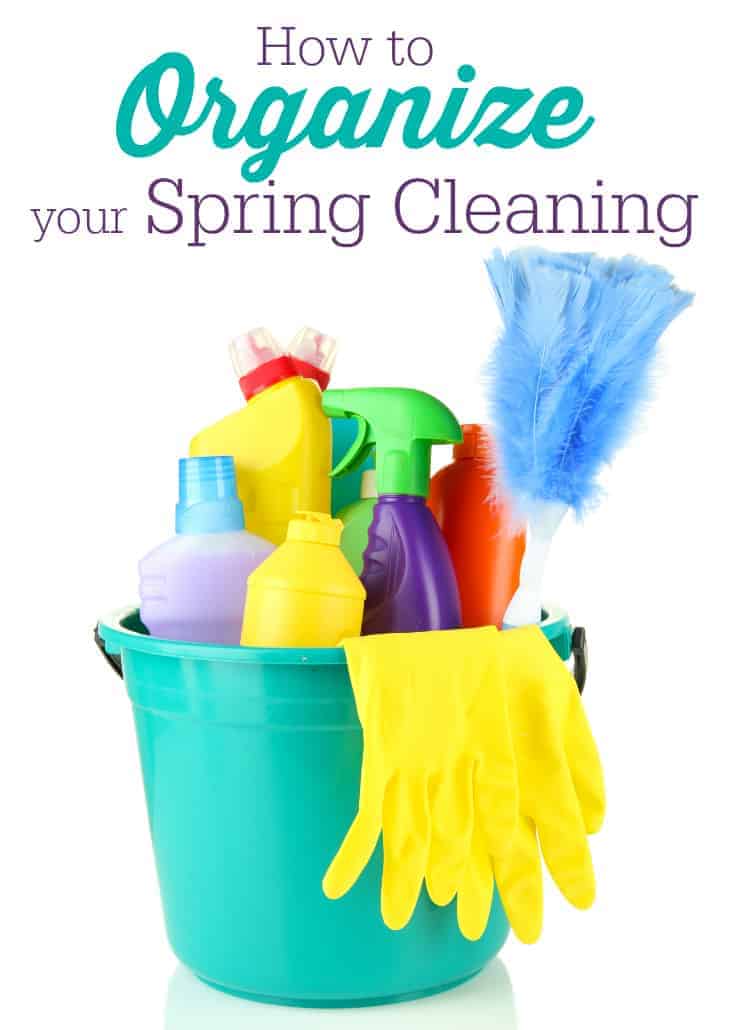 Organize Your Spring Cleaning
1. Make a list of all the cleaning you need to do. If you've recently cleaned after the holidays, every room in your home may not need a deep spring cleaning. Decide what needs to be done in order for your house to be tidy and organized, and focus on these tasks only.
2. Schedule your cleaning to get it all done. Once you have a list of 'to-dos' for your spring cleaning, make yourself a schedule. Think about other commitments you have for the next two months, and assign time to straighten up your home around that.
One good suggestion is to print off a paper calendar for March, April, and/or May, and be specific with your scheduling. For example, if you have time on April 4th, write in exactly what you are going to tackle, such as declutter the hall closet or clean off the family desk.
3. Create an organized cleaning kit. Having your cleaning supplies in one place makes for a more organized cleaning. Better yet, create a kit that can be carried from room to room so you aren't wasting time heading back for new products every few minutes.
A good cleaning kit needs the basics: window cleaner, all-purpose cleaner, air freshener, rubber gloves, and a couple of clean rags.
4. Designate boxes or bags for the clutter. As you do your spring cleaning, you'll come across things you need to donate, sell, or trash. Having separate containers for these items keeps you organized. Move the boxes into the room you are working in, so you have them handy when you need to get rid of something. Remove these containers as soon as you finish a room – you don't want the unwanted items staying in your home any longer than they have to!
5. Continue to straighten as you clean. Just because you are finished with the spring cleaning in the bedrooms doesn't mean you should forget them! Tidy them up daily so you aren't having to start over once you've finished your list. Plus, keeping things neat lets you know where you left off – so you don't clean things twice.
For more cleaning tips, check out my posts about How to Keep Your Toilet Clean All Week Long, 4 Ways to Make Your Home Smell Amazing, Daily Cleaning Checklist, How to Clean Your Home in 15 Minutes and How to Clean Your Microwave Without Scrubbing or Chemicals.
How do you organize your Spring cleaning?