Picture it: it's 2 a.m. Baby has had a full diaper blow out and is wailing at the top of their lungs. You need to be a diaper ninja with extraordinary stealth techniques in order to get in and out with a minimum of fuss. The key to these mad skills is to have everything you need to deal with the situation, right where you need it. 2 a.m. is not the time to be rummaging through piles of laundry, looking for a clean set of pyjamas. It's not the time to be digging through a basket for a clean cloth diaper. It's time to get it done.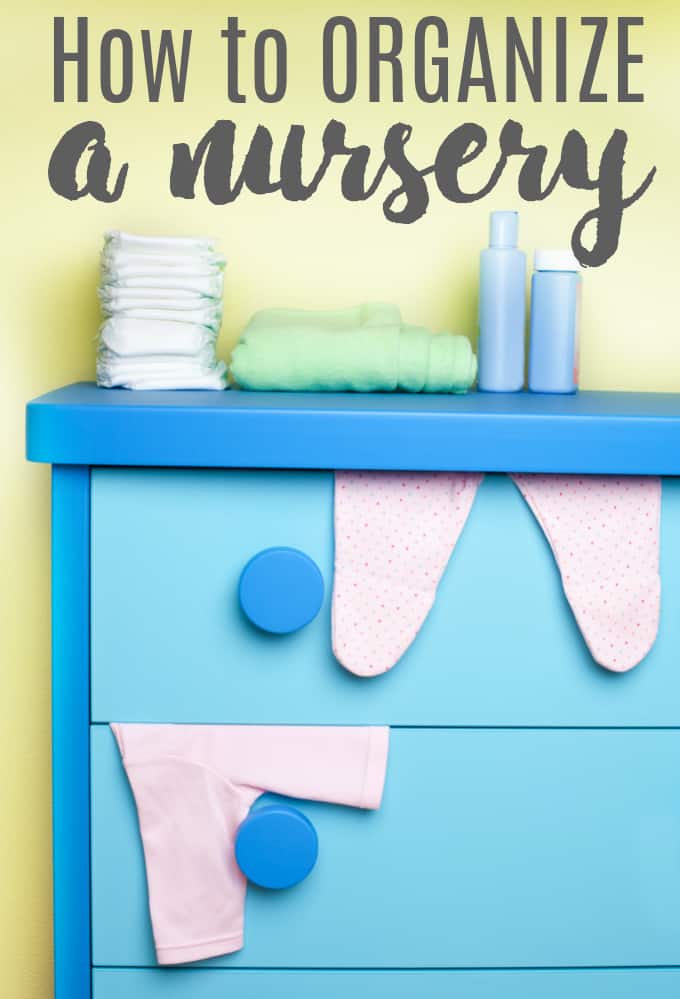 First off, what are the essentials for baby's nursery?
Baby needs certain things from the moment they come home from the hospital. Part of having an organized nursery is having the things you will need at the ready.
This post contains affiliate links.
Must haves in the nursery:
Diapers: disposable or cloth and if the latter, waterproof covers.
Fragrance free wipes en masse! Have back ups for the back ups on these, whether you use disposable or cloths.
A changing pad, creating a clean space for changing baby, even it it's all happening on the floor!
Extra, clean pacifiers, if you use them.
A container for putting the dirty diapers.
A laundry hamper. This is particularly useful if you're in the habit of washing baby's clothes apart from those of the rest of the family, with a mild detergent. It will save you have to separate the wash from the communal basket before starting the laundry!
Extra onesies or pyjamas: a diaper blowout means a full change!
A safe sleeping space for baby, and in a cold climate like Canada, consider a sleep sack.

Somewhere to sit while feeding baby in the middle of the night. This is for you and baby to be safe and comfortable.
Nice to haves in the nursery:
A baby monitor. If you have a larger home, you might not hear baby's cries from downstairs!
A change table or set of drawers that you put the change pad on to. Don't forget to anchor these to the wall: as baby gets bigger, there's a hazard of these falling over onto baby as they pull themselves up on them!
Organizing the nursery essentials
Now that you have all the gear that you might need, how do you organize it so that everything is easily accessible?
Make sure that everything has a place
The extra diapers, the soothers and so on… Everything needs a place, whether that's a shelf, drawer, or basket. You basically need to be able to find what you need with your eyes closed (because at 2 a.m., that will be more or less true!)
Most importantly, make sure that all the essentials are within reach. If you're using a change table or a dresser as a change table, you cannot take your hand off of baby for even a moment, or they run the risk of rolling right off at some point. Everything you need to clean up and change baby MUST be within your arm's reach!
Change tables and dressers are both good options, though the latter will grow with baby into childhood, so it's a more cost effective option. You can use the top drawer for a lot of the essentials, keeping the dresser top free for the change pad. Even better if you include dividers or baskets in the drawer, to keep smaller items easy to find instead of all in a jumble!
Storing the extras
Since buying diapers and wipes in bulk might become a way of life, the next problem becomes where to store everything that you don't immediately need!
Keep some in storage spaces you have in your home: the basement, the garage, the closet under the stairs!

Keep some of your supply even closer: under the crib is a usable space that most people never think of!

Hang a fabric pocket shoe rack on the back of the door or closet door to get extra storage for all the bits and bobs like soothers, burp cloths, extra diaper cream and so on.
Get into the habit, every couple of days, of checking the 'stock' in immediate reach of the changing area, to make sure that you won't find yourself reaching for a diaper at 2 a.m., only to encounter an empty space!
Cubes, bins or hangers?
Practically speaking, you'll end up putting baby in the same few onesies and PJs for a while, rotating through your favourites daily. Storing those items, whether in a drawer or on a shelf in a cube or bin, is quicker and easier after the laundry is all done and folded than fussing with hanging everything. Keep the hangers for the special outfits that you're keeping for the holidays or other events and keep the everyday pieces handy.
Stackable bins, shelving or plastic drawers within the closet make better use of vertical space than hangers, particularly given how small everything baby wears is! Keep a separate bin for clothes that baby has outgrown, so you can recycle them to friends, family or the local consignment store!
The added bonus to shelving in the closet is that as baby turns into child with toys, you can organize some of these into this space and still have all the favourites within reach for your little one.
Once you're organized and in the habit of checking that you have a ready supply of what you need, you'll find those 2 a.m. changes a breeze… well, almost!
You might also like these baby shower games for girls. See how to organize a playroom.
Do you have any nursery organizing tips to share with us?