If you enjoy cooking, it's likely you've created your own little stockpile of recipes over the years. Tearing them from magazines, jotting them down on scrap paper, printing them from the internet – all of that can create some real clutter in your kitchen! Trust me, I know! Mine were a mess!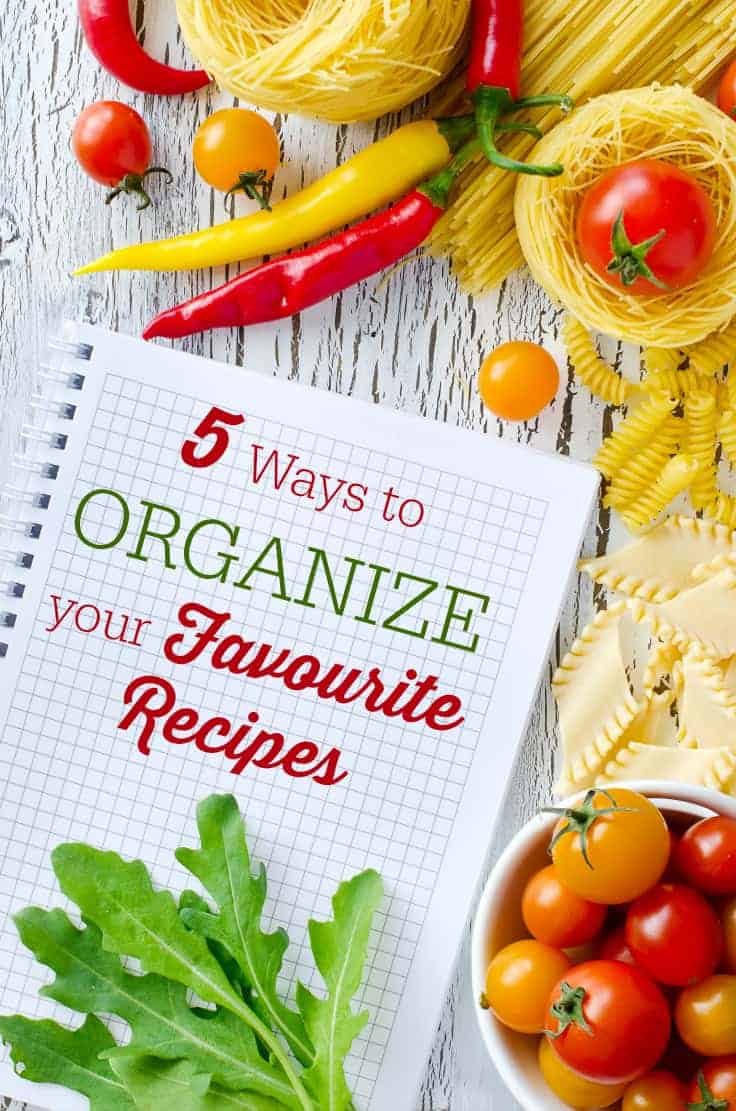 Organize Your Favourite Recipes
This post contains affiliate links.
Below are five ways you can organize your favourite recipes to avoid a pile up and be able to quickly find what you want to make! Spend more time cooking than hunting down the recipe.
1. Index Card Box. If most of your recipes are on cards or small paper, a box may work well for you. These boxes fit anywhere in the kitchen you want to stash them and you can have multiple for different categories. For loose recipes on scraps of paper, tape them to the cards so you don't lose them.
2. Photo Album. As an alternative to a box, you can place index cards into photo albums to keep them organized and safe. When you need a recipe, simply flip through the album to find it. The transparent pages make it easy to find what you need and in most cases, you won't need to pull the recipe from the book in order to follow it.
3. Recipe Binder. A three-ring binder is perfect for recipes that have been printed from the internet. Grab a pack of sheet protectors and slip each recipe inside one to protect them from splatters and spills. Binder dividers are also handy to keep your categories separate and easily find the recipe you need.
4. Pinterest. Those that are newer to recipe collecting may find Pinterest to be a great way to organize recipes. Each board can house a different category, and the beautiful visuals make it easy to decide what to cook. You'll find a ton of recipes there, no matter what you are cooking, and can add those you find on the web easily. Additionally, the lack of clutter in your kitchen is a definite bonus!
5. Mobile Apps. If you have become solely dependent on your phone for recipes, there are several mobile apps that allow you to organize your favourites to find them again. Paprika is one such app, available or iOS and Android, which lets you clip recipes from the web and save them to the cloud so they are available in all your devices. Another one worth checking out is Big Oven, a recipe organizer, grocery list and menu app.
Initially, it may take some time to get all of your recipes organized and in one place. Once you've done the legwork, however, you'll be happy to have them ready for you bake and cook whenever you want!
How do you organize your recipes?