To ensure that you pay them on time!
Have you ever missed a due date on a bill payment? It can happen so easily! You can set up routines and habits to help avoid that!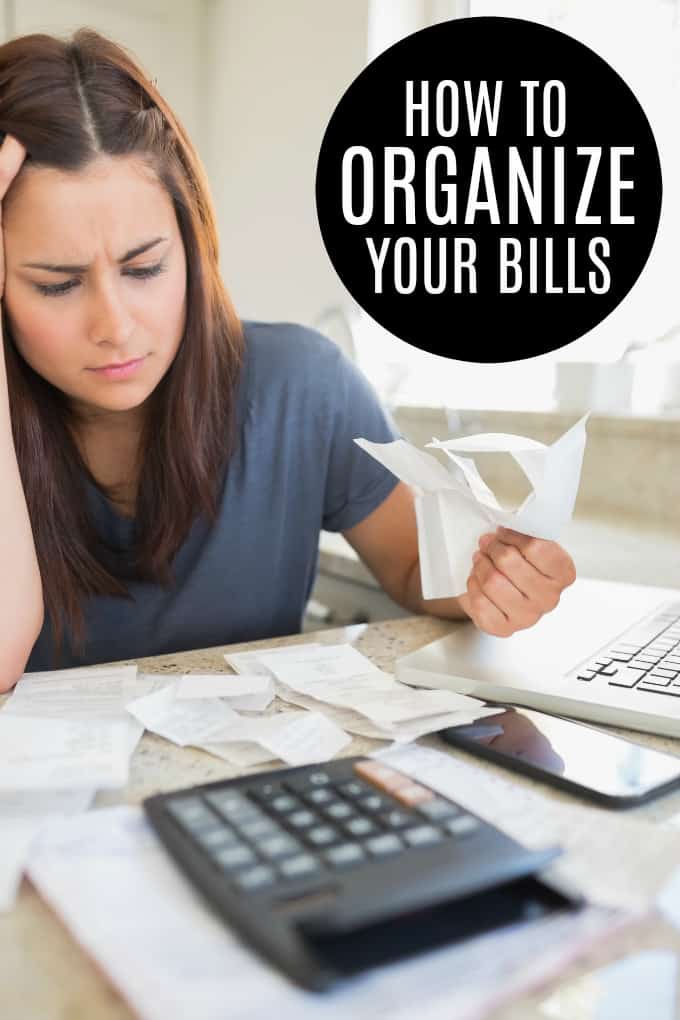 How to Organize Your Bills
Take stock
Make a list of every bill you receive each month—use previous ones or your bank statement if you're not even sure what comes in. That includes paper bills, e-bills, and automatic withdrawals. You should also mark the date that they typically arrive / are withdrawn. For paper bills, you should have a place that they automatically go after being opened but before being paid: a letter holder is a great option, so you can place them in the order they were received.
I once had a mailed credit card bill go missing and I didn't even notice. When the next month's bill arrived, it was with a hefty interest charge for not having even made the minimum payment!
Noting all your dates on a spreadsheet or table in a document, or even in your calendar, will ensure that you never miss it, even if it doesn't arrive. Ideally, where you can, switch to e-billing, as this version of your bill is less likely to go AWOL. Check out these printables to help get you started!
The advantage of recording all your bills on paper, or in a document on your computer, is that you can note each month when each bill was received, paid and filed, so you know, at a glance, what your status is.
Schedule your time
Bill paying often falls to the bottom of the pile of things to do, but it's best to get it out of the way. Ignoring bills won't make them go away! Schedule some time every week to do a quick check of your 'at a glance' bills document or list to make sure everything is up to date.
Checking your bank statements, or online accounts, at the same time will allow you to make note of the withdrawal of any pre-authorized payments. It can help you keep an eye on any fraudulent charges that you might have been the victim of.
Share your system
It's fine if you're the bill payer in the house but make sure that someone else knows your system and how to make sure it is being kept up. After all, accidents happen, illness happens, life happens. You might need someone else to check in on the bills for a week or two, so best to be prepared!
They should know the system and where your secret list of passwords are kept. After all, who can remember ALL of those passwords?
Automate what you can
Automatic bill payments are a great way to make sure you don't miss a due date. Cell phones, utilities, cable and so on. So many of them can (and indeed some have to be) set up on an automatic payment system. That doesn't mean you shouldn't check in with your bank on a regular basis to make sure it's been properly withdrawn, but at least it's a quick glance and a checkmark on your bill payment document.
Make sure you also know how to stop these automatic payments. Every financial institution / Paypal / other has a slightly different way of doing things. If you cancel a service that was set up as an autopay, you need to be particularly mindful for a billing cycle or two to make sure that it does in fact stop!
Filing
Some people are big on shredding bills just as soon as they are paid. Others prefer (or need to, for business) keep copies for about a year, or more. Whichever way you go, make sure you have a filing system for paper bills, and online one for e-bills. Get them out of your INBOX and into a separate folder as soon as they've been paid.
If you don't need to keep the bills for business / tax filings, but you like to keep them for about a year, establish an annual 'clean out' routine to get rid of older bills. Shredding is best, for privacy reasons!
Once you've got a process set up, checking up on the bills and making sure they are all paid can be whittled down to a once a week 15 minute process!
You might also like an Erin Condren planner.
Do you have any other tips to add?