Do you love the look of gel nails, but don't own an LED-light? I love gel nail polish, but will admit that they are higher maintenance. You have to dry them with an LED-light and use soak-off removal. OPI has just announced the release of the OPI Infinite Shine Gel Effects Lacquer System. This is perfect for people who love gel nails, but don't want to deal with the extra steps required to get them. This lineup offers rich colours that shine brilliantly. They also last up to 10 days without losing the intense shine!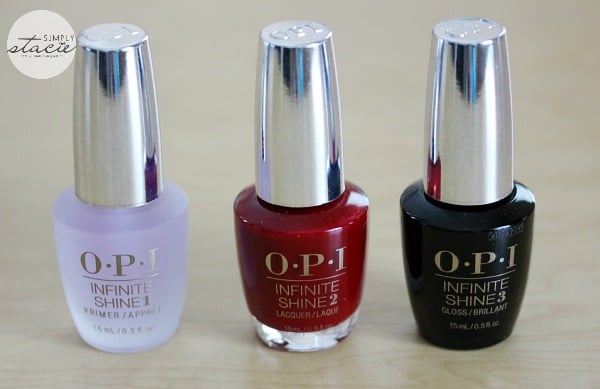 It's a three-step system that is easy to apply and all the bottles are numbered so you know which one to apply first.
Step one is applying the Infinite Shine Primer to prevent staining and increase lacquer durability. Step two is my favourite part – the colour! Apply two thin coats evenly over your nails. Step three is the Infinite Shine Gloss, a state-of-the-art gel polymer formula that cures in natural light. I own an LED-light but it stayed in its home and was not needed!
Infinite Shine is available in 30 new vivid shades ranging from bright reds, oranges, pinks, dark gray, black and neutrals. Here is the full list of hues:
Pretty Pink Perseveres
From Here to Eternity
She Went On and On and ON
Girl Without Limits
Running with the In-finite Crowd
Endurance Race to the Finish
No Stopping Me Now
Unrepentantly Red
Unequivocally Crimson
Relentless Ruby
In Pursuit of Purple
Grapely Admired
Can't Be Beet!
Raisin' the Bar
We're in the Black
Get Ryd-of-thym Blues
Indignantly Indigo
To Infinity & Blue-yond
Withstands the Test of Thyme
To the Finish Lime!
Maintaining My Sand-ity
Tanacious Spirit
Brains & Bronze
Set in Stone
Never Give Up!
Strong Coal-ition
Steel Waters Run Deep
Staying Neutral
It Never Ends
You Can Count on it
I'm wearing Raisin' the Bar – a deep crimson red. I like to add a little bit of glam to my look – even if I'm dressing down for the day around the house in my yoga pants. Nothing wrong with that! It delivers on the glossy shine and looks very similar to gel nail polish I've tried in the past.
Use some Expert Touch Nail Lacquer Remover or whatever polish remover you have on hand. There is no need to soak your nails to get the colour off.
You can find the OPI Infinite Shine Gel Effects Lacquer System at professional salons and spas across the country for a SRP of $14.95 for each nail lacquer. If you've always been wanting to try gel nails, but shied away because of the hassle, give this set a try!