I can't get enough of all the cute kid's décor products that are out on the market. I love all the different patterns, colors, and trends that come out over the course of the year. Both of my boys' rooms are sort of an eclectic mix of products that I come across that I deem "too cute to pass up"! Now I have another outlet for my obsession – an online store called Olive Kids.
I was given the opportunity to choose any product from Olive Kids for review. When I logged on to the site, I couldn't make up my mind. Everything seemed so colorful and vibrant and I wanted to choose one of everything! I finally decided on the Heroes Personalized Floor Pillow. I think there are some images that are classic and timeless, and for a little boy, a fire truck is one of those images. I liked the color combination of blue and red, and I thought the concept of a larger floor pillow would be something that would come in handy for day-play. When the pillow arrived it was an instant hit with my boys. They loved the fire truck picture and had a blast taking turns lounging on it. I had Matthew's name personalized on the pillow, but knew that both of my boys would love it – I'm going to have to get Noah his very own! I think this pillow will come in handy when we travel over the holidays. Cleanup is easy – I can simply machine wash the removable outer shell. The pillow measures 20"x26"x2" and retails for $45.00.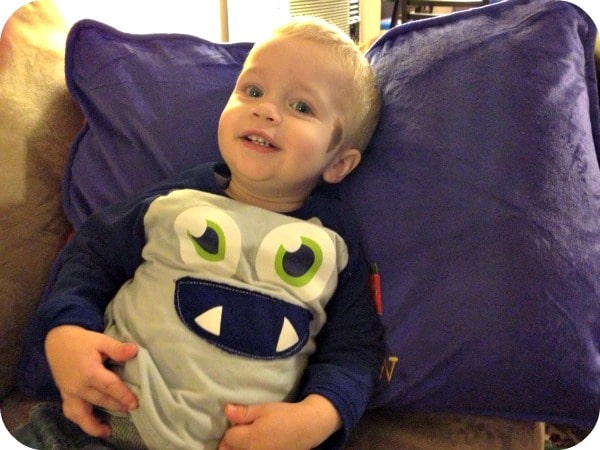 Olive Kids was started by Anita and Russell Brandwein in an effort to give parents an affordable alternative to the character and movie-based decorations that flood the kids' market. Their goal – to create fun and unique kids bedding and coordinates with the emphasis on great design, high quality, value and fantastic personal customer service. Their designs revolve around classic themes such as transportation, tea parties, outer space, etc. – all with the option to be personalized. They offer a range of bedding and décor products, including backpacks, sleeping bags, wall art, comforters, growth charts, lunch bags and more.
You can see the full line of Olive Kids products on their website.
Disclosure: I was not financially compensated for this post. I received a sample of the product for review purposes. The opinions are my own, based on my personal experience with the product.