Olive Cheese Balls are the perfect salty, cheesy appetizer with a kick! These baked cheese balls with a cheddar dough are a little crispy on the outside with a tangy green olive on the inside for the best finger food on your Christmas party spread.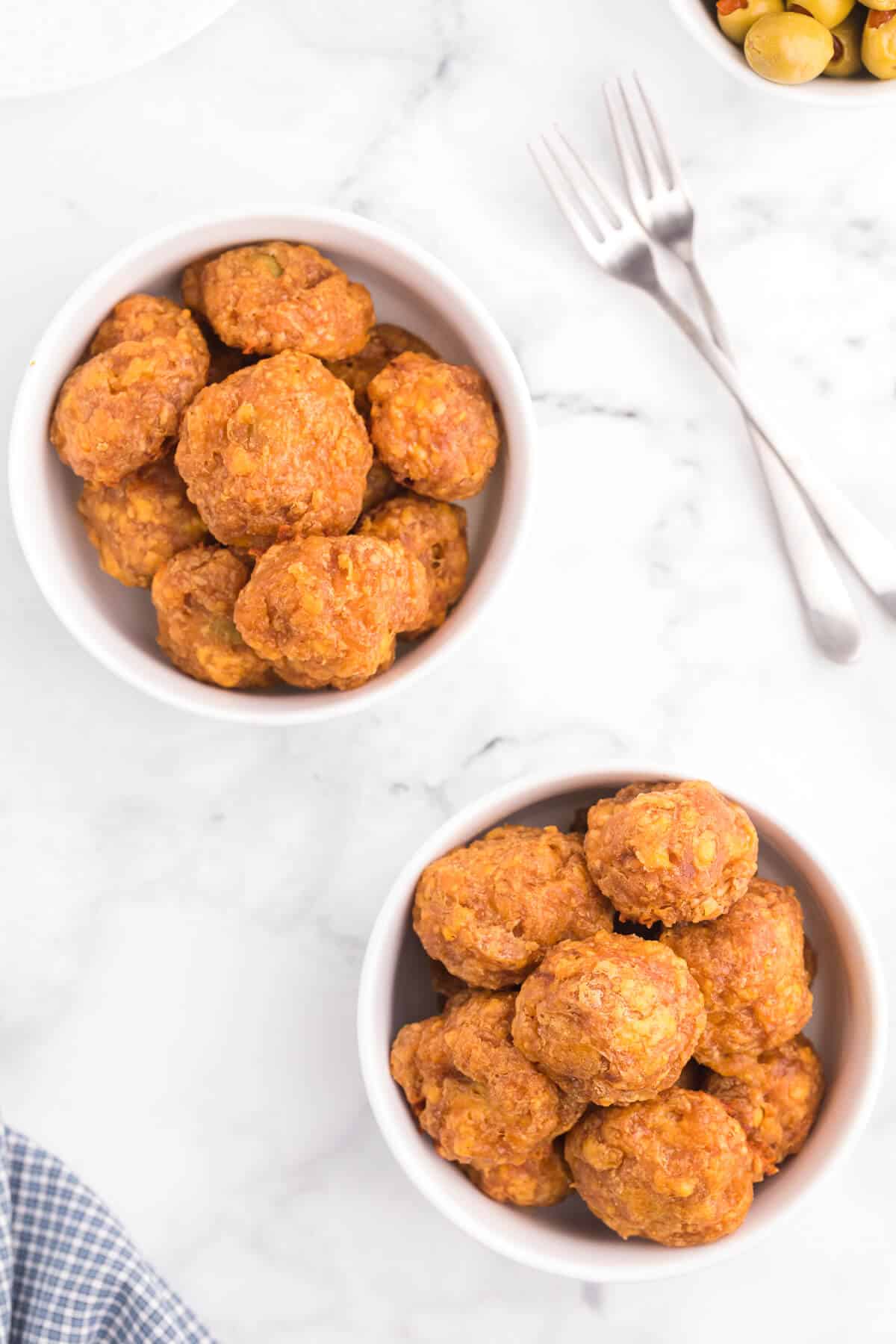 I love olives, but my husband despises olives. I've noticed people either love them or hate them. I'm definitely team olive, which is why I whipped up a batch of these savory, cheesy, slightly spicy Olive Cheese Balls for everyone else on the team.
This isn't the kind of cheese ball you spread on crackers. It's a green olive stuffed with pimento and wrapped in a homemade cheddar cheese dough. Just wrap, bake, and serve for a delicious passed hors d'oeuvres at your next dinner party or Christmas gift swap!
I don't usually serve them with a sauce because they're so good plain! If you're looking for the perfect dip, try a tangy, spicy mustard dip.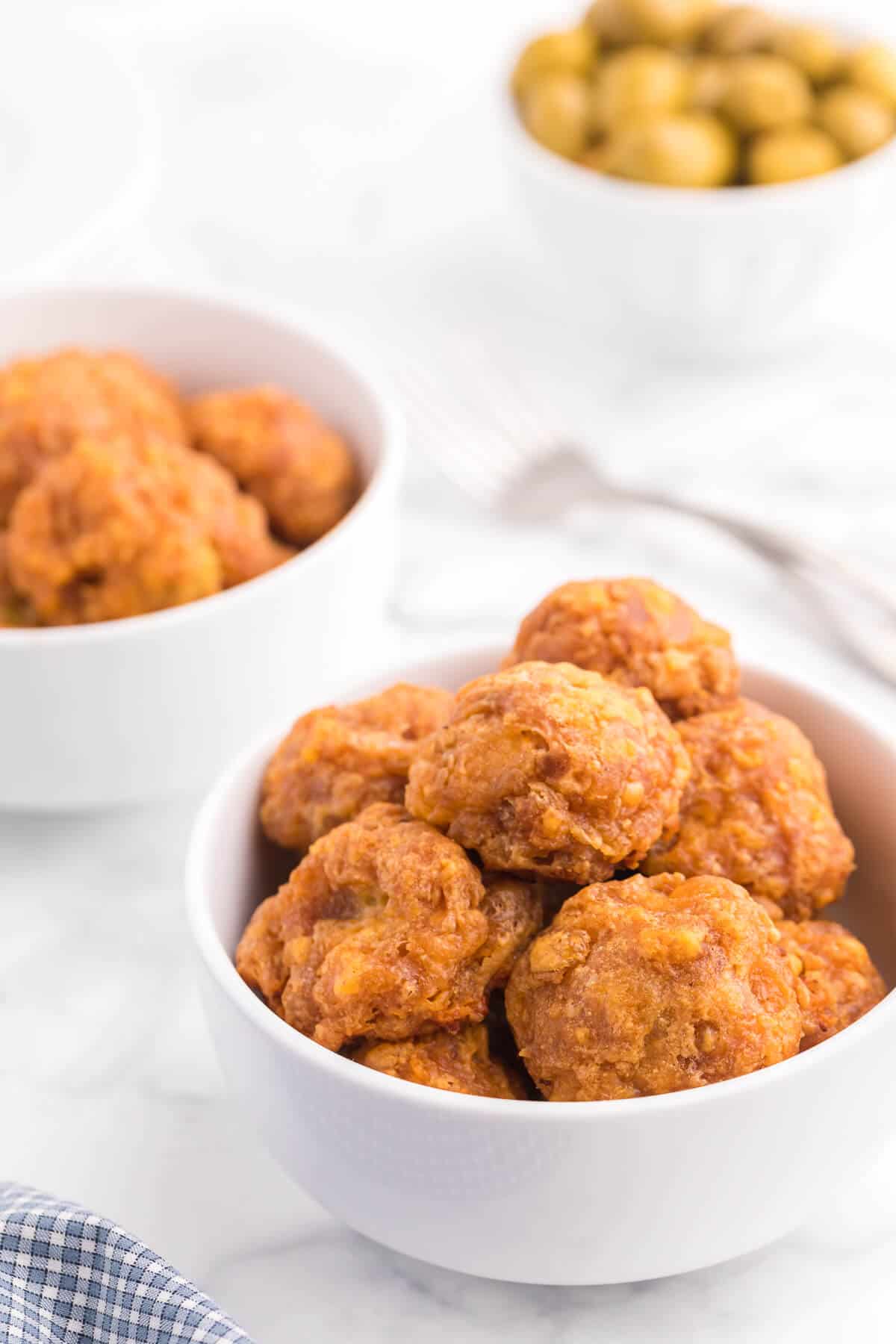 Ingredients
Shredded cheddar cheese
Butter
All-purpose flour
PaprikaWorcestershire sauce
Cayenne pepper
Salt
Olives stuffed with pimento
This recipe makes 24 Olive Cheese Ball bites, so if you are having a big party, I recommend you double or triple the recipe. Luckily, it's easy to do either!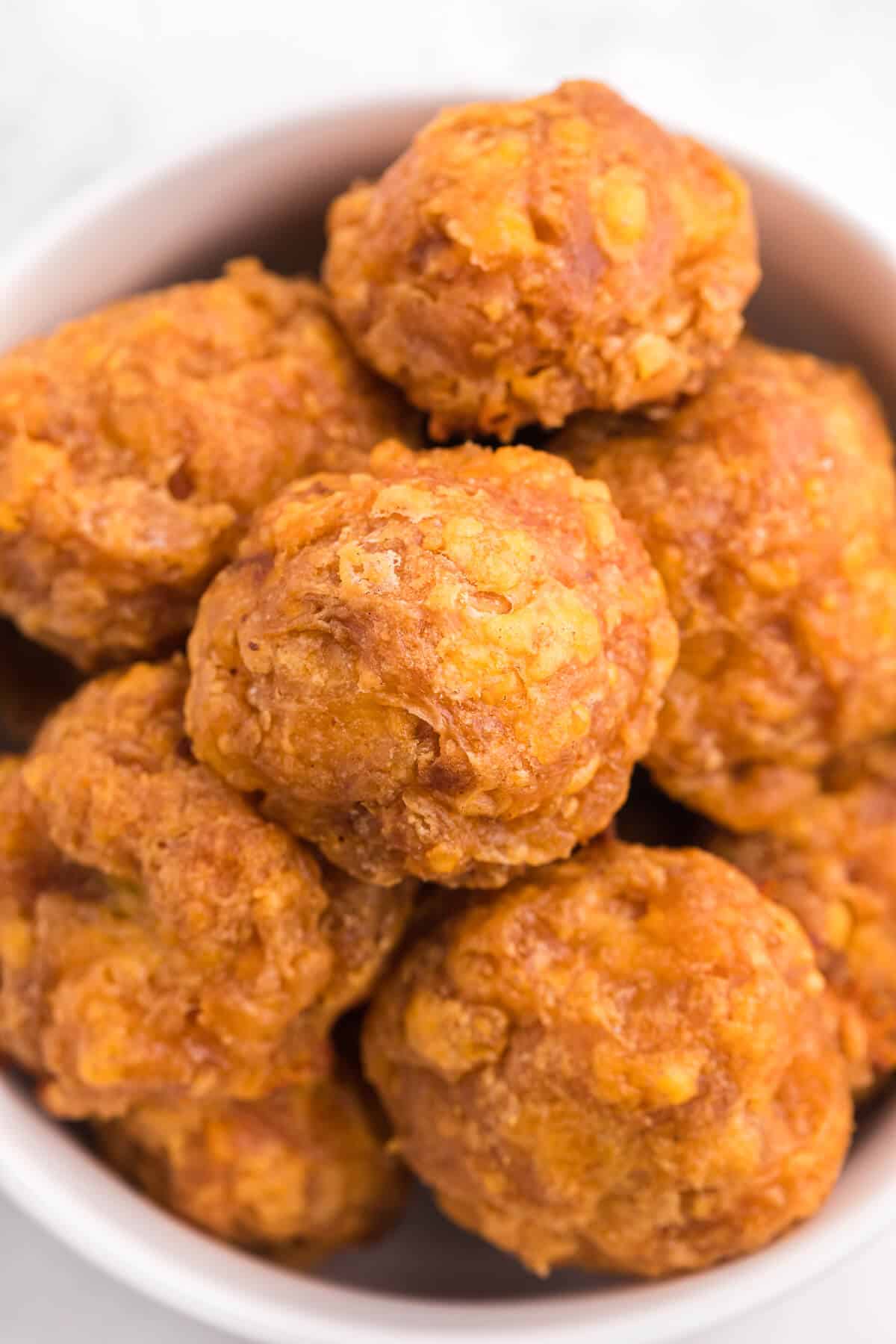 What I used for my Olive Cheese Balls
This post contains affiliate links.
Mixing bowls: I use my hands to mix the cheddar dough together in a large mixing bowl. Be careful not to overmix the dough or it will become dense and hard when baked.
Baking sheet: I use a lipped baking sheet to keep any mess out of the bottom of the oven. You can use parchment paper to keep them from sticking or a quick spritz of cooking spray.
Cheese grater: You can buy pre-shredded cheddar cheese, but I find it melts better into the dough when you shred it off the block. With this box cheese grater, I shred all my own cheese these days to save money and get a little arm workout in the kitchen.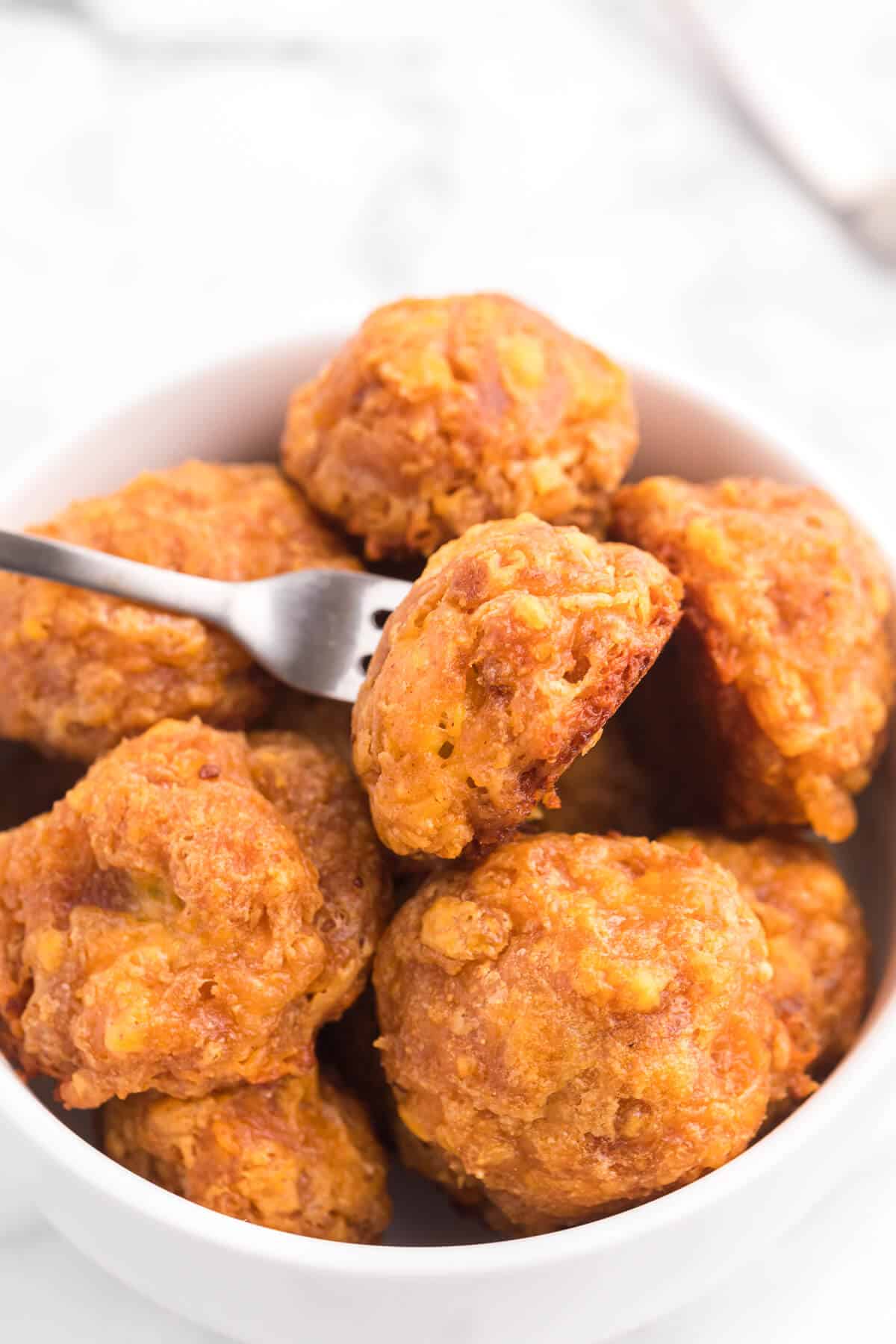 How to Make Olive Cheese Balls
First, mix the cheese and softened butter together in a medium mixing bowl.
Then, add the flour, paprika, Worcestershire sauce, salt, and cayenne pepper. Mix the dough together. I usually use my hands from here!
Now, add the water and mix until you have a solid dough. If it's too try, add a teaspoon of water at a time until it's just right.
To wrap the green olives, get about a teaspoon of dough at a time and mold it around the olive, sealing the edges together with your fingers. Roll the ball in your hands to make it more round, and spread the balls out on a greased baking sheet.
Finally, bake the Olive Cheese Balls until the dough is golden brown.
I like to bake these as the guests are arriving so they're still hot when I serve them on a platter.
Which Cheese Goes with Olives?
For these Olive Cheese Balls, I use a sharp cheddar cheese to bring out the bite of the green olives stuffed with pimentos.
I recommend using a hard cheese that melts well, like cheddar, Swiss, or Colby Jack, to keep the consistency of the dough correct.
If you want some extra cheese, make a simple beer cheese dipping sauce! No one hates cheese on cheese.
How to Make Ahead
Appetizers are the hit of every party, but they can take so long to make! I love this Olive Cheese Ball recipe because you can easily make them in advance and bake when you're ready.
If you have room in the fridge before the party, pop them on the greased baking sheet and put it in the refrigerator for a couple hours before kickoff. Let them come to room temperature a bit before baking if you have time.
You can also freeze these for emergency finger foods when you have last-minute guests! Spread the unbaked cheese balls on a clean baking sheet and freeze at least 2 hours until they firm up. After that, toss them in a freezer-safe bag.
To reheat, simply bake at 400 degrees F for about 20 minutes!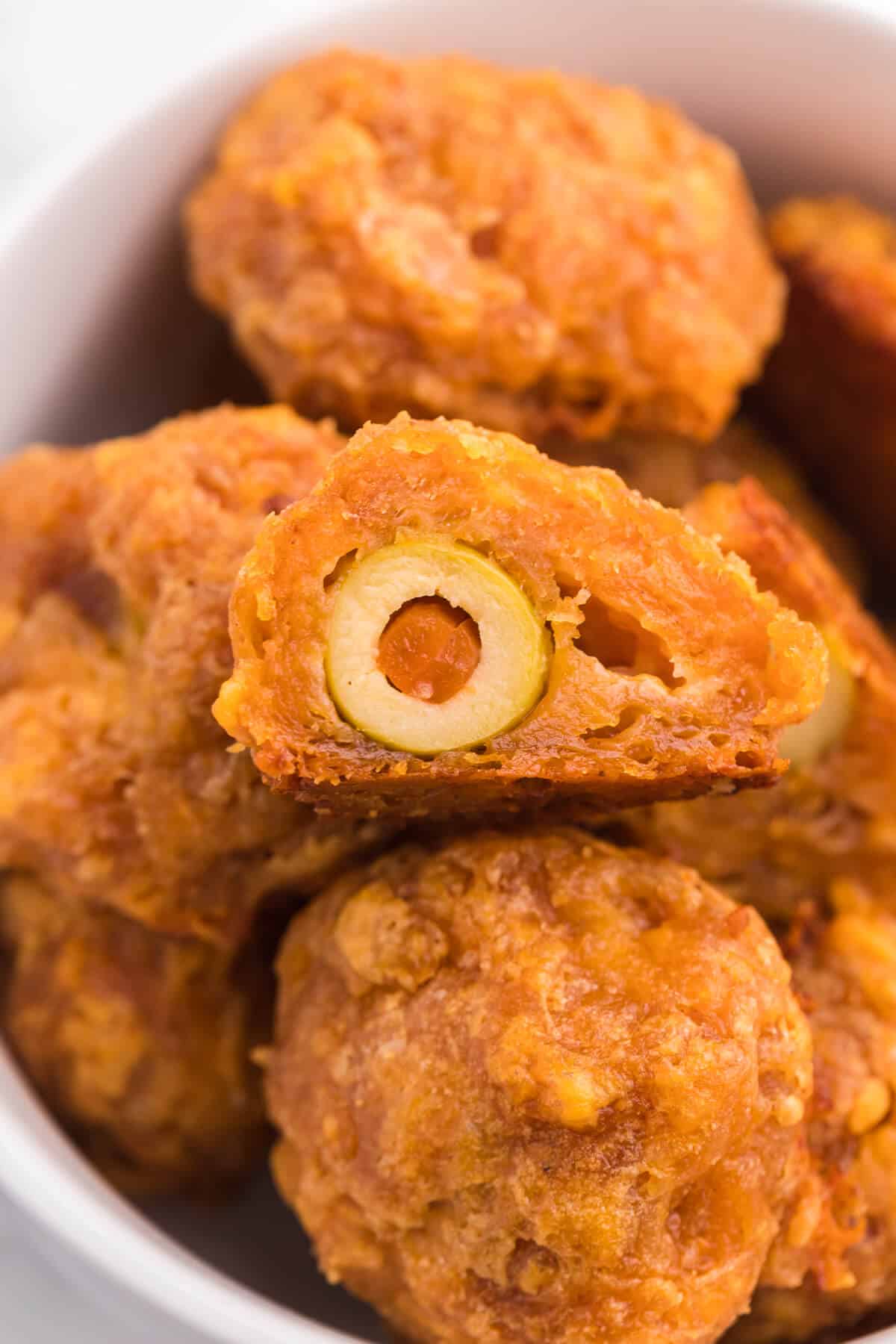 What to Serve with Olive Cheese Balls
No tailgate spread is complete without wings. I love these baked chicken wings with a tangy honey garlic sauce. Be warned, you may eat them all yourself though.
It's not a party without bacon-wrapped appetizers for me. I make these simple but divine bacon-wrapped water chestnuts every year for Christmas Eve. Salty, a little sweet, and a lot of crunch. Yum!
Dress up that basic veggie tray with a creamy salsa dip! It's great on every raw veggie and adds a little flavor to the mix that's not just ranch dressing.
For a sweet finisher, there's nothing easier than no-bake chocolate peanut butter haystacks! Simply melt, mix, and let these crunchy salty-sweet desserts set in fun shapes!
Other amazing recipes to try…
Do you have any amazing holiday appetizer recipes? I'm always looking for more recipes to try! Follow me on Instagram @simplystacieblog, on Facebook at Simply Stacie, and on Pinterest @SimplyStacie and let me know how you liked this and my other recipes!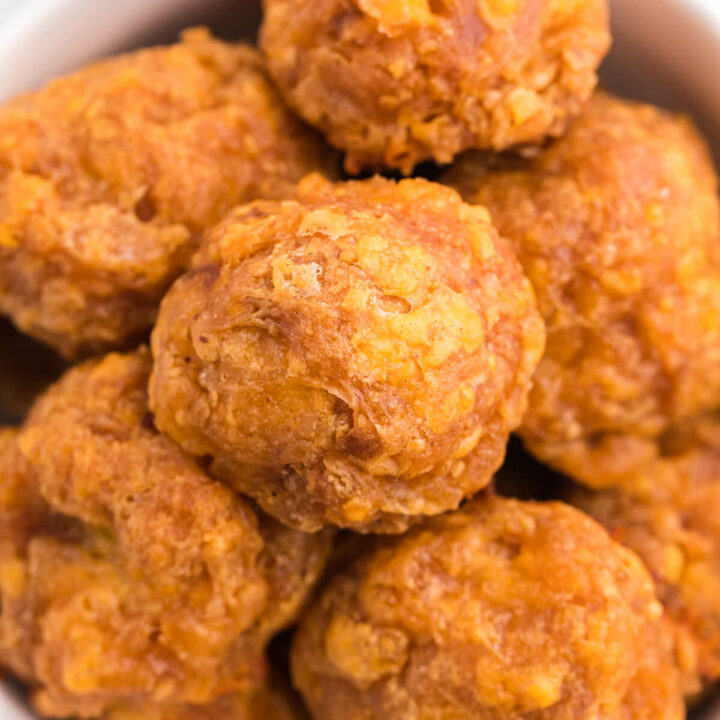 Olive Cheese Balls Recipe
A holiday favorite with a vegetarian twist! These perfect hors d'oeuvres are packed with olives, cheese, paprika, Worcestershire sauce, and a pinch of cayenne pepper.
Ingredients
2 cups cheddar cheese, shredded
6 tablespoons butter, softened
1 cup all-purpose flour
6 tablespoons water
2 teaspoons paprika
1 teaspoon Worcestershire sauce
Dash of salt and cayenne pepper
24 olives stuffed with pimento, dried thoroughly with a paper towel
Instructions
Pre-heat oven to 400°F. Grease a baking sheet and set aside.
In a medium bowl, combine cheese and butter. Then add in flour, paprika, Worcestershire sauce, salt and cayenne and mix together.
Add water and mix together (you may need to use your hands for this). Add extra water if you find the mixture still too dry.
Grab about a teaspoon of the dough mixture and mould it around an olive to make a round little ball. Place each ball on your cookie sheet.
Bake for 14 minutes or until the dough is a golden brown. Serve hot.
Recommended Products
As an Amazon Associate and member of other affiliate programs, I earn from qualifying purchases.
Nutrition Information:
Yield:

12
Serving Size:

1
Amount Per Serving:
Calories:

88
Total Fat:

7g
Saturated Fat:

4g
Trans Fat:

0g
Unsaturated Fat:

2g
Cholesterol:

17mg
Sodium:

128mg
Carbohydrates:

5g
Fiber:

0g
Sugar:

0g
Protein:

3g