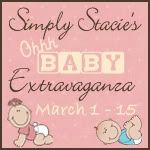 Have you ever watched over and over your child learn how to eat with a spoon or fork and thought, "there must be a better way." It must be frustrating to the child as well watching their food fall off the utensils over and over. And if they are anything like Sadie was while learning, they give up on the spoon or fork and use the hands which always makes for a wonderful mess.
Tinytongs are the easy way for kids to eat. These child size tongs are easy to use, non-toxic (lead Free, BPA Free, Phthalate Free), dishwasher safe, and the non-slip grip stays in your child's hand. Although Sadie has learned to successfully eat with a spoon and fork, she enjoyed using the Tinytongs and I must say, they work wonderful on rice and noodles. Even a pro has a hard time keeping a noodle on a spoon.
Tiny tongs retail for $7.99 or a pack of 4 is $24.99 at www.tinytongs.com
Disclosure: I was not financially compensated for this post. I received a sample of the product for review purposes. The opinions are my own, based on my personal experience with the product.