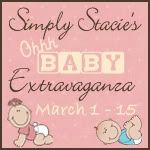 They offer 3 products. Skin Fix Body Repair Paste, Skin Fix Efflorescence, and Skin Fix Buttocks Paste. The Buttocks Paste has been a staple in our home for almost 3 years. Sadie has sensitive skin and this was the ONLY thing that ever cleared up her
diaper rashes
. I have recommended it to many people so I was glad to pass on my review sample to a one of my mommy friends who was struggling with her baby's sensitive skin issues in the nappy area. Thanks to me she is now a SkinFix fan as well. She said she put it on her daughter after her bath and before bed and when the baby woke up her rash was gone (before she had been changing her through the night to help clear up the rash).
Check out the Buttocks Paste and the other 2 products at
www.skinfix.ca
I will be buying this for my sister as I know how much I loved it.
Disclosure: I was not financially compensated for this post. I received a sample of the product for review purposes. The opinions are my own, based on my personal experience with the product.