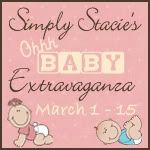 My cloth diapering mommy friend was excited to try out the Pocket Tots 2 pieces reusable diaper. The Pocket Tot is a waterproof, one size fits most, with adjustable absorbency diaper. The size is 8-35lbs. It is made from 100% polyester outer with urethane laminate, 100% knit lining and the booster is viscose rayon from bamboo fibre and polyester microfibre.
My mommy friend gave 5 stars for the Packet Tot. She was amazed at the strength of the Velcro that holds the diaper on and she loved that you could change the absorbency and use extra for night time. She said it wasn't too bulky and she never had any leaks. She said it was quick and simple to put on and off and washed nicely as well. Bummis has a variety of different reusable, cloth diapers. Check them out at www.bummis.com
Disclosure: I was not financially compensated for this post. I received a sample of the product for review purposes. The opinions are my own, based on my personal experience with the product.