I was compensated for this post. All opinions expressed are my own.
I have a few magazine subscriptions that arrive in the mail each month and I often purchase magazines on trips to the grocery store. I love to read and keep up-to-date on what's new and hot, but it can get expensive! I've discovered a way I can read my favourite magazines and save some money at the same time. Next Issue Canada has been called the Netflix of magazines and it's really true. I've signed up for the free 30 day trial to see how I liked it, and am hooked! Not only am I saving money and have a ton of new reading material, but I also don't have to deal with the magazine clutter.
With Next Issue Canada you have unlimited access to over 100 popular magazines accessible on your mobile device. After you sign up for an account, download the Next Issue Canada app on either your iPad, iPhone, Android tablet or Windows 8 PC or tablet. I have been using my Google Nexus 7 tablet to read the magazines. Some of my favourite ones include Better Homes and Gardens, Chatelaine, Eating Well, Today's Parent and many more.
I love that there is a such a diverse range of magazines appealing to all types of interests. Here's a few of the categories and examples of magazines included:
Home & Gardening: Better Homes & Gardens, Country Living, HGTV Magazine
Fashion: Flare, Glamour, InStyle, Lou Lou
Entertainment: People StyleWatch, Vanity Fair, Entertainment Weekly
Family & Parenting: Parents, Today's Parent, Family Fun
Food & Cooking: Food Network, Eating Well, Vegetarian Times
Health & Fitness: Runner's World, Self, Shape
Lifestyle: O (Oprah magazine), Southern Living, Canadian Health & Lifestyle
Men's: Esquire, GQ, Men's Health
Travel: Condé Nast Traveler, Backpacker
Women's: Cosmopolitan, Marie Claire, Vogue
You can browse through all the categories and available magazines on the Next Issue Canada site.
Within the app itself, there's a number of key features including:
Creating a Personal Library: You can pick and choose the magazines you want to add to your personal library. When you open the app you can easily find the ones you want to read and new issues will automatically appear in the library.
Easy to Navigate: Read the magazine from cover to cover with just a quick swipe of your finger or use the shortcut tool to jump to a specific section.
Digital-Only Bonus Content: Access the extra features of the digital edition.
Read online and offline: You can download your favourites to your device to enjoy for offline ready. This feature will come in handy on road trips or places that have no (or poor) Wi-fi connections.
I've been doing a lot of reading lately and wanted to share five of my favourite magazine articles I discovered on the Next Issue app.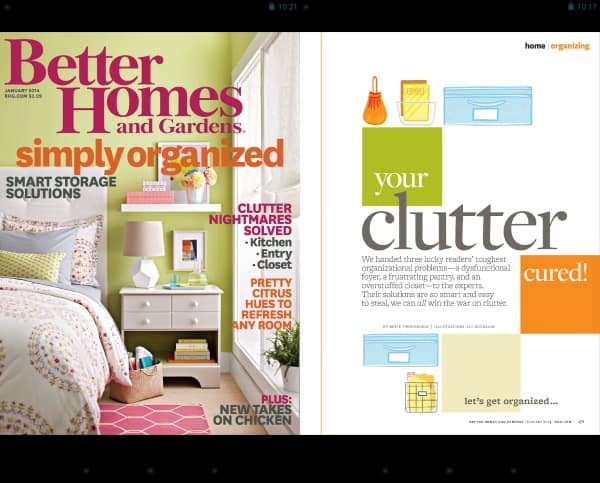 Your Clutter Cured! from Better Homes and Gardens January 2014: Organization experts help three readers solve their clutter challenges including a chaotic front entrance, pantry and closet. See what the mess looked like before and how the space was transformed into something functional and easy to replicate in your home too!
Don't Get Scammed! from Good Housekeeping: Tips February 2014: on how to spot a fraudulent email, Facebook message and tweet where a scammer wants to steal your financial information, gain access to your accounts or infect your computer with a virus. You'll also learn how to protect yourself and what to do if you inadvertently fell for a scam.
Big Ideas in a Small Space from Real Simple February 2014: Designer, Michael Garvey, showcases a list of 10 easy DIY solutions from to make the most of a small space. Not only are his ideas clever, but they are also very simple to do.
Girlfriends' Diet Club from Eating Well February 2014: Three woman worked together to lose weight (60 lbs) and gain a lifelong friendship. Learn the logistics of how they cooked meals for each other, kept motivated and accountable and tips on how you can start your own diet club.
Faked Potato from Food Network Magazine February 2014: Is it a potato? At first glance I thought, yes. But nope, it's actually a layer cake. See the simple step-by-step directions with pictures on how to create this deceiving dessert at home.
Next Issue Canada has two monthly plans: Unlimited Basic and Unlimited Premium. Unlimited Basic is $9.99/month and gives you unlimited access to over 100 magazines. Unlimited Premium is $14.99/month and gives you unlimited access to over 115 magazines including the popular weeklies like Macleans, Time, Sports Illustrated, and more.
Good news: you can try it before you buy it! Sign up for the 30 day free trial and test-drive the app to see how you like it. I'm doing the 30 day free trial right now and I'll most likely be keeping it. You can cancel at anytime and there's no commitment.
If you enjoy reading magazines, give Next Issue Canada a try. Either way you'll get to try it out for free for a month and maybe you'll decide that it's something you really enjoy having.
Connect with Next Issue Canada on Facebook, Twitter and Pinterest.