I want to let you in on a little secret today: how to get smooth skin for the holidays. The holiday season is a crazy busy time of year. We're working on our never-ending to-do list, trying to complete our holiday shopping and are busy attending the multiple holiday parties. How can we look and feel our best with so much going and so little time to get everything done?
The answer is quite simple and it starts with "S". My must-have tools in my smooth, soft holiday skin arsenal are Schick® products. You need to try them because they really work!
I've talked about Schick® razors on this blog a few times before. I've been using them for years to keep my skin looking its best. It's no different for the holiday season. My skin needs to be "mistletoe" ready because you never know what may happen or who you may see!
I've got a few recommendations for you today so you can ensure your skin is looking fantastic and is holiday-ready!
Scenario One: You received a last minute invite to a holiday party at a neighbour's house and realized you haven't shaved your legs in a couple weeks.
First off, don't freak out. You can still wear that little black dress and be the best looking gal on the block. Hop in the shower with a Schick® Intuition® Advanced Moisture razor. It's my go-to razor when I'm short on time. It lathers and shaves in one step!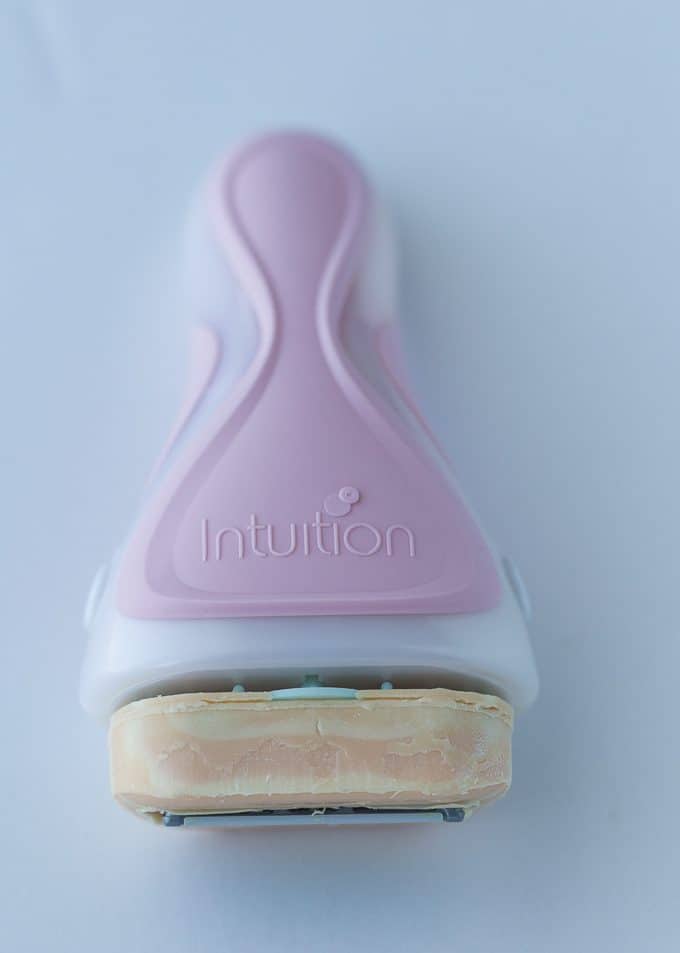 The razor has a pivoting head and four blades allowing you to get a nice close shave even in those troublesome spots. It also has a Skin Conditioning Solid containing Shea Butter that moisturizes your skin while you shave. You don't need to use any shaving gel. I find I don't even need to use moisturizer afterwards either.
I love the convenience of this time-saving razor. I'm sure you will too once you give it a try!
Scenario Two: You're heading out of town to the in-laws for the holidays for a few days. You'll be attending parties and visiting with family you haven't seen in years. You want to make a good impression.
My advice here is to pack Schick® Hydro Silk® disposable razors! If your body hair grows quickly like mine, you won't want to be without them. There's nothing worse than wearing a pretty dress and worrying about people looking at your leg hair stubble.
Schick® Hydro Silk® disposables are perfect for travelling and offer the same great quality we know and love from Schick® products. Get a close and comfortable shave with its 5 Curve-Sensing™ blades. It also has a Water-Activated Moisturizing Serum infused with marine extracts that hydrates for up to two hours after you shave.
I don't find I need to moisturize after I shave with this product, but if you find you do, use a cream formula instead of a lotion. Why? Skin is most sensitive after shaving and a cream formula is less irritating.
Scenario Three: You have a few hours to get ready to go to a holiday party and want to feel pampered. You plan to have a relaxing bath and take your time primping your hair and makeup. Your goal is to look good and feel good.
I love to take some much needed "me time" and take my time getting ready for whatever event I'm going to. When I take a bath, I'll pull out my shaving essentials: Skintimate® Skin Therapy Moisturizing Shave Gel and a Schick® Hydro Silk® TrimStyle razor.
I've been using Skintimate® shave gels since I was a teenager to keep my legs looking their best. This particular product is formulated with Moroccan Oil blended with Vitamin E, Olive Butter and Sunflower Seed Oil. My skin drinks up all this wonderful moisture and feels silky smooth afterwards.
One thing I do when I have more time to get ready is use an exfoliator before I shave my legs. It helps to buff away dead skin. My esthetician recommended I exfoliate once per week to keep ingrown hairs at bay.
Once you've buffed and then lathered up with Skintimate® Skin Therapy Moisturizing Shave Gel, grab your Schick® Hydro Silk® TrimStyle and take care of step three. It's a 2-in-1 razor with a razor with 5 Curve-Sensing™ blades on one end and a bikini trimmer on the other. Use the razor to take care of your legs and underarms. For tricky spots like your knees, try bending slightly to pull the skin tight before shaving.
Though it's not swimsuit season so you can get away with not cleaning up the bikini area, I still like to do it so I can feel good overall. I like it because I don't have to worry about accidentally nicking myself in such a sensitive area. Whether you just want to clean it up or go bare, it's up to you. Schick® Hydro Silk® TrimStyle gives you that option with its adjustability.
Lastly, I'll apply a moisturizer with a bit of shimmer in it to give my skin a little sparkle. My skin feels so smooth and incredibly silky soft.
Visit Schick.ca for more information or get in on my secrets to smooth skin by heading to your local Shoppers Drug Mart for in-store offers from Schick.
So there you have it: my secret to smooth skin for the holidays!
Are you ready for the holidays? Schick has these fun holiday frames to share to show you are all set! Change your profile picture on Facebook or Twitter to one of their festive frames. They are super cute, don't you think?
How do you keep your skin looking its best for the holidays?
Disclosure: I was compensated for this post. All opinions are my own.