This recipe for Mofongo & Fried Pork Chops was submitted by Amber from Parent Palace in the Main Dish Category in the zuuzs Grand Spring Recipe Challenge! VOTE for this recipe here.
Serve with a rice/veggie mix and you have a delicious Puerto Rican feast!
Promote your blog and showcase your recipe in zuuzs Grand Spring Recipe Challenge. The prizes include a $500 Gift Card as the Grand Prize and three $200 Gift Cards as the top Category prizes you can use to buy kitchen related wares. Submissions end on April 28th.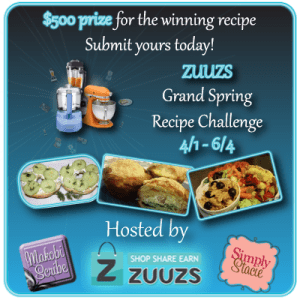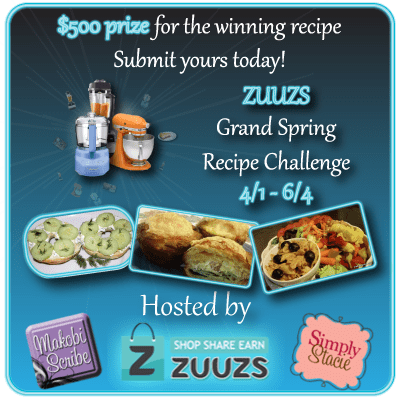 Mofongo & Fried Pork Chops
Ingredients
2 – 3 ripe plantains (plenty of brown on the skin)
2 – 3 cloves of garlic, minced
3 – 4 strips of bacon (traditionally you'd use pork rinds/cracklings but I don't like them)
Olive Oil
Vegetable Oil
4 bone-in pork chops
Adobo Seasoning
Lime juice, white vinegar or Worcestershire sauce (I use the latter)
Vegetable oil
Instructions
Peel the plantains and slice into pieces/chips. Fry in vegetable oil until golden making sure they don't get brown. Drain on paper towels.
Cook the bacon until very crispy. Add minced garlic to the pan with 1 tbsp. of olive oil and saute briefly not letting the garlic burn.
Allow the bacon/garlic mixture to cool for a bit and add to a food processor with the cooked plantains (if you have a mortar/pestle, you can use this to mash instead.) Pulse on a low setting until the mixture comes to a bread-like consistency; be careful not to over blend as you don't want to liquify the mixture.
Dump the mixture out into a bowl and form into balls. You can do multiple little balls or a few big balls. This is enough to make 2 large Mofongo balls or 8 smaller balls.
For the pork chops, I make my own Adobo and it's really simple. I don't measure out the ingredients, instead I eyeball it. To make your own, mix together garlic powder, onion powder, oregano, cilantro, salt and black pepper. You can also buy a premade Adobo if you're not comfortable making it.
Add vegetable oil to a frying pan and heat up.
Fill a shallow dish with Worcestershire sauce. Moisten a pork chop on both sides with the sauce and use the Adobo to apply a dry rub all over.
Add the pork chops to a heated pan and fry 8-10 minutes flip and repeat. Drain on paper towels until grease is absorbed.
Recommended Products
As an Amazon Associate and member of other affiliate programs, I earn from qualifying purchases.
Nutrition Information:
Yield:

4
Serving Size:

1
Amount Per Serving:
Calories:

693
Total Fat:

32g
Saturated Fat:

8g
Trans Fat:

0g
Unsaturated Fat:

20g
Cholesterol:

143mg
Sodium:

430mg
Carbohydrates:

59g
Fiber:

5g
Sugar:

26g
Protein:

46g