As the holiday season fast approaches, I find myself reminiscing about holidays past. Christmas has always been my absolute favourite time of year.
As a child I remember being so excited about Christmas I could hardly stand it. We had a few traditions we did as a family and some I just made up on my own and did every year. For example, my cousin, Allison, and I would call each other every hours with a countdown to how many more hours until Santa was coming.
On Christmas eve, I used to go outside with my dad while he shoveled our driveway in preparation for company the next day. I would sit in a snowbank in the yard and belt out Christmas songs at the top of my lungs. Back then I wasn't self-conscious about my singing voice and you won't find me sitting in a snow bank now. I remember laying back making snow angels and looking at the stars in the sky and trying to see if I could Santa and his reindeer.
On Christmas day, we would have to wait until 8am at the earliest to wake up my parents. Then it was time to open our gifts! My sister, Laura, always painstakingly unwrapped her presents and it would take her all morning to get through them. Me, on the other hand, would tear through that paper like there was no tomorrow. We always opened our stocking last and had to wait and do it all together.
Czar (our black lab), me and my sisters, Jillian and Laura
Family would always come over in the afternoon. My cousins and I would make up dance routines and sing with my dad's microphone. I remember doing an airband to Whitney Houston's How Will I Know. I will never forget the words to that song.
Laura (my sister), cousins, Kate & Allison and me
Of course, my dad and Santa had to get in on the action too!
Santa Claus & my dad (1988)
Afterwards, my dad and uncle would take us kids out snowmobiling! We lived next door to a huge field and forest. My dad would hook up the sleigh behind the snowmobile and the kids would all climb in. We would sing Christmas carols and Whitney Houston songs. The excitement we felt was palpable.
Back home with our cheeks flushed and bellys grumbling, we would all settle down for our Christmas turkey dinner. My mom, Grandma June and aunts would prepare all these delicious family recipes like Pineapple Cheese Salad, homemade stuffing and gravy, mashed potatoes, turnips and pumpkin pie and butterscotch meringue pie for dessert. It was a feast! I always associated turkey dinners with my fond memories of Christmas past.
Grandma June & my sister, Laura
Though I'm no longer sitting in snowbanks or doing airbands to Whitney Houston songs, I am still enjoying turkey dinners…Butterball turkeys! This year I may experiment with our turkey dinner and try a recipe I found on the Butterball website. This Roast Turkey with Cranberry Orange Glaze looks absolutely divine!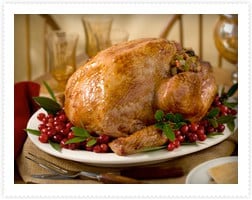 What are your holiday traditions?
This post is sponsored by Butterball Canada. In exchange this review, I have received special perks in the form of products and monetary compensation. All opinions on this blog are my own.