If you're looking to try a new meal plan, or just want to get more organized with a low carb meal plan – you're in the right place! Low carb has taken a pretty big spotlight recently and helped lots of people in lose weight, myself included! While each low carb diet is different, the main objective of the diet is to limit carbohydrates. Carbohydrates are typically found in grains, starchy vegetables, and fruits. Low carb diets usually focus on adding lots of protein and fat into their diet to use as fuel and energy for the body.
There are many versions of the low-carb diet, but it's important to find the one that's right for you! By following this low carb meal plan, you can focus on adding more protein to your diet and eliminating as many carbs as possible. This meal plan runs from Monday-Sunday and includes a lot of easy meals, which is great for those who are especially busy!
If you're looking for more resources on low carb diets, there are a few great resources on Amazon. Here are some to check out.
This post contains affiliate links.
After Bridget was born 10 years ago, I started following Suzanne Somers' low carb diet – Somersizing. I lost all the baby weight. Years later, I still follow that same diet because it works so well for me and I never feel deprived. I eat loads of fruits and veggies still. I only have whole grains for carbs and cut out white bread, pasta, etc.
You'll notice that many of the recipes in this meal plan are marked with (*) at the end! To make it easier for you, all the recipes marked with (*) are listed below for easy access! You'll be able to save this meal plan and find all the recipes with ease. There are a few unmarked that are exactly what they say they are and only a few ingredients.
Low Carb Meal Plan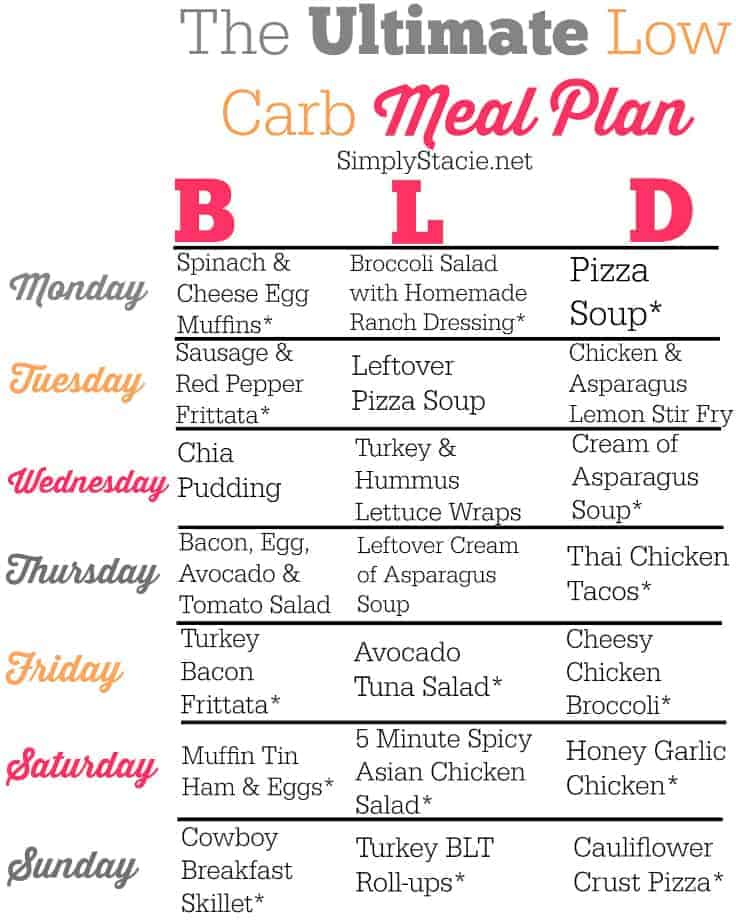 Breakfast
Lunch
Dinner
Have you ever done a low carb meal plan before? What did you think? Let me know in the comments below!