There are hacks for everything these days. A quick search of the Internet will tell you ways to do just about anything, quickly and easily. This list might seem like a contradiction in terms—life hacks for life?—but really, it's the little things that can make all the difference. Like when I discovered the food hack to freeze grapes to chill a glass of white wine without watering it down? Genius. Now, I don't have to worry about making sure the bottle is up to date in the fridge. I just need to keep a supply of grapes in the freezer!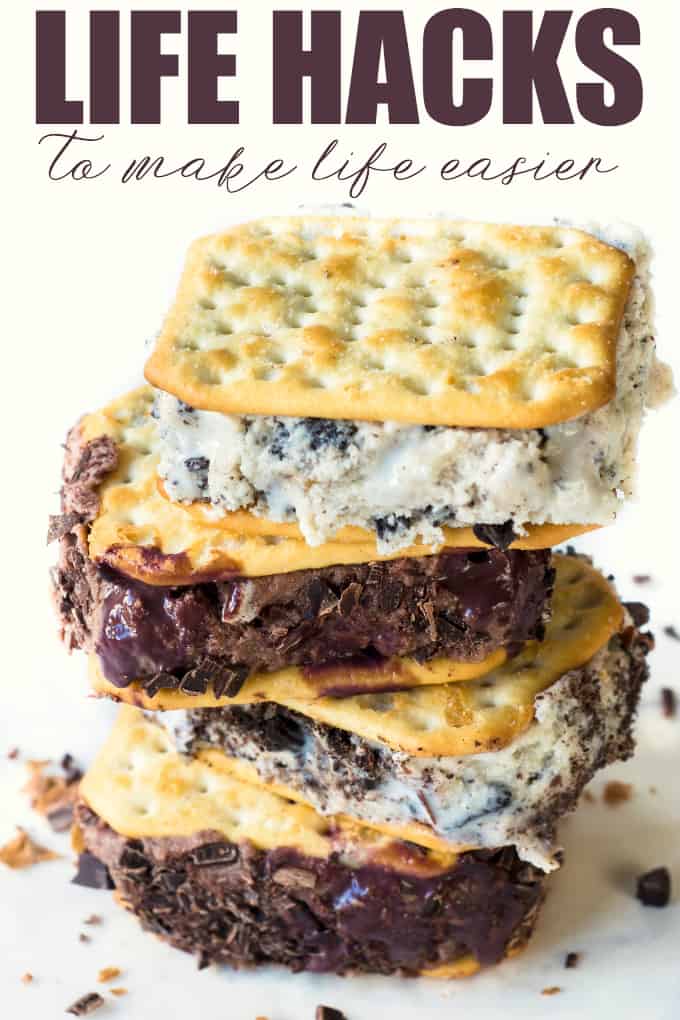 Food hacks
1. Are you sick of getting your fingers wet when you dunk your Oreo in milk? Stick a fork in it! If you slide a fork into the white creamy part, it will hold long enough for a dunk!
2. Is your straw always bobbing out of your can of soda? Don't pull the tab off when you open it: turn it with the hole over the open can hole and thread the straw through the tab. It will hold it down!
3. Do you want to cook two bowls of food in a small microwave? Place one bowl in the microwave and upend a mug and place it next to the bowl. Then put the second bowl on the 'second level', on top of the mug. Everything fits!
4. Keep the exposed parts of a cake from going stale by fitting pieces of bread over those parts and securing them with toothpicks. The bread will get stale, not the lovely cake that you baked!
5. Are you a fan of ice cream sandwiches but not of the mess in making them? Get ice cream in small, round cardboard containers. Then get the sharpest knife out of the drawer, set the container on it's side and slice off a piece of the container with the ice cream inside. Place your slice on your cookie, top with another cookie, and then peel off the cardboard! Presto! Mess free ice cream sandwich!
Household hacks
6. Have you lost a tiny object like a ring or earring? Put a stocking over the end of your vacuum cleaner, tie it on with a rubber band and vacuum the area where you think you lost it. If your lost item is there to be found, it will get sucked onto the stocking and will be easy to pick off.
7. Need more volume from your phone so that you don't sleep through the alarm? Put it in a glass! It will act like an amplifier! Another option? Have kids. You'll never sleep in again! The glass is cheaper though.
8. Need to open one of those crazy hard to crack plastic packages that toys and other goods come in? Use a can opener. The packaging will be easy to pull apart when one side is opened up.
9. Put a lazy susan in the fridge to store all the extra condiments and jars that you use regularly. You'll be able to access them more easily, without shifting everything around whenever you are looking for something specific!
10. Have tall boots that you want to keep standing tall, instead of flopping over, causing creasing in the fabric / leather? Cut up a pool noodle and put a piece in each boot to keep them upright!
11. Shower curtain hooks on your closet rod make super purse and handbag holders! Keep them off the floor and the corners intact.
Business hacks
12. Do your co-workers keep taking off with your favourite pens? Put the blue or black ink cartridges that you favour into a red pen case. Nobody steals red pens. Except editors, so unless you're working with those folks, your pens will be safe!
13. Have a hard time finding the end of the tape roll? When you're done using it, put a paperclip on the end, so it's easy to grab.
14. A craft store plate stand makes the perfect cell phone holder, so that you can see the screen and charge it, while keeping it out of harm's way. Speaking of your phone, if you need to charge it in a hurry, put it in airplane mode. Apparently, the airplane mode will also stop ads when you're playing games, though I haven't tried that one yet. Let me know if it works, will you?
15. Have a ton of cables for various electronics? Empty toilet paper rolls are perfect for storing cords: you can just write on each one what it is and stack them in a box for safe keeping.
Vacation hacks
16. An empty lip balm tube makes the first hiding place for some emergency cash. Your wallet might get lifted but it's not likely that your chapstick will! An empty sanitary napkin package is also a great place for this.
17. Do you usually end up having to drive back to your house before a long trip to make sure you locked the front door? We've all done it at some point. Instead, right after you are lock your door, do something different, something you would remember. Like what? Flip your door mat, switch your planters around… something you wouldn't normally do. You'll associate that 'odd' action with locking up and your brain will remember that you did in fact the lock the door.
18. Old suntan lotion bottles make excellent hiding places for your keys or phone. They're not likely to steal your suntan lotion when you're at the beach. Clean the bottle out well and line it with a baggie, just to be safe. A diaper is also a good way to keep your valuables safe: rolled up and used looking, nobody will touch it!
Do you have any great life hacks that you want to share?