Just like all of America who watches ABC, I've seen the TV ads for The Bachelor couple J.P. Rosenbaum and Ashley Hebert's wedding, which took place at the historic Langham Huntington Hotel in Pasadena, California. I never imagined that just three months after their wedding that I would be staying in that gorgeous hotel as part of the #DisneyOzEvent group.
The Langham Huntington Hotel is just a few minutes away from downtown Los Angeles, but while on the grounds of the charming hotel I was completely unaware of how close I was to the city that never seems to sleep.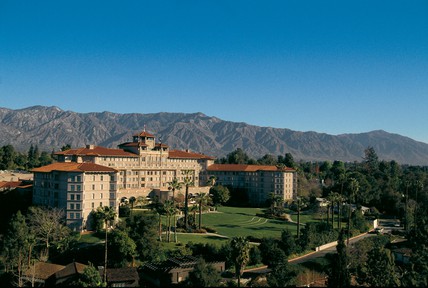 Built in 1907, the Langham Huntington Hotel has become a famous landmark, and it was easy to see why once I began to explore my room and the long hallways. The layout of the Langham Huntington is designed in such a way that it was impossible even for someone like me, with no sense of direction, to get lost. As I walked through the hallways from one end of the hotel to the next, I always had something beautiful to look at, whether it was the wall accents or the beautiful outside gardens.
Right from the moment I first checked in, the Langham Huntington Hotel felt like home. I was given a rose along with my room keys when I commented that I felt as if I had just stumbled onto an episode of The Bachelor. The welcome gift I found when I walked into my room was even more wonderful than my gorgeous rose.
We had several hours to get ready for the red carpet premiere that evening, so I met up with my fellow bloggers in The Terrace, a restaurant that serves breakfast, lunch, and dinner. It is the more casual restaurant in the hotel, and guests can also order this menu as room service, which is what I ended up doing for my first meal there. Room service arrived promptly, and they were happy to accommodate two hungry bloggers charging their meals to separate rooms.
Any time I stay in a hotel, I end up spreading my belongings all over the place. When housekeeping came in to clean the room, they organized all of my things and even laid out my pajama set for me. I thought it was a very nice touch, and it made things easier for me when we got back to the hotel late in the night.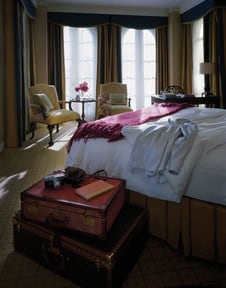 We stayed there during Valentine's Day, and housekeeping also brought a very sweet Valentine's Day surprise: a heart-shaped sugar cookie! I found it on my pillow when I arrived back in my room that night.
The Langham Huntington Hotel is not the type of hotel where you stay when you're on vacation, it's the kind of place you go on vacation to! They have a gorgeous pool, an exercise facility, a spa, and several jogging paths–why would anyone even want to leave? And of course, it's a beautiful location for weddings, too!
Check out all that Langham Huntington Hotel has to offer!
Connect with the LANGHAM HUNTINGTON HOTEL on Facebook & Twitter and #LanghamPasadena
*Disney provided me with an all expenses paid trip to Los Angeles to attend the red carpet premiere of Oz the Great and Powerful. Images used in this post are courtesy of Langham Huntington Hotel, with the exception of the third photo, which I took myself. All opinions expressed are 100% my own.*