Disclosure: I was not financially compensated for this post. I received a sample of the product for review purposes. The opinions are my own, based on my personal experience with the product.
I'm very conscious of how my house smells for visitors especially since I have two cats. I don't think my house smells, but I'm probably so used to it I wouldn't even notice it if it did. I'm constantly lighting candles and spraying air fresheners just in case. I remember visiting a person's house that smelled so bad that I couldn't even stay more than five minutes. The person had cats that I think sprayed and it was so overpowering. I literally gulped fresh air when I got outside. The air quality was not good in that home!
As someone who works from home, I spend most of my time in my house. I never really thought of the quality of the air and it's effect on my health until recently. Did you know that we have the ability to control the quality of our indoor air? I thought the only way was to open a window and let the room air out, but there is another easy way you can improve air quality. Lampe Berger purifies the air and gives you better air quality by removing air pollutant molecules.
In addition to purifying the air in your home, Lampe Berger also destroys odours and diffuses long-lasting fragrance. You will notice a difference once you try one! Instead of masking odours with air freshener, get rid of them altogether. It makes sense to me.
Lampe Berger is a system of diffusion by catalysis invented in 1898 by Maurice Berger. Even though it's been around for such a long time, I had never heard of it before. It was invented to purify the air in hospitals and Maurice Berger had the brilliant idea to add a fragrance to it so it could be used in the home. Lampe Berger now sells 1 million lamps and 5 million litres of fragrance each year around the world. In fact, I was at my parent's house a couple weeks ago and lo and behold, my mom has her own Lampe Berger! She has been using it for years and loves it.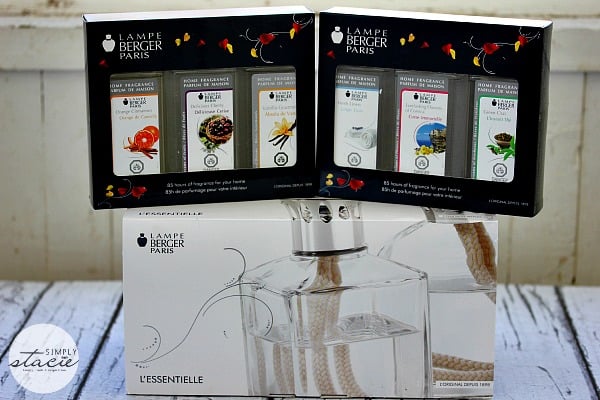 There is no other system like Lampe Berger. It destroys smells with its exclusive catalytic burner that attracts and elimiates noxious molecules at 500°C. Then the lower temperature core allows diffusion of your fragrance of choice at 200°C. It sounds complicated, but it's really not. The Lampe Berger couldn't be any easier to use.
Here's the six steps to purify and fragrance your air with Lampe Berger.
1. Pour your fragrance of choice into your Lampe Berger to a maximum of 2/3 full.
2. Wait 20 minutes if it's your first usage.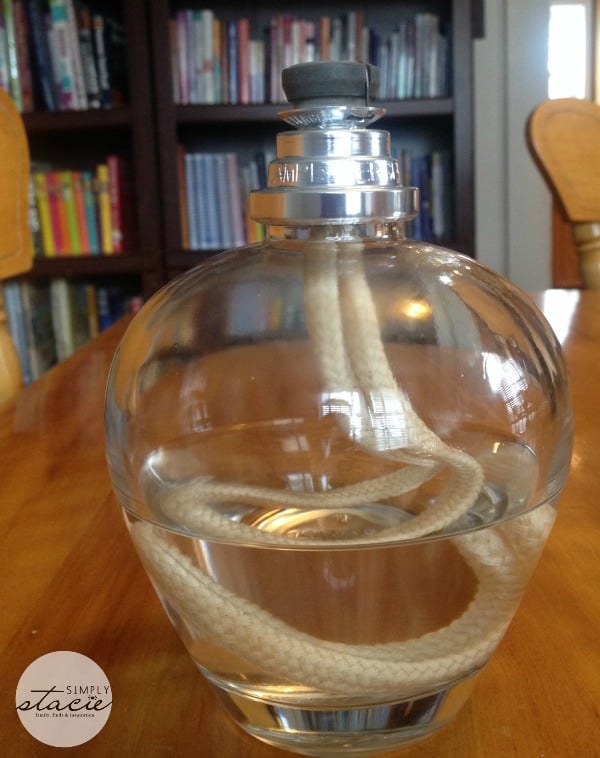 3. Ignite the burner with a lighter or match and leave it burn for 2 minutes.
4. Blow out the flame
5. Put on the protective top for a maximum of 20 minutes. The Lampe Berger will cleanse and perfume the air in your home.
6. Remove the protective top and put on the stopper on the burner. Then add the protective top over top.
My Lampe Berger is the Essentielle Ronde Starter Kit which comes with a gorgeous clear round shaped lamp, an AIR PUR SYSTEM 3C® catalytic burner, 1 funnel, 1 stopper, an Essential Neutral fragrance (180ml) and a Paris Chic fragrance (180ml). Neutral fragrance is great if you just want to remove the odours without the fragrance. You can also mix it with other fragrances to dilute the intensity.
I also have a great range of scents to choose from including:
Orange Cinnamon
Delicious Cherry
Paris Chic
So Neutral
Vanilla Gourmet
Fresh Linen
Everlasting Flowers of Corsica
Green Chai
I've been using Delicious Cherry in my Lampe Berger and love the way it makes my home smell. Think black cherries mixed with a little Patchouli. It also lasted hours after I had placed the stopper back on. We came back from our trip to Ontario and I freshened and purified the stale indoor air right away. It made a huge difference in the atmosphere of our home.
Lampe Berger Home Fragrances are to be used only in your Lampe Berger. A 180ml bottle gives you about 28 hours of fragrance so they will last you a long time!
Lampe Berger can only be found at independent retailers and in fact, they are committed to selling exclusively to them. My mom bought her Lampe Berger at the home decor store in the Pembroke Mall. Use the store locator to find a retailer that sells the lamps and fragrances. I found a bunch of stores that sell them in the Halifax area.
My Lampe Berger has its home on the built-in bookshelf in my living room. It has a classic design that blends in seamlessly with my decor. You can check out their other designs and choose one that suits your home. They have over 80 different lamps as well as 40 fragrances. My mom has the cube shaped Lampe Berger in her dining room. I'd like to get a couple more lamps for other rooms in my home. I think it would be great to have in the kitchen to get rid of lingering food smells.
The lamps start at $48 and the fragrances are $24 (500 ml) and $40 (1L). They also make a unique and practical wedding or birthday gift.