Our home is a work in progress. I've mentioned before that we are undertaking a massive renovation and then a redecorating effort. Both John and I are previously divorced and have mismatched everything as a result of coming from two different households. We are slowly working on the house and updating our furniture and decor to reflect both our style and taste.
Let me tell you about our living room. It's a big room with beautiful hardwood floors, a woodstove and built-in bookshelves. It's where we spend most of our time at home. It needs a lot of updating though. We had an old, tired couch and love seat as well as John's beloved La-Z-Boy recliner. We needed some new furniture badly and over the holidays my wish came true. My dream sectional from La-Z-Boy was delivered!
I was giddy with excitement when the truck pulled up to my house. They had made the 2 hour drive up to me in the valley from Halifax in some yucky weather (just look at that sky!).
The two deliverymen from La-Z-Boy Furniture Galleries in Halifax unloaded my sectional in pieces and brought it into the living room. It came in five separate pieces (otherwise it would have never fit through the door!). They spent about 45 minutes setting it up and making sure I was happy with the location in my living room.
Remember I shopped for a sectional online on the La-Z-Boy website so I had never seen it before! I wrote a post about my experience shopping online back in July, but I ended up changing my order a little after the fact. I ended up getting the Griffin Sectional in Ebony Leather. I loved the look of it online, but when I saw it up close and personal in my living room, I fell completely in love. It's simply gorgeous. I was extremely happy with my choice!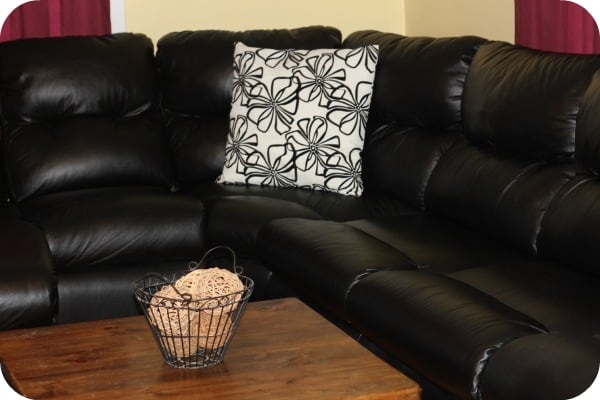 I wanted something sophisticated and the Griffin Sectional is just that. It has a sleek design that will go with anything! I wanted black because then I can add throw cushions for a splash of colour. When we paint our living room it will match whatever colour we end up choosing.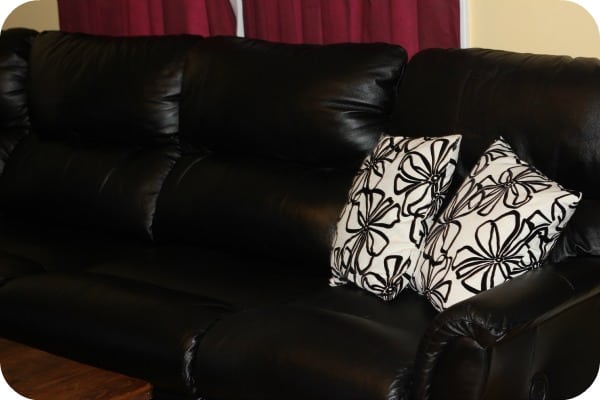 It's also very roomy and can accommodate 6 to 7 people comfortably. On one end of the couch it has a recliner with a left side armrest. John immediately claimed that spot as his own. It also has a corner piece and two armless middle pieces. On the other end of the couch is a right arm chaise that also reclines. I didn't realize it reclined until after talking with Jim Jordan (owner of the Halifax store) and he asked me what I thought about the chaise. Sure enough, I found the lever to recline my chaise and I was no longer jealous of John's recliner. The lever to recline my chaise is hidden inside the couch on the right side. You have to reach your arm in the side and then pull it up so that's why I missed it at first.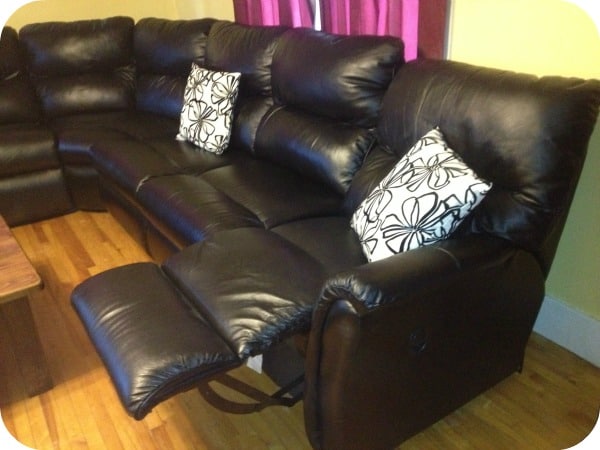 Because this couch is on the larger side, you will need to make sure you have enough room for it. Our living is a good size, but with the sectional now we really don't need any other furniture. John's old recliner will be making its way to our master bedroom once that room is finished. Our old couch and loveseat will be heading to the road when it's time for Spring Clean-up. I can't wait!
In terms of comfort, this sectional hits the mark! It's very comfortable to sit on. I have chronic pain so am extremely picky about chairs, couches, etc. I'm perfectly fine sitting on this sectional and don't feel the pain. My favourite position is to be lying down on my chaise watching TV or reading a book. When I work on my blog, I sit in the chaise but with my legs on the couch, my laptop on my lap and my right arm on the chaise part to move my mouse. It's a position that's been working great for me over the last month. It's definitely much more comfy than sitting at a desk and chair.
My daughters think the couch is fantastic. Both of them were really excited when it first came and were telling their dad and step-mother about it and even brought them inside to show them. Bridget enjoys curling up on the couch and playing with her iPad.
We also like snuggling and watching movies together. One night, Bridget, John and I were up late watching a movie and fell asleep. All three of us spent the night sleeping on the couch. It fit all of us even with John being over 6 feet tall!
I snapped a pic of the two of them snoring away. They look so peaceful.
After Christmas, John and I wanted to move the couch and see how it would look in another location in the room. He took the sectional apart by unlatching the various pieces and then we both moved them around to see how we liked it the best. After about an hour of this, we settled on having the sectional back in the far corner so that it opened up the whole room. I have to say that it looks pretty darn good! I like that it's easy to take a part and put back together again in case I change my mind on its location…again.
I consider this sectional to be an investment piece that will last our family for many, many years. I don't want to have to replace my furniture in a few years and I know and trust La-Z-Boy to make superior quality furniture that will stand the test of time. When I talked to Jim Jordan, he said this sectional is built to last especially if we take good care of it (which I'm doing).
There's no question in my mind that the Griffin Sectional from La-Z-Boy is the nicest piece of furniture in my home. It's even better than I ever imagined it would be and I can't stop telling people just how happy I am with my experience shopping with La-Z-Boy. It took a little bit of time to get to me because it was custom made, but it was SO worth the wait.
La-Z-Boy is so much more than just recliners. Seriously they have everything from sofas, sectionals, tables and much more. You can spend hours on their site looking at all the different furniture and seeing what colour and fabric you like the best. I know this from experience! Next time you are shopping for furniture, check out La-Z-Boy online or at a store near you. They've made me a customer for life!
Connect with La-Z-Boy on Facebook & Twitter.
Disclosure: I was not financially compensated for this post. I received a sample of the product for review purposes. The opinions are my own, based on my personal experience with the product.