Disclosure: I was not financially compensated for this post. I received a sample of the product for review purposes. The opinions are my own, based on my personal experience with the product.
A cookware set is the perfect gift for a new couple starting out their life together. I received a set as a wedding gift when I was married back in 1999. When we separated in 2009, we split everything up. John and I moved in together and he was also coming out of a divorce. Everything we owned was old and mismatched. Though we are older, we were still a new couple and I longed to have a nice cookware set again.
I recently received the Korkmaz Perla 8 Piece Cookware Set from Cilantro Cooks to try out. Cilantro Cooks is a cookware, bakeware and kitchenware store based in Lunenburg, NS. It's neat that they are NS-based, but they also ship worldwide. Korkmaz is a well-known cookware brand that has been in the business of producing high quality, stainless steel cookware and electrical appliances since 1972. They are based in Turkey but export their products to more than 65 countries around the world. If it hadn't been for Cilantro Cooks, I probably would have never been able to try their products. Cilantro Cooks sells a variety of Korkmaz products including the Perla 8-Piece Cookware Set that I'm writing about today!
This particular set includes:
Stainless Steel Casserole 1.8 L with See-Through Lid
Stainless Steel Casserole 3.5 L with See-Through Lid
Stainless Steel Casserole 5.5 L with See-Through Lid
Stainless Steel Casserole 3.0 L with See-Through Lid
It's made with 18/10 Cr-Ni stainless steel and offers a lifetime manufacturer's guarantee. This type of stainless steel is considered "a hygenic cooking surface" and an effecient one at that. It's sleek, polished and if you were to look at the pot you can see your own reflection quite clearly! That made it a little difficult photographing for this review since I tried not to capture my face and camera in it!
One of the key features is a special solar base heating system that is designed to provide even heating while cooking. That is one thing I hated about my old pots and pans. They'd never evenly cook the food. One side would always be more cooked than the other.
It also has ergonomic cool-touch 220C heat resistant stainless steel handles. These are great so I don't burn myself when I have to bring a pot of water to the sink to drain! That's happened to me in the past and it hurts! The handles are a good size and easy to grip.
It can also used for waterless cooking. That's a completely new concept to me. It basically means cooking in a near-waterless environment so that the food actually cooks in its own juices. I didn't know that cooking in water takes out a lot of the nutrients. It's an awesome way to cook veggies!
For cleaning, you can put the cookware set in the dishwasher or wash by hand in hot soapy water. They don't recommend you use a metal brush or SOS Pad to clean since that can cause scratches. I let mine soak in hot soapy water and all the stuck-on food came off.
You can purchase the Korkmaz Perla 8 Piece Cookware Set for $160 on Cilantro Cooks. They have FREE SHIPPING on orders over $100 in USA & Canada.
I have a recipe to share today too! It's simple to make and tastes delicious. It's like a Beef Stroganoff only with chicken.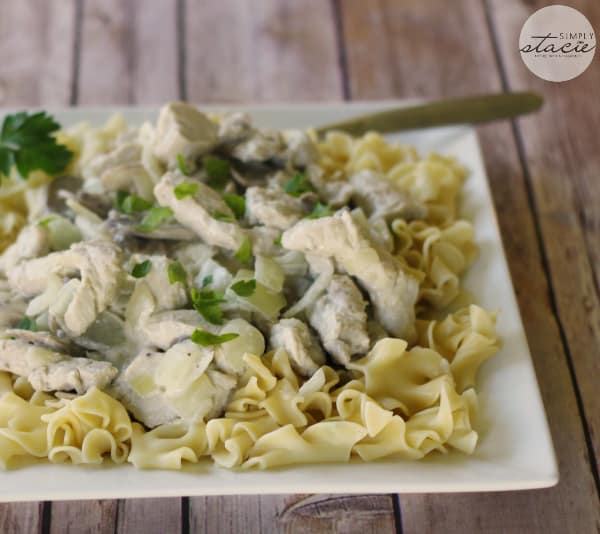 Creamy Garlic Chicken with Noodles
An easy and flavorful family dinner. Just like beef stroganoff, but with chicken!
Ingredients
1 tbsp olive oil
4 boneless, skinless chicken breasts, cut into julienne strips
1 onion, chopped
3 to 4 garlic cloves, minced
2 cups sliced mushrooms
3/4 cup heavy cream
1/2 cup white wine (alcohol-free wine is fine too)
salt & pepper to taste
1 tsp parsley for garnish (optional)
Instructions
Heat olive oil in a large pan over medium heat. Add chicken, mushroom, onions and garlic. Sauté until no pink remains on the chicken.
In another small pot, add cream and wine and heat to a boil. Boil until the liquid is reduced to about half and is thickened. Add cream mixture to the chicken and mix together.
Add parsley and season with salt and pepper. Serve over a bed of egg noodles.
Recommended Products
As an Amazon Associate and member of other affiliate programs, I earn from qualifying purchases.
Nutrition Information:
Yield:

4
Serving Size:

1
Amount Per Serving:
Calories:

441
Total Fat:

24g
Saturated Fat:

12g
Trans Fat:

1g
Unsaturated Fat:

10g
Cholesterol:

152mg
Sodium:

179mg
Carbohydrates:

10g
Fiber:

2g
Sugar:

5g
Protein:

41g