Disclosure: I was not financially compensated for this post. I received a sample of the product for review purposes. The opinions are my own, based on my personal experience with the product.
My new kitchen is so close to being finished I can almost taste it. We've been renovating for 4 years (!) and I finally said let's just hire someone and get it done once and for all. It will be so nice to have my brand new kitchen to cook and bake in without tiptoeing around the ongoing renovations. Plus, I have a gorgeous cookware set that has inspired me to want to spend more time in the kitchen preparing meals for family and friends. I've recently been feeding our workers and getting their opinions on a few new recipes. I'm using the Korkmaz Flora 9 Piece Cookware Set from Cilantro Cooks and think it's a fantastic set for anyone who loves to cook!
Cilantro Cooks is cookware, kitchenware and bakeware store based out of Lunenberg, NS. However, they ship all over the world and I think have one of the best selections of products in their niche anywhere online. One thing I know for sure is that they value quality. You can count on finding excellent quality and a large variety of products with many of them being completely new to me. I'd never heard of Korkmaz cookware until I was introduced to Cilantro Cooks!
Korkmaz has been in the cookware business since 1972 and are based in Turkey. They export their products to more than 65 countries around the world. They are known for producing high quality, stainless steel cookware as well as electrical appliances. I also had the opportunity to try out the Korkmaz Perla 8 Piece Cookware Set.
This Korkmaz Flora 9 Piece Cookware Set includes:
16×9 cm Casserole (2.0 Litres)
20×11 cm Casserole (3.0 Litres)
24×12 cm Casserole (5.5 Litres)
24×7 cm Low Casserole (3.0 Litres)
24×6 cm Frying Pan (2.7 Litres)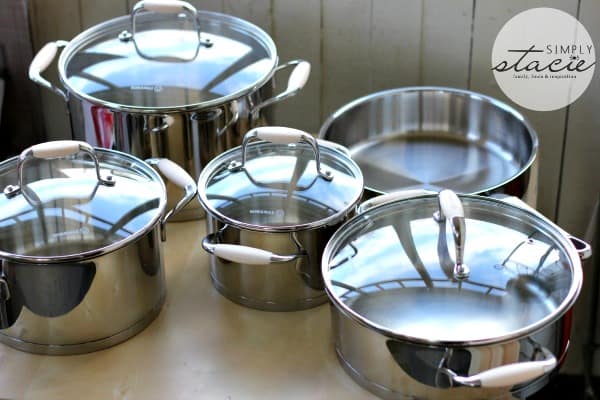 They are made with international grade 18/10 Cr-Ni stainless steel. This type of material is considered the "most efficient and hygienic food-purposed raw material used today". I googled it to learn a little more and found out it's used in "cutlery and high quality cookware". Basically this type of stainless steel won't interact with whatever food you're cooking. The vitamins and flavour will stay in the food.
The lids are clear and see-through so you can easily check in on your food without having to lift the lid to take a peek. It also features "stay cool" white handles made of silicone. The cookware set is almost mirror like and you can see your own reflection.
When you flip the pots and pans over, you'll be able to see the solar base technology on the bottom of each piece. What this basically does is allow the food to cook evenly. On some of our older pots and pans, I noticed that bacon, for instance, never cooks properly. Half the pan will have crispy bacon and the other half will be chewy and both are being cooked the same amount of time! It was annoying. I like the fact that food cooks consistently in the Korkmaz cookware.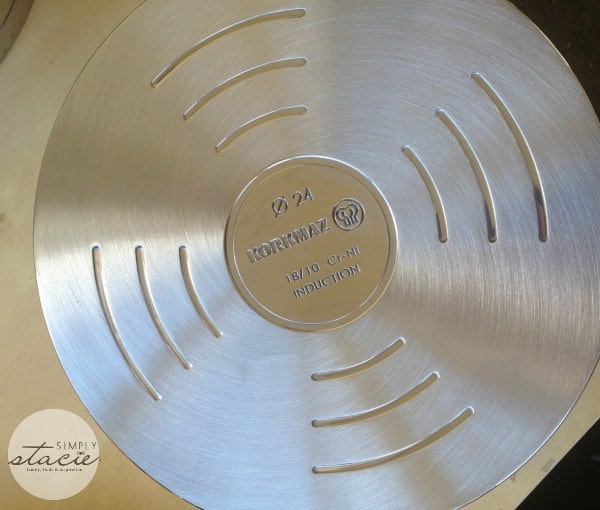 Inside each of the pots and pans is a handy measurement gauge that allows you measure right in the pot or pan! It saved me from having to clean a few measuring cups.
I'm solely using this cookware set now for all my cooking. I gifted my old set to my mom and John's mom is now using the Korkmaz Perla 8 Piece Cookware Set and absolutely loves it.
The mess in the kitchen hasn't stopped me from cooking, but I think my cookware set will look even nicer once everything is done. Also, the cookware is dishwasher safe or wash by hand in hot, soapy water. If there's stuck on food, I let it soak in hot water first to loosen it up.
I recently whipped up a quick batch of Beef Taco Pasta to feed a few of the workers. It saves them from having to go out to eat and I enjoy it. Everyone said the Beef Taco Pasta hit the spot and tasted awesome. I was told it had just the right amount of spice. It was mildly spicy, but you could always throw in a jalapeno pepper if you prefer it to be hotter. It's comfort food at its finest. This recipe makes a good sized amount of food!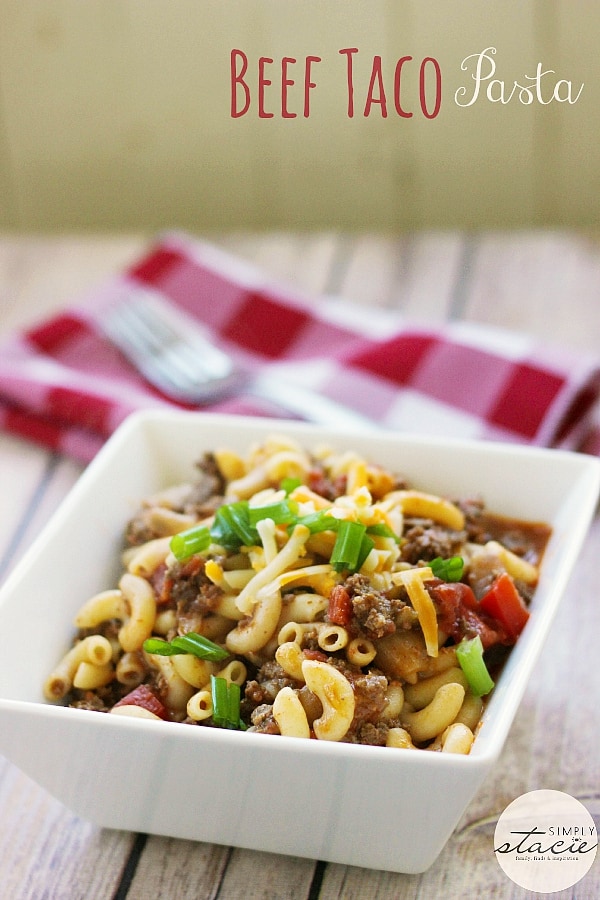 The Korkmaz Flora 9 Piece Cookware Set is currently on sale at Cilantro Cooks for $351.00 (regular price is $390). They have FREE SHIPPING on orders over $100 in both USA & Canada. If you're looking to revitalize your kitchen with a new cookware set, grab the Korkmaz Flora 9 Piece Cookware Set on sale now and get it shipped for free! It would also make a nice gift for a young couple or person who loves to cook. Also check out the other Korkmaz cookware sets they have….there's several sets to choose from!
Beef Taco Pasta
Comfort food at its finest! This simple, but unique Taco Tuesday dish is bursting with Mexican flavors.
Ingredients
1 tbsp oil
1 lb. lean ground beef
1 red pepper, chopped
1 green pepper, chopped
1 onion, chopped
1 package Taco Seasoning Mix
1 28 oz. can diced tomatoes, undrained
1 cup salsa
1 10 oz. can green chilies, undrained
4 cups elbow macaroni
1 cup marble or cheddar cheese, shredded
1/2 cup green onions, chopped (for garnish) optional
Instructions
Heat oil over medium heat in a large pan. Add in ground beef, onions, red pepper, green pepper and taco seasoning. Cook for about 10 minutes or until ground beef is browned.
Stir in tomatoes, salsa and green chilies and bring to a boil. Then cover and reduce heat to minimum and simmer for about 30 minutes.
While your sauce is simmering, cook the elbow macaroni in a large pot according to package directions. Drain the water and put back into the pot.
Add the sauce mixture to the macaroni and stir to combine. Mix in the cheese. Add green onions for garnish.
Recommended Products
As an Amazon Associate and member of other affiliate programs, I earn from qualifying purchases.
Nutrition Information:
Yield:

6
Serving Size:

1
Amount Per Serving:
Calories:

466
Total Fat:

19g
Saturated Fat:

7g
Trans Fat:

0g
Unsaturated Fat:

9g
Cholesterol:

86mg
Sodium:

908mg
Carbohydrates:

41g
Fiber:

7g
Sugar:

8g
Protein:

33g