Our house is what you would call a 'fixer upper'. The first thing we did when we moved in back in 2009 was gut the kitchen. I didn't even think to take a before picture! Let's just say it was straight out of the 1960s and in really rough shape.
We endured a very lengthy kitchen renovation. In fact, the kitchen was just finished in the last month. Talk about stress! I think kitchen renovations are the absolute worst. The kitchen is the heart of the home and having it all disorganized and very messy is no fun at all. We managed though, but barely! I'm just relieved it's finally come to end. It was definitely something I wouldn't want to do again anytime soon.
Kitchen renovations are also very expensive. Even if we wanted to get it all done in one shot, there was no way we could afford it all. I'm proud to say we saved up the money to do it all ourselves and nothing in this post is sponsored.
One of the first things we did was move the one kitchen window so that it would be situated in front of the kitchen sink.It was in an odd location before beside the basement door. We also extended and replaced the countertop with black tiles. The backsplash was done in a dark red tile.
At first we were planning to do a kitchen island and had an electrician come and move the stove wiring to the middle. We lived like this for months. It was a very odd sight!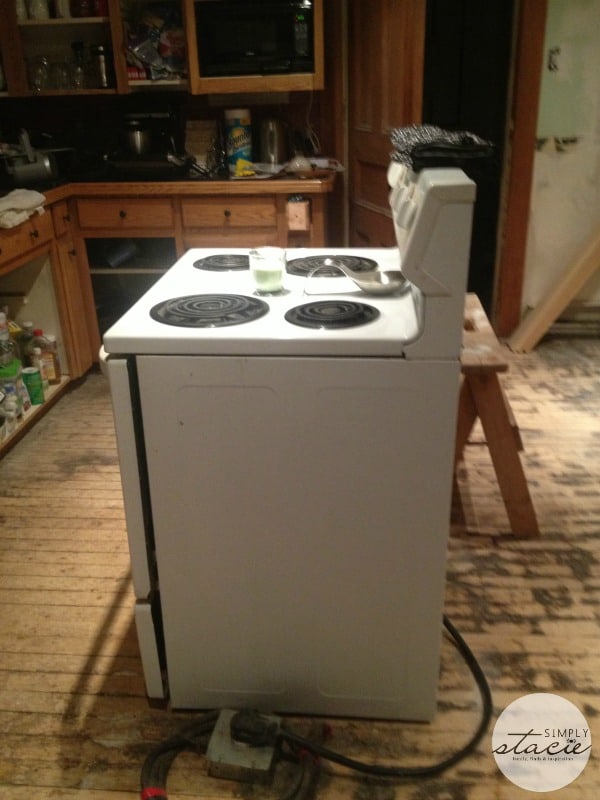 Then after careful debate and budgeting, we realized it would be too expensive to get an island. We would have to purchase a new stove top and oven separately and with John being medically released from the military, it just wasn't feasible.
During the renos, I always knew what I had on hand because I had no cupboard doors! The ceiling was also opened up and the cats were able to scale the cupboards and explore the ceiling. We had a dog come over one day and Misty was terrified and ran up the counters and hid in this little cubby space.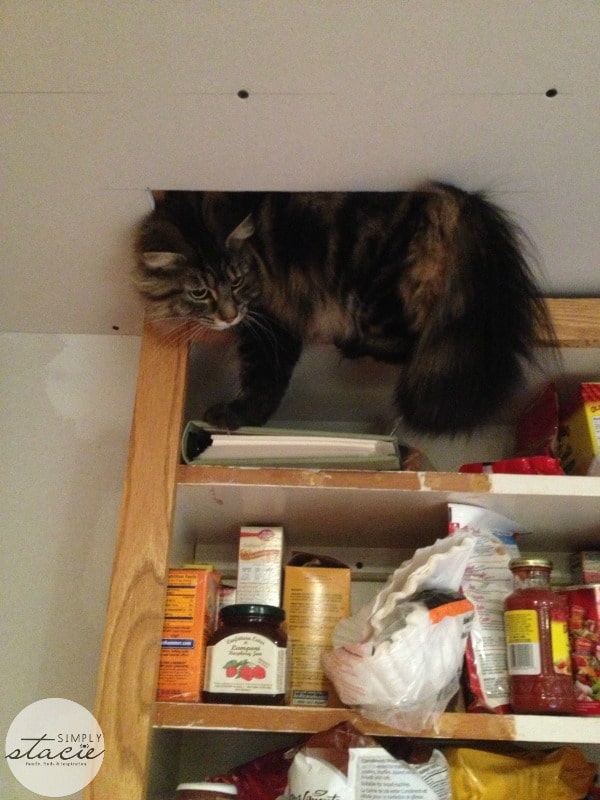 We were doing most of the renovations ourselves. John even showed my daughter, Bridget, how to mud the drywall.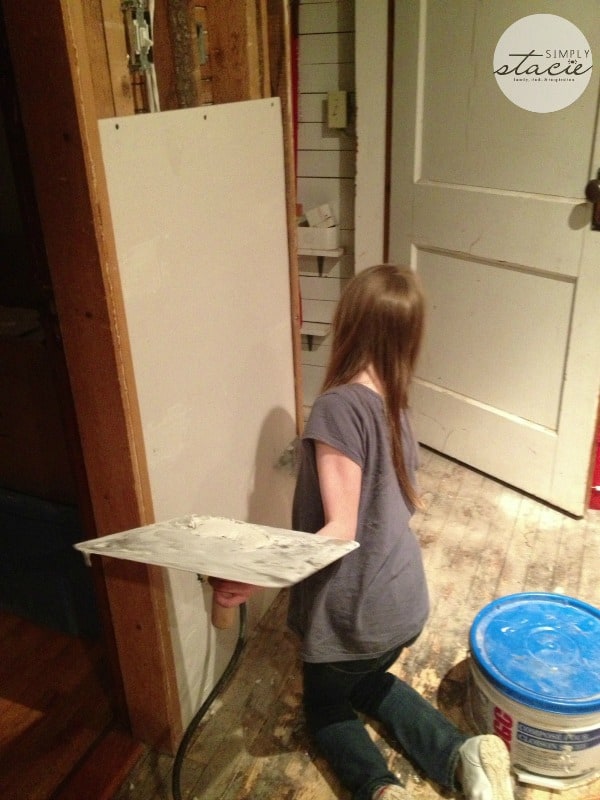 The kitchen had one dinky light in the centre and was so dark and gloomy. We brightened it up by adding in six pot lights. One thing I will say though is that the light bulbs DO NOT last very long. It seems like one is always burning out. We picked the pot lights up at The Home Depot.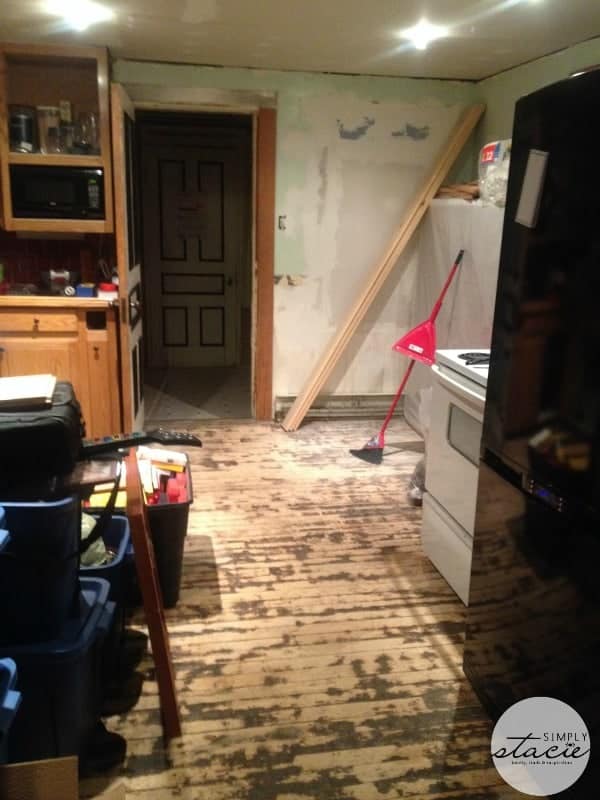 I breathed a sigh of relief when it was finished and am very happy with the result. We didn't spend a fortune on it and I think it turned out well. The cabinets are actually the old cabinets but with new oak doors and hardware. The double sink we picked up for $20 at a garage sale and the Delta Touch faucet I won in a blog giveaway years ago.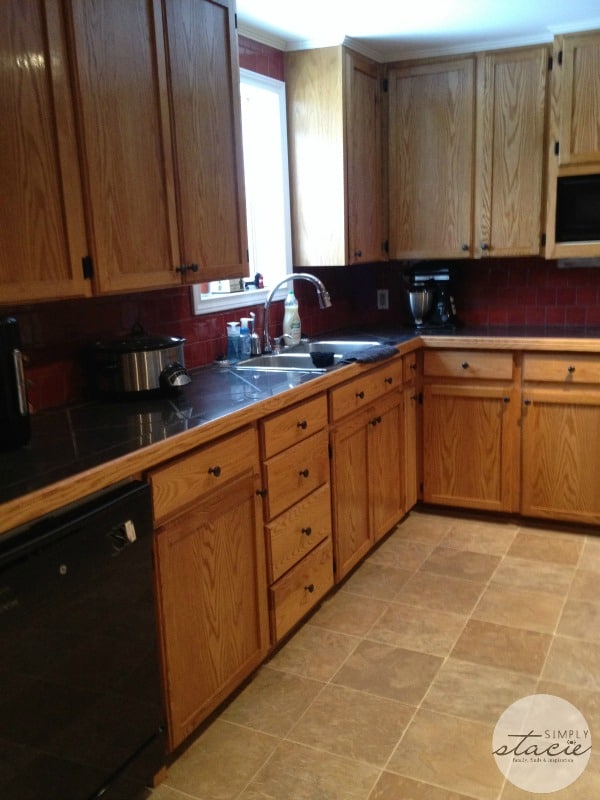 The vinyl flooring was on sale at Happy Harry's in New Minas. It was the last they had of this design and we bought them out. I would have liked to have a tile floor, but again I didn't have enough money so vinyl it is. I did get a tile design though.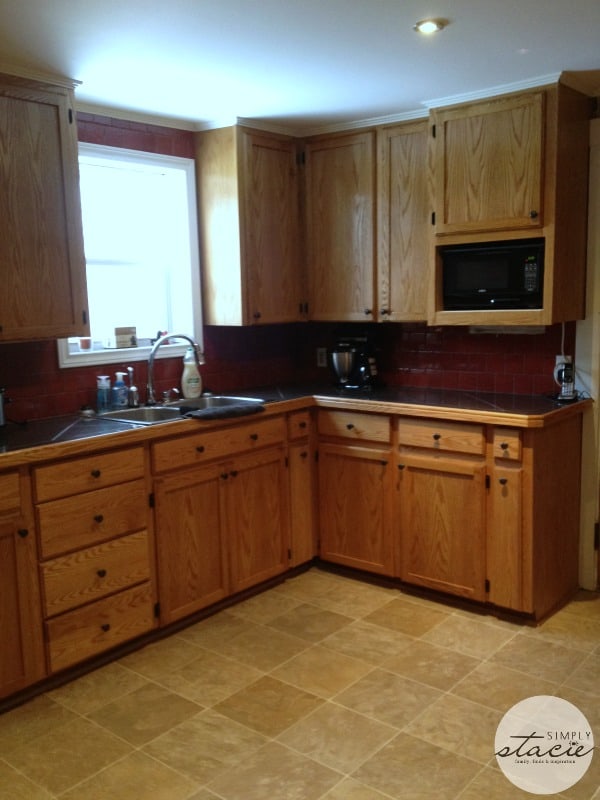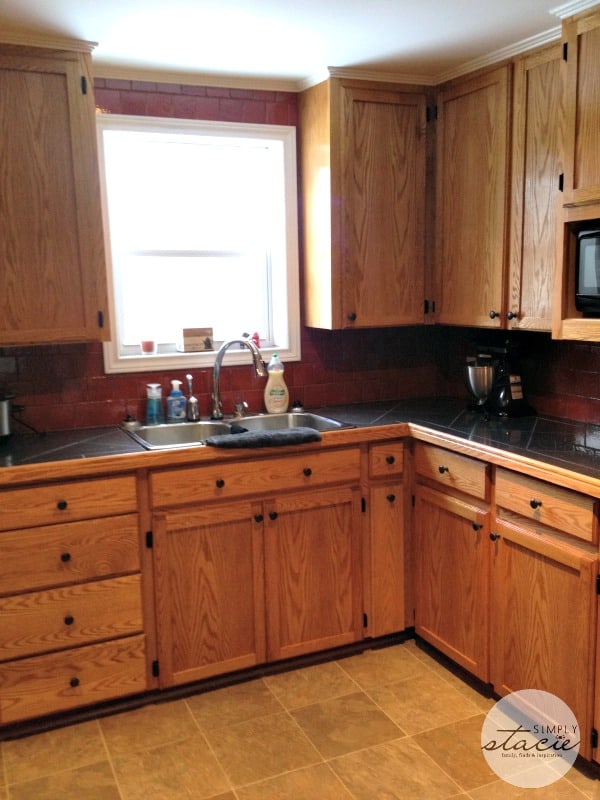 The little cubby you see there is now closed. It gives access to the plumbing upstairs.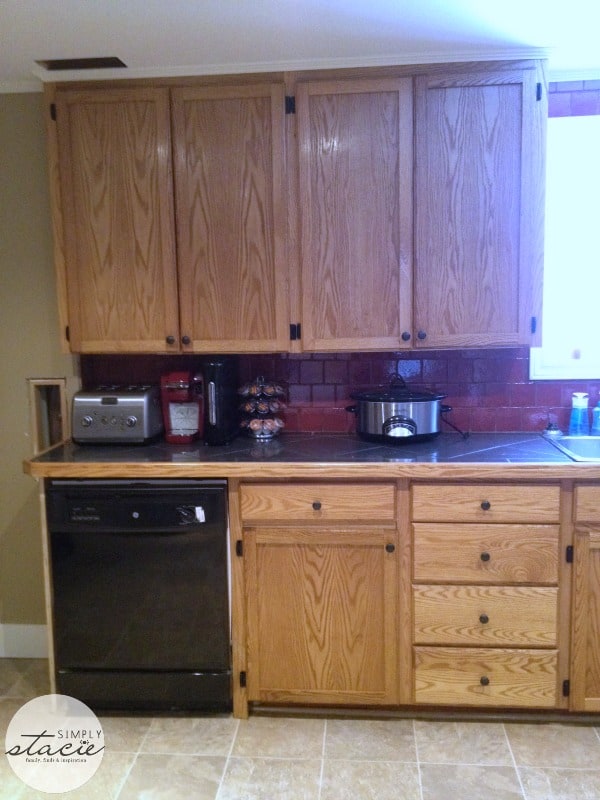 I bought a dishwasher two years ago and love having one again. This house didn't have one when we moved and I despise washing dishes. Dishwashers are so handy to hide the dirty dishes. I hated seeing them on the counter or in the sink.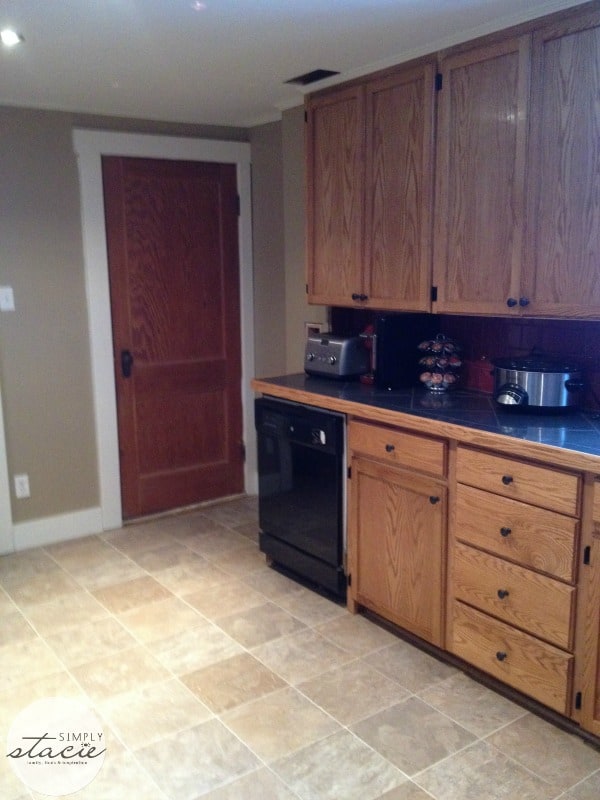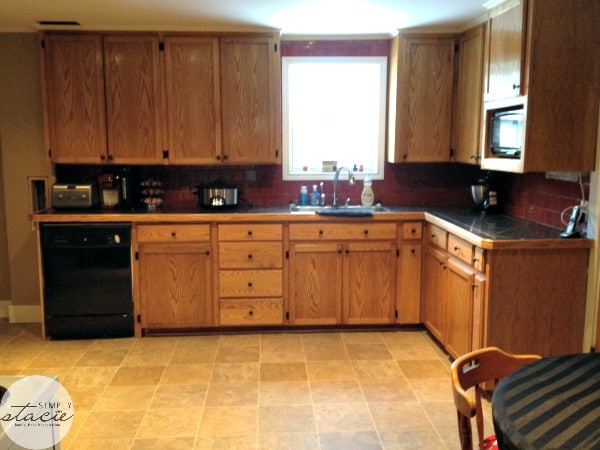 The kitchen table is old and we don't really use it much. We have a dining room that is off the kitchen with our bigger table. I tried to hide the ugly table with a black tablecloth.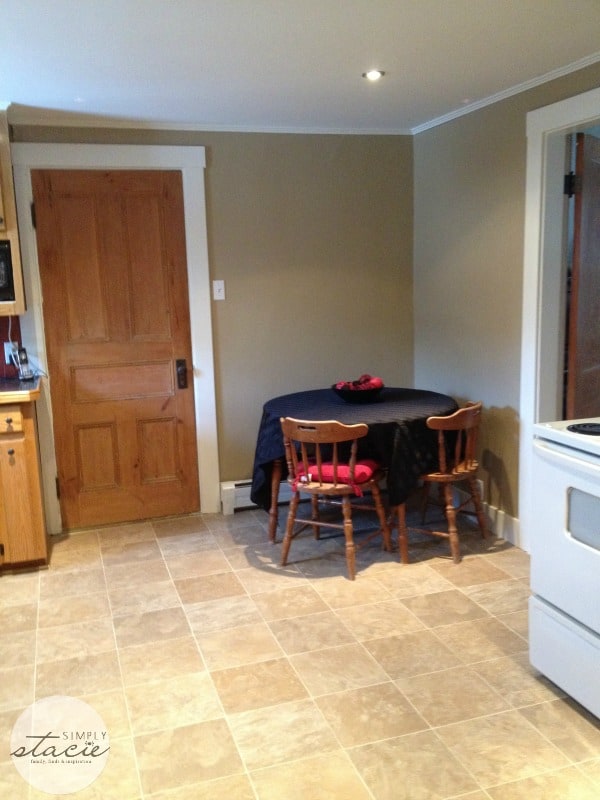 Our fridge and stove are not new. I'm not crazy about the location, but that's where they had to go with the way the kitchen was wired.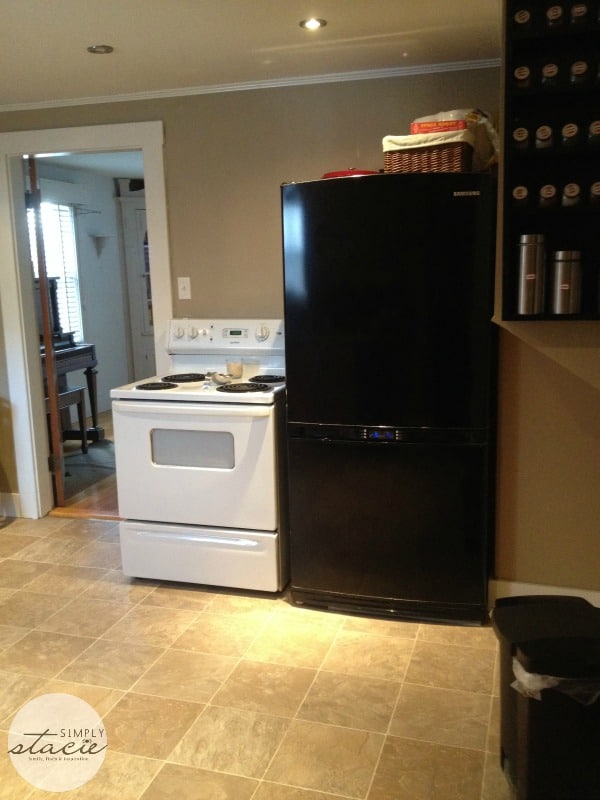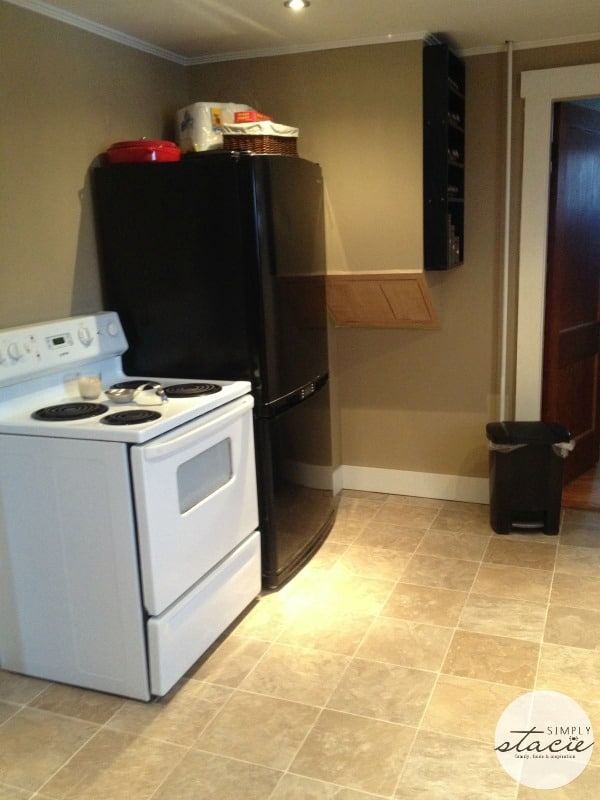 Months ago I made a spice rack and it now hangs where it belongs….in the kitchen for easy access!
My kitchen is now a space I enjoy spending time in. I love cooking and baking and it's so much easier when everything is clean and organized. I'm no longer embarrassed when people come over to my house and proud to say that we did most of the work ourselves.
To see more makeovers, check out my living room makeover, bathroom makeover and master bedroom makeover.