Are you wanting to spruce up the look of your home? There are some very budget friendly ways of improving its curb appeal.
First impressions matter and how visitors see your home from the outside has a big impact on how they feel about going in. If your house looks like something out of the Addams Family, people might avoid knocking at your door. But forget what other people think! It's also lovely for you to be able to walk up to a tidy, pretty home. Once you're through your statement-making front door, you will have an easier time ignoring any crazy clutter inside, right?
Whether you're just sprucing or want to make some major changes, we've got a list of improvements that you might want to consider.
© curb appeal image via Shutterstock
Eye catching with ease!
These improvements are simple weekend projects that can quickly perk up the appearance of your home. Even if you're not particularly handy (I'm waving my hands in the air here), these are simple updates that can create some real wow factor for the face of your home.
1. Paint the front door. Something striking that makes a statement all the way from the sidewalk or a lovely matching tone to go with the shutters you already have. By the way, there is an app for that, so you can try out colours before you make a change. If you don't want to paint, you can get a lot of mileage out of a good old fashioned scrub with soap and water, to make sure all scuffs and marks are gone.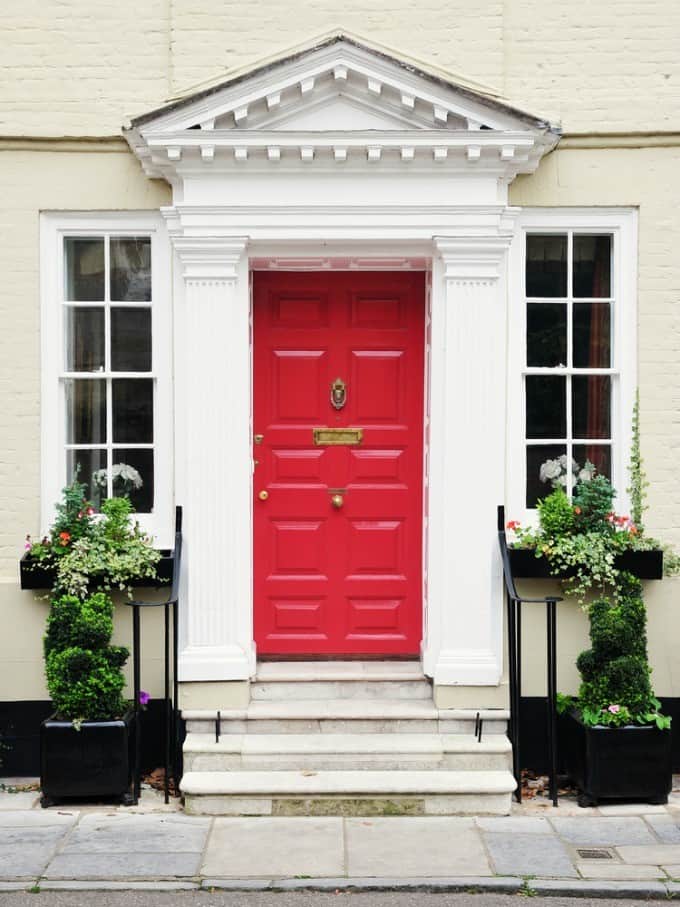 © painted door image via Shutterstock
2. Change your house numbers to a bold size and font or upgrade the door hardware to a funky door knocker. Here again, you don't have to replace if you don't want to, opting instead for applying a little elbow grease to brighten up all the hardware. If you have a mailbox, spruce it up with a coat of paint or replace it with something new and fun.
3. Amp up the porch lighting by getting away from tiny sconces and adding something large and stylish. It will create a pleasant glow of light while still contributing to security around your door. It might even make it easier for the pizza delivery guy to find you, which might be the best reason of all to improve these!
© porch light image via Shutterstock
4. Create symmetry in your front entranceway. Symmetry is naturally pleasing to the eye because it gives a sense of order and tidiness. Flower urns and matching lighting or trim on each side of the door will look outstanding.
5. Have a boring garage door? There is an easy and inexpensive way to give it the look of an old fashioned carriage house! It just needs some hardware and a little or your time and effort.
6. One thing that stands out on a lot of homes is the AC unit. While you don't want to make it hard to access, for repairs and inspections, there are ways you can hide them a little from curb view. Add a row of bushes in front of the unit, or even a tiny picket fence, preferably with one side attached by a hinge so that it can be easily opened for access to the unit.
7. Keep your garden hose in check by building a handsome hanging post for it. Then you need to remind everyone in the house to use it, but that's another blog post!
The easiest change you can make is adding the most welcoming of welcome mats to your front entryway, letting all who come up to your fabulous door (with the lion head door knocker and huge brass numbers, symmetrical planters and a wrought iron light fixture — just a guess!) that you are happy to have them visit you.
How have you improved the curb appeal of your home?