Disclosure: This post is sponsored by JIMMY Patterson Books. All opinions are my own.
I started teaching my girls about manners at a very young age. I think they are an important lesson for kids to learn and you want them to become second nature. Manners matter. They're essential for all aspects of daily living including personal relationships, careers and how you carry yourself in public. I think I've done a pretty good job with my daughters. They mess up sometimes, but overall, they are polite, kind and thoughtful.
Though there are many ways to teach your kids about manners, the main methods I used were teaching them by example through my own words and actions and through books. Both my girls loved bed time stories so it made sense to include books about manners in our nightly reading.
I have a fabulous resource I'm recommending for parents of today who want to teach kids about manners: the newly released picture book by James Patterson and Bill O'Reilly called Give Please a Chance. It focuses on one of the most important manners for kids to learn, saying please, and how this simple word can be used in so many life situations.
I've come up with a list of what I think are the most important manners for kids to learn. I've also developed a free printable that you can download and use as a checklist as you teach your kids about manners.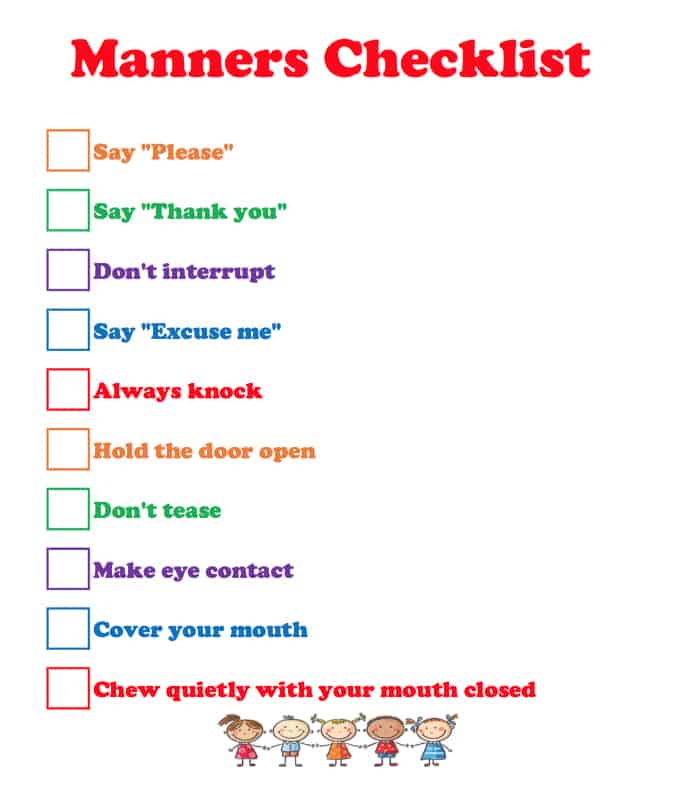 1. Say "Please". Known as the magic word, the simple act of saying please is powerful. In the picture book, Give Please a Chance, the authors demonstrate the difference saying please can make when you are making a request. I always tell my girls to "Ask nicely and don't forget to say please!".
2. Say "Thank you". This manner follows saying please and it's important for it to become second nature to show appreciation and gratitude.
3. Don't interrupt. When someone is speaking, do not interrupt them unless it's an emergency. It's rude to try and talk over someone.
4. Say "Excuse me". If you need to interrupt or get past someone in your way, always say "Excuse me" first.
5. Always knock. Before you enter someone's room (or home), knock on the door to make sure you aren't interrupting. Never just barge in unannounced unless it's your own personal space.
6. Hold the door open. When you are exiting or entering, hold the door open for the person behind you. Don't let it slam in their face.
7. Don't tease. Use the five-minute rule. If it's something the person can't change in the next five minutes, don't make fun of them.
8. Make eye contact. When someone is talking, look them in the eye. Don't stare over their shoulder or look at your feet. It shows that you are listening.
9. Cover your mouth. If you need to yawn, sneeze or cough, cover your mouth with your hand. For one, no one wants to see your tonsils and you'll limit the spread of germs if you are sneezing or coughing.
10. Chew quietly with your mouth closed. There is nothing more gross than someone eating loudly with their mouth wide open. No one wants to watch your lunch get chewed up.
Like I mentioned, a great starting point to teach kids about manners in a fun, engaging way is through age-appropriate books. Give Please a Chance is new in stores as of November 21st and is an excellent way to give kids concrete examples about the different times it is appropriate to use the magic word. It also makes an awesome holiday gift for a young child on your shopping list.
Visit JamesPatterson.com to learn more and purchase Give Please a Chance.
What do you think are the most important manners for kids to learn?