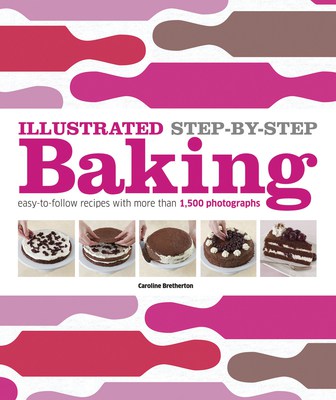 This post contains affiliate links. I received a copy of this cookbook for review.
Title: Illustrated Step-by-Step Baking (DK Illustrated Cook Books)
Author: Caroline Bretherton
About the Book:
Packed with clear instructions and essential information on ingredients, special equipment, and storage, Illustrated Step-by-Step Baking contains everything you need to bake with confidence.
Every area of baking is covered in Illustrated Step-by-Step Baking, with 350 recipes covering a huge range of sweet and savory classics including quiches, pies, breads, and cookies. Classic recipes such as quiche lorraine and New York cheesecake are demystified and presented in a clear and accessible step-by-step format.
If you want to produce the perfect tart, bake a cake fit for a king, or serve up a souffle that won't sink, Illustrated Step-by-Step Baking will guide you through every single stage with clear, illustrated, step-by-step instructions that have proved so popular with DK's readers.
My Review:
The main reason I wanted to read Illustrated Step-by-Step Baking is that I'm interested in baking, but don't have much experience with it yet. I liked the fact that it included large photographs since I'm a visual learner and need to see it done to understand how to do it myself.
The inside cover lists out all the useful information you might need like volume equivalents, weight equivalents, etc so you can figure out how much of an ingredient to use without having to go online and search out the conversion.
There is an enormous amount of recipes for just about every baking item I can think of. Chapters include:
Everyday Cakes
Celebration Cakes
Small Cakes
Patisserie
Cookies & Slices
Meringues & Souffles
Cheesecakes
Sweet Tarts & Pies
Savory Tarts & Pies
Classic & Artisan Breads
Flat Breads
Quick Breads & Batters
I liked that they have a variety of recipes including both sweet and savory. I always associate baking with sweets, but there's many delicious savory recipes included too. The author recommends a digital scale to weigh ingredients. Unfortunately I don't have one yet. It's on my list of things to buy.
The recipes are divided into classics, step-by-steps and variations. I enjoyed looking at all three types, but I think the ones I found the most informative were the step-by-steps since they are geared towards first time bakers.
The recipes are very detailed and list out clearly any special equipment you need, prep time, baking time and how long you can freeze it for. Most of the recipes have photographs with it. That's a huge plus for me because I like to see what the finished product is supposed to look like.
I wasn't sure what to make first because there were so many recipes I wanted to try. I was debating between Hazelnut and Raisin Oat Cookies, Blueberry Ripple Cheesecake, Quiche Lorraine or Banoffee Pie. I ended up deciding on making Banoffee Pie. It has a vanilla wafer crust, layer of caramel, layer of bananas and topped with whipped cream. John found it strange that they didn't say to put sugar in the whipped cream topping. However, I liked it without the extra sugar since the pie is sweet enough.
The pie was rich and sweet. My favourite part was the caramel layer. I had to make it in steps since the crust had to chill and then the filling had to cool.
I call this book my baking bible. If you ever wanted to learn to bake, it's a great resource to have.
Find it on Amazon.ca