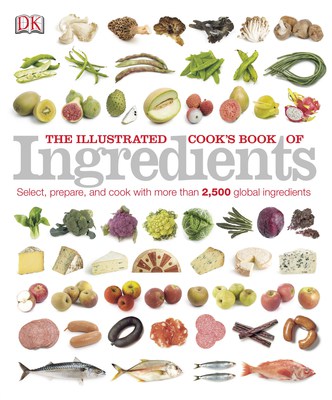 *I received a copy of this book for review, but was not compensated financially in any way. The opinions expressed are my own and are based solely on my experiences while reading this book.*
Title: The Illustrated Cook's Book of Ingredients (DK Illustrated Cook Books)
Author: DK Publishing
About the Book:
Featuring useful information on buying, ripening, storing, and working with unusual ingredients, The Illustrated Cook's Book of Ingredients serves as an invaluable reference for food lovers and cooks intent on making the most of all the ingredients available today.
With more than 250 recipes featuring key ingredients, along with background information about the journey from field to plate, The Illustrated Cook's Book of Ingredients is perfect for foodies and home cooks looking to take their cooking to the next level.
My Review:
The Illustrated Cook's Book of Ingredients is a wealth of information! I think of it like an encyclopedia of every ingredient you could ever imagine and then some. It showcases over 2,500 ingredients from around the world.
The author points out that the types of ingredients we cook with today has vastly changed from even 20 years ago. In our global society, we have access to more and more exotic ingredients than ever before. You have supermarkets, natural food stores, delicatessans, butchers, bakeries, international food stores as well as online stores that will ship you ingredients right to your doorstep. I consider myself adventurous when it comes to trying new food. I'll always be up for trying almost anything once. My issue is that I don't know what to make with it or even what to look for when I'm out shopping.
The Illustrated Cook's Book of Ingredients is divided up into types of food. There's a chapter on Fish & Seafood, Meat, Vegetables, Herbs, Nuts & Seeds, Spices, Dairy & Eggs, Fruits, Grains, Rice, Pasta & Noodles and Oils, Vinegars & Flavourings. As you can see it's quite thorough and covers just about every category that you can think of.
Each section has photographs of the ingredients, recipes, step-by-step preparation tips, and lots more. I've never gutted a fish and it was neat to see it explained with photos in a step-by-step fashion. I may give it a try this summer if we end up going fishing.
There's a lot of information and I recommend going through the book slowly so you aren't overwhelmed. The other day I was shopping for mangos for a recipe I'm making and looked it up in the book. I learned what I should look for in a mango at the store and I also found out that cooking a mango destroys most of the flavour. I guess fresh is the way to go. I was going to add mango to a chicken chili in the slow cooker, but decided to use it as a garnish to retain the fresh, sweet flavour.
I'm ready to step out of my comfort zone and try some new types of foods. I've got the information, recipes and the motivation to experiment with the help of this book. I'd recommend for any foodie who is genuinely interested in food or someone that wants to step out of their cooking comfort zone too and play around with new ingredients.
Also find it on Amazon.ca.