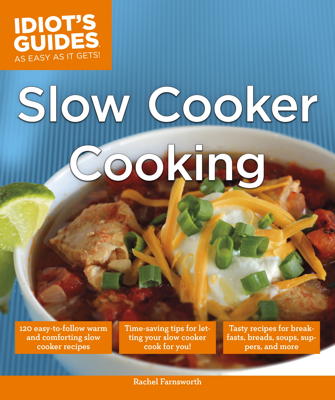 *I received a copy of this book for review, but was not compensated financially in any way. The opinions expressed are my own and are based solely on my experiences while reading this book.*
Title: Idiot's Guides: Slow Cooker Cooking
Author: Rachel Farnsworth
About the Book
The easy-to-use convenience of a slow cooker doesn't have to be dull and tasteless. Featuring more than 120 fantastic, easy-to-fix, and internationally-minded recipes, Idiot's Guides: Slow Cooker Cooking, includes beautiful, full-color photography that brings fresh taste and excitement to everything from breakfast and breads to main dishes and desserts.
My Review
I'm so glad it"s slow cooker season again! I recently took my slow cooker out from its storage place in my kitchen and found a new home for it on my kitchen counter. Slow cooker meals are the best and I'm always on the lookout for new recipes to try. Idiots Guide Slow Cooker Cooking has no shortage of delicious recipes and I've already bookmarked quite a few that I plan to try over the coming months.
Idiot's Guide Slow Cooker Cooking is written by a blogger at The Stay at Home Chef! I wasn't familiar with Rachel's blog before, but have become a new fan! Her mantra is to cook from scratch, with love.
The thing I love most about this book is that these are recipes I actually want to make (and eat). I dislike cookbooks that are loaded with obscure ingredients and require a ton of prep work. In this book, there is barely any prep work (if any at all) and the ingredients are recognizable that I can find in my small town grocery store.
And talk about diversity! You'd expect that a slow cooker cookbook would be mainly meat and soups right? In this book you can find a whole lot more including breakfast casseroles, quiches, oatmeal, dips, cakes, brownies and more. Yes, they do have meaty main dishes and soups, chilis and stews.
Here are a few recipes I've bookmarked to try:
Loaded Hashbrowns
French Toast Casserole
Spinach Artichoke Dip
Creamy Broccoli Cheese Soup
Spicy Italian Chicken Sandwiches
Sunday Afternoon Pot Roast
Orange Chicken
Creamy Whipped Potatoes
Dinner Rolls
Apple Dumplings
It would be hard to tell you a recipe I didn't like in this book because they all look drool-worthy. All the recipes have full colour photographs so you can see what the finished dish is supposed to look like. It also serves the purpose of making you extremely hungry as you browse through the pages. You've been warned.
With Idiot's Guide they make learning something new super easy! With new authors and new photography, you'll want to check out this book and the other titles. For more Idiot's Guides, check out DK Canada's Boutique and save 30% for a limited time!
Connect with Idiot's Guides on Twitter.