My 3-year-old, Matthew, is full of energy. I love to see him so active – he really enjoys his time outside to run and play. He also seems to enjoy his quiet time too, especially when we let him play with the iPad. He gets to use his imagination when interacting with all the games and books we've downloaded for him. Now there's a product on the market that combines Matthew's two favorite things – the iBounce Kids Trampoline.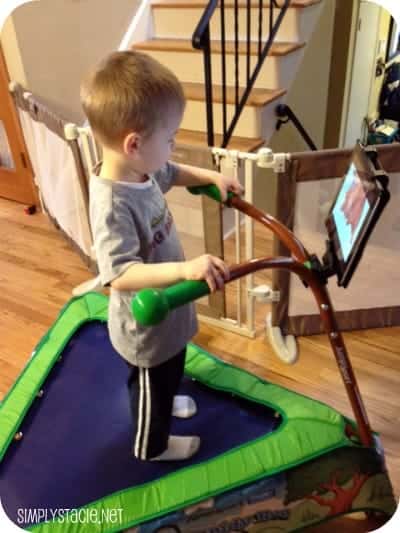 To be honest, I was a little nervous about Matthew having a trampoline. But when the iBounce arrived, and I saw the sturdy construction and compact size, I knew it would work out well. There are large handles for him to hold on to as he bounces and the nylon cover keeps his feet from falling through the sides. Matthew was immediately impressed and quite excited to start jumping!
The iBounce kit included a DVD with a free download for an app that would allow Matthew to follow along with a lovable little kangaroo called Rompy. Once we downloaded the app, we placed our iPad in the secure tablet mount on the iBounce. Matthew was able to then watch Rompy's adventures and follow along with his instructions on when and how to jump. Matthew was intrigued by the adventures of Rompy and followed his instructions to the letter – even pausing when Rompy told him to. It's really a great way to teach kids how to follow direction while having fun.
The iBounce is a great way to let kids expel their natural energy and is a great indoor activity for rainy or cold days and a great way to help kids develop coordination and balance. Kids can follow Rompy on the iPad or any other tablet device, or on the DVD itself. The iBounce retails for $129.95.
Disclosure: I was not financially compensated for this post. I received a sample of the product for review purposes. The opinions are my own, based on my personal experience with the product.