In August 2014, I changed the way I shop for groceries. Before that time, I was grocery shopping without a list. That idea seems unfathomable to me now. It's no wonder I always felt like groceries cost a fortune. It's because they did! Thankfully, I've changed my ways and developed some good money-saving habits. Now, it's exciting to me to go shopping when before, I used to hate doing it.
Saving money is so much easier with the help of Flipp! I use this smartphone app consistently from week to week and love the ease of use and convenience. It's nice to not have to rely on paper flyers and Flipp is always coming up with improvements in their app to make the user experience even more valuable and efficient.
If you aren't familiar with Flipp yet, let me get you up to speed. Flipp is a shopping app that lets you browse store flyers (they have 800+!), find sales, create a shopping list, search out specific products and so much more. It's available in both USA & Canada.
Here's a quick rundown of its features:
Flip. Browse through weekly flyers quickly and intuitively
Coupons. Maximize savings using coupon match-ups
Shopping List. Plan ahead and stay organized while shopping by adding items to the in-app list; discover deals for each items on the list and check them off at the store
Search. Easily find a specific store, item or brand
Clippings. Tap an item in a flyer to clip it for price matching
Item Details. Find additional product information and reviews
Discount Slider. Find the best savings at a glance
Notifications. Receive reminders about expiring clippings as well as updates on offers at nearby retailers to ensure a deal is never missed
How I used Flipp in the Past
Every week, I clip sales from our local stores' flyers in Flipp and plan my shopping trip for the weekend. I normally go shopping early Saturday morning when the stores aren't as busy. Many stores will also price match so you don't have to visit multiple stores to take advantage of sales. Just show the cashier the item in the flyer on Flipp that you are wanting to price match. Make sure you check first what the store's price matching policy is though.
How I Use Flipp Now
I'm still using Flipp to build my shopping list by browsing the local flyers and clipping items I want to buy. I also use Flipp to search out specific items I need to buy to find the best possible price. Flipp has introduced a new game-changing feature: coupon matching! I was so happy when I first discovered the app could do this for me. Coupon matching can be a tedious process and Flipp now makes it much easier and less time consuming to do.
Coupon matching is pairing up a coupon with a product on sale to maximize your savings. This way you are getting it already at a discount with it being on sale AND using a coupon to save even more money. If you're lucky, you may even be able to get the item for free or close to it!
I have a coupon organizer in my purse and found it difficult to remember all the coupons I have in there and try to match them with items on sale. It can be done, but I'm so slow at doing it. Now all I need to do is to tap Coupons on Flipp and I'll see all the coupon match ups at stores in my area. It will even let me print the coupons so I can do the match up.
Here's an example of a shampoo coupon that I wanted to use this week. It shows me the prices at the various stores in my area. Shoppers Drug Mart has the best price so that's where I purchased this particular product.
When you click Coupons, you'll see the matchups available to you and suggestions on where to use them. I like how it shows you the price you'll pay so you can see the money you'll be saving.
It's a matter of tapping the coupons you want to use and inputting your email address. You'll be able to print them from your laptop or desktop computer.
Flipp asked me if I'd like to participate in the #FlippCouponChallenge. That was an easy answer – of course I would! They gave me $100 to buy a week's worth of groceries. My challenge was to use Flipp, 7 to 10 coupons found in the app and at least 5 coupon matchups and see how much I can save.
I live in a rural area with only a small handful of stores including Walmart, Giant Tiger, Shoppers Drug Mart and Rexall. Metro just opened here, but doesn't have their shelves stocked yet. The challenge was more difficult for me compared to someone living in a larger city with more stores available. However, I'll prove that it's still possible to save money in a small town. Use all your resources!
My first stop was Walmart. I had five coupons to use there and was also picking up a few items that were listed in their sale flyer. Side note: my shopping revolves heavily around the sales. I usually only purchase items when they are on sale and already have a bit of a stockpile at home.
You may be wondering why I just don't price match everything and visit one store. I used to be able to do that until our local Walmart changed their policies. I'm not able to price match and use a coupon so I need to visit the stores themselves. Hopefully, in your area, you'll be able to get it all done at one store!
Two noteworthy scores at Walmart were the Crest toothpaste for $0.76 and Renee's Salad Dressing for $2.47.
At Shoppers Drug Mart, I went on a Saturday because they usually have even more sales on the weekend. Those boxes of facial tissue were only $0.59. I also used a coupon match up in Flipp for the shampoo and toothpaste.
At Giant Tiger, I paid only $3.47 for the cat litter. It was already on sale and I used a coupon. Woot for matchups! They also have lots of their baking stuff on sale so I stocked up.
I made a spreadsheet so you can see what I paid for the products I bought and whether I used a coupon or not. I came in well under budget too! With the remainder, I bought some fresh fruits and veggies and tried to find as many of them on sale as I could.
Final Thoughts
Challenge successfully completed! I was able to find awesome sales, use coupon matchups and I didn't spend hours planning my grocery list. Flipp is a must-have app if you like to save money and time! Give it a try and see why I use it every week for my grocery shopping. It feels great to save money and find a good deal.
Visit Flipp to learn more and to download the app for free on your iPhone, iPad or Android device.
Do you do coupon matchups?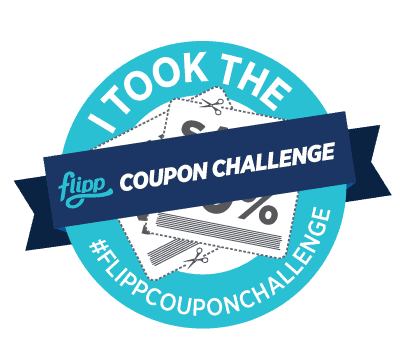 Disclosure: I was compensated for this post. All opinions are my own.